RUMBLE IN THE BRONX [1995] movie review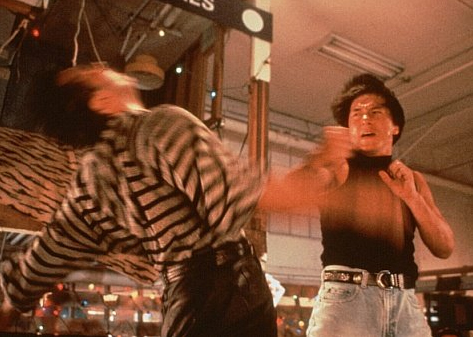 I think it might be impossible to watch a good Jackie Chan movie, like RUMBLE IN THE BRONX, and not think, at least for a few minutes, that you too could do kung fu like Jackie does.  Watching him on screen is very inspiring, at least while he is on screen, after all, there are not thousands of Jackie Chan fans with his skills walking around.  I remember having seen parts of RUMBLE before, especially the scene where part of a building gets torn down.  RUMBLE follows the winning formula of many of his movies, where he plays an innocent coming to town where people are in trouble.  He uses his kung fu to help out, the enemies get more serious, so does his kung fu!
Jackie comes to New York to visit his uncle who is getting married and selling his grocery store.  There is some Mad Max looking gang that terrorizes the neighborhood.  It does not take long for Jackie to get in the middle of it all.  He also befriends a boy in a wheelchair next door who gets neglected by his sister, who of course just happens to be hot and Chinese too.
The action scenes are very crisp and as Jackie does all his own stunts, the pure analog action of seeing Jackie jump across an alley 10 stories up to another building is an experience that today's action movies just cannot deliver.
RUMBLE IN THE BRONX is a very satisfying typical Jackie Chan movie with interesting enough supporting characters and villains.