A SEPARATION [2011] movie review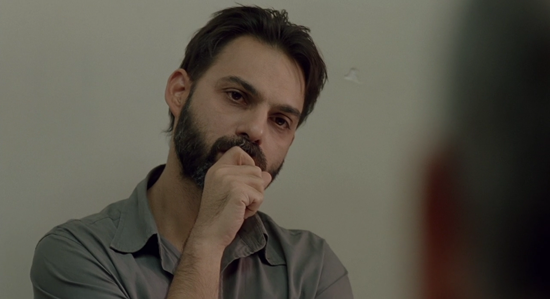 Roger Ebert chose A SEPARATION as his favorite film of 2011.  I would not put it that high, but it is definitely in my top ten for 2011 and absolutely a unique movie.  I have been interested in seeing court drama movies lately, and to my surprise A SEPARATION was an amazing one.  I now know that being a judge in Iran is one of the hardest jobs in the world!
IMDB says most of A SEPARATION was filmed with a handheld camera, and the viewer definitely feels like they are right in the cluttered apartment with Nader, Simin, Termeh and the rest.  Simin at long last has gotten visas for her husband and 11-year old daughter to leave Iran.  Nader will not leave because he wants to take care of his elderly father who has Alzheimer's.   His wife goes to live with her mother, necessitating Nader get help from someone to take care of his father and the apartment while he is at work.
A woman with a young daughter is hired, though she complains about the long commute and low pay.  There are also some cultural barriers too like her husband needing to know of the job.  The woman is not working out and an argument breaks out when Nader has to throw her out of the apartment.  This starts the court case phase of the movie.
The case is not a simple one at all, and it just keeps getting more and more complex.  How the judge can ever sort out who is telling the truth, how much of the truth each person is withholding, etc seems to be an impossible task.  On top of that the woman's husband cannot control his temper in any setting.
In all of this Nader loyally continues to take care of his father and make sure his daughter does her studies.
It was fascinating to see a window into Iranian customs, both legal, religious and familial.
The ending is haunting and masterful cinema staying true to the tone of the movie.  A SEPARATION is definitely one of the ten best movies of 2011.