ANOTHER EARTH [2011] movie review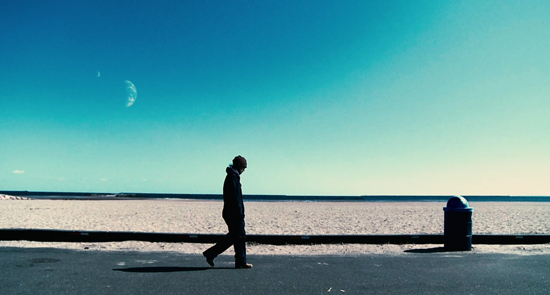 It amazes me how in so many individual calendar years two movies of the same small niche come out (think Armageddon/Deep Impact, Dante's Peak/Volcano).  For 2011 it was movies about large planetary objects approaching Earth in small, ordinary person films.  Exactly two weeks ago I saw MELANCHOLIA and tonight I saw the perhaps superior ANOTHER EARTH.
ANOTHER EARTH is a science fiction movie wrapper on a tragic drama.  On the same night a new planetary body becomes visible in the night sky, a horrible car accident not unrelated takes place.  Rhoda, played by Brit Marling, is the distracted driver.  She was about to go to MIT, but instead spent the next four years in prison.  What follows is by far the most morbid romance I have ever seen, yet it is also sweet.
We get updates on the new planet, and it is a mirror image of Earth!  Theories about cracked mirrors and us only being the dreams of the people on Earth 2 come up in snippets from the characters catching the news.
The big question for the two main characters is, what if the other versions of themselves did not suffer this tragedy?
The ending is great.  The movie is very subtle, almost silent.  It is very deliberate and tactile.  The movie is a mood you have to feel as much as watch.  I found it to be very effective storytelling with a very creative use of science fiction making the audience fill in a lot of blanks.