MARGIN CALL [2011] movie review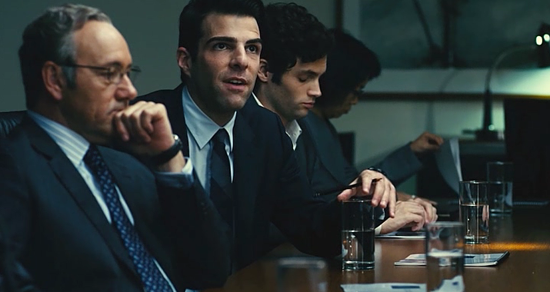 I learned about MARGIN CALL because of its nomination for a best writing Oscar (J.C. Chandor also directed).  The movie is described as a thriller about the start of the financial crisis on Wall Street, but it would be better classified as a drama with political overtones.
What I learned from MARGIN CALL is that many people in financial firms, especially the ones in charge, do not even understand how to analyze the financial market themselves!  The movie opens with a majority of positions being slashed at an international financial house.  In the risk assessment department, there remains only one person who actually knows how to do risk assessment.  Given a clue by his just fired boss, Peter Sullivan finishes his boss' work to discover the entire company is about to go down.  The movie is about what to do to avoid that and along the way the viewer gets clued in to how the trouble on Wall Street started.  After all, the CEO states that one must either be first, smarter or cheat.
I found the inner workings of the firm to be interesting as I know little about how markets actually work and how money usage gets decided.  It turns out money gets used based on a firm's model, and if that model is wrong, and you bet it all on that model, well, that is what the movie shows very well.
MARGIN CALL is well acted and smartly paced as for a movie basically about meetings in conference rooms, it seems exciting.