THE MILL AND THE CROSS [2011] movie review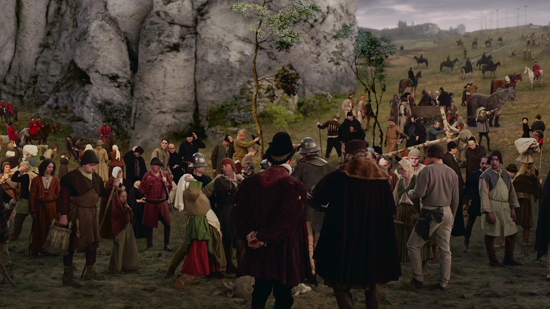 I was prepared for THE MILL AND THE CROSS to be a very untraditional movie.  It is definitely not a traditional movie by any means.  I cannot even think of a single movie to compare it to because it is not really a narrative film.  It is more like a philosophical reasoning process made visual from the mind of the painter on how he came up with all the intricate details of his painting.  As a whole, THE MILL AND THE CROSS did not work for me.
For the approximately five minutes of the 90-minute running time that did have the artist showing how he very creatively made his painting of The Mill and the Cross, I was fascinated.  The painter was lying in a field looking at a spider's web.  He used that symmetry to shape the events in his painting.  I would have liked there to have been much more of that direct look into the artist's mind as he goes through his own unique creative process.
Beyond those five minutes is a loose look into the players in the painting.  While the lighting and cinematography of watching kids play in a large bed in a cottage was visually impressive, as were many other scenes equally well lit and crafted, they did not come together to make some broader point about why in the world was this movie actually made.  Was it just to show that the Spanish occupiers were brutal in the village?  That brutality seemed out of place in the kind of visual language of the film.  Like a character from a Stephen King novel walking the pages of a children's book.