THE BEST EXOTIC MARIGOLD HOTEL [2012] movie review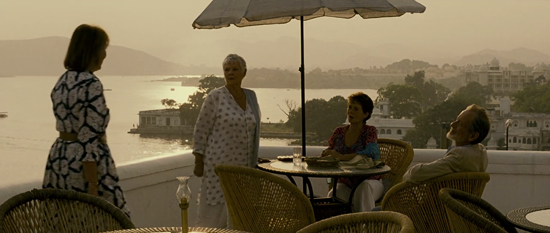 It is a rare treat to watch a movie with a cast mostly consisting of actors with a full lifetime of experience as in THE BEST EXOTIC MARIGOLD HOTEL, even if they still have the same passions and desires of the young.  If you are looking for an antidote to cynical, jaded and crude modern movie fare, then BEST EXOTIC is exactly the antidote.
We are introduced one-by-one to the characters as they each experience some event so jarring or eye opening that each decides to move to India to live in a hotel that promises a luxury experience designed especially for older people.  Of course things could not be as they were in the pamphlet when they arrive otherwise the movie would be very short!  The story is in seeing how each reacts to being put into an entirely new life, and learning of their past life.
The owner of the hotel is a very enthusiastic young man who dreams very big, but does not receive much encouragement from either his mother or reality.  However, he wakes up every day more optimistic then the next.
It is very interesting to see how each character either blossoms in the new challenges presented by living in India, or wilt and hide.  Thankfully the movie focuses on those that blossom showing the absolute wonder of living in a totally different culture.  I can say from experience there is nothing to make you feel more alive than being transported to another world by simply living in a country that you do not speak the language.
THE BEST EXOTIC MARIGOLD HOTEL is definitely a feel-good movie that will make you smile, possibly motivate you to get out and see the world, or help you keep believing in your own dreams, or all of the above.