BREAKFAST AT TIFFANY'S [1961] movie review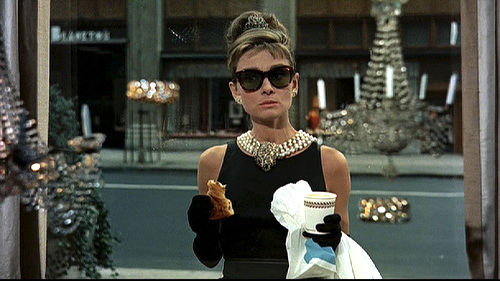 More Audrey again this weekend!  Although BREAKFAST AT TIFFANY'S might be her most famous movie, I cannot say I completely liked it and actually grew a little tired of Audrey's act as a free spirit who cannot be possessed by any man. How she just blows like the wind hither and thither made her seem almost too childlike to the point that how she could keep herself housed and closed did not seem plausible with her personality.
I can understand how someone can fall for Audrey's (as Holly Golightly) charms, at first. Her beauty and spontaneity got her character only so far as eventually all the men she had chasing her wanted something tangible from her, but they only ended up getting played for a bit of money which she apparently pieced together to pay the rent with each month.
An extraordinarily patient man moves in upstairs, who she cannot even give the respect of calling him by his proper name to. His name is Paul but she insists on calling him Fred, her brother's name of all things! Of course he enables her by constantly coming to her whenever she calls and always cleaning up her mess of a situation, and all he gets is the supposed benefit of her company.
And of course having Mickey Rooney act as a Japanese ojisan was an abomination, especially to someone who lived in Japan for years.
Still, in the end I was rooting for them to be together and especially for Audrey to find that poor rain-drenched cat!
RELATED POSTS: