ANGEL AND THE BADMAN [1947] movie review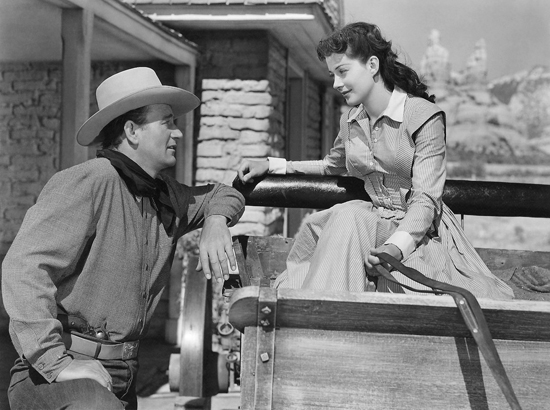 Much to my delight, I am still able to uncover hidden western gems like ANGEL AND THE BADMAN starring John Wayne no less.  Why this western of his is not more well known I have no idea as it is certainly one of his best and definitely a classic black & white western that has all the elements I look for in a western (saloon scene, rock formation cinematography, tough hombre in the lead role).From the opening scene ANGEL AND THE BADMAN grabs your attention as a lone rider is being chased by a posse across the vastness of the west through its scrub bush and rock towers.  I always feel bad for the horses in these scenes and hope they could be done in one take.  In fact, the lone rider pushes his horse so hard it bucks him in exhaustion.  Luckily for him, this happens in front of a Quaker man and his (of course) beautiful daughter.  As is their nature, then take him in and nurse him back to health.  The daughter Penny, played excellently by Gail Russell my first time to see her on screen, falls in love at first sight with John Wayne.
Unlike many other westerns, there is not an instant wedding as often couples meet and in a few days declare love and marry.  Wayne playing an unusually named character called Quirt Evans is wise enough to know he cannot just give up his past (which is still looking for him) and become a farmer and a husband to this woman, no matter how angelically beautiful she is (and she is!).
The power of this western comes in Russell's acting and the strength of her character's beliefs to possibly transform Evans, and all those around them as well.  It is quite compelling and the story unfolds in a very entertaining way.
The third act is a series of thrilling scenes one after another ending of course, with guns drawn on the dirt road in the middle of town.  What made this western different, was watching when, how and if Evans would adopt more of Penny's beliefs, if he had the faith to trust them to keep him alive, when before he only trusted his gun to.  This is a great western not to be missed.
RELATED POSTS: