END OF WATCH [2012] movie review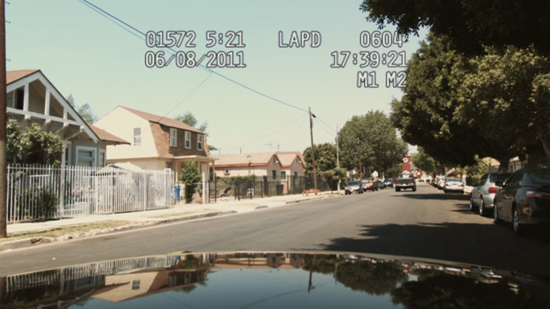 I have no idea how I never heard of the movie END OF WATCH before today. It has a major actor in the lead role in Jake Gyllenhaal and according to IMDB was released only two months ago. It must have gotten zero publicity, but it deserves plenty as it is an emotionally raw movie that is involving and claustrophobic and intimate.
Gyllenhaal plays a cerebral cop working the worst neighborhood in the worst area of L.A. with his loyal partner (Michael Pena). A lot of what we see is footage from their own handheld cameras Gyllenhaal always has with him for a film project. The actors have excellent chemistry together and it is very believable that they are partners that would each take a bullet for the other. Other than the handheld camera gimmick, there are no gimmicks in END OF WATCH, just a stream of days in the life of these two cops as they patrol their area of South Central, sometimes by day, sometimes by night. We get to see all aspects of their lives. The pacing is extremely fast, no wasted seconds in any scenes.
Right from the start the massive and immediate danger these two cops face on a daily basis is right in the viewer's face due to the home video style of footage on screen. There are no long shots, no crane shots during the chases by can and on foot, just the perspective of the officers.
Gyllenhaal and Pena are fearless and perhaps even slightly hotshots, but they are not brash nor do they boast about it in any Hollywood cop movie kind of way. They are just very good at what they do and are crazy brave and can go big time when they need to. In between their patrols we are introduced to their personal lives, but really the audience learns most about them by how they joke with each other constantly. It is realistic guys confessing things you would not believe and also picking on each other mercilessly.
The story is not in the foreground, but the screen is always so alive involvement never wanes. This allows us to realize more of the danger the two cops are in than they do as they bust one "cowboy" after another until the very head of a Mexican drug cartel puts a bounty on them.
The ending is as brutal and emotional as they come. The sense of danger I felt for Gyllenhaal and Pena as they chased a suspect into a building was palpable as I as a viewer knew more about what they were about to get into than they did. Again, the intimacy of using handheld cameras created fear and claustrophobia for the viewer.
I highly recommend END OF WATCH and it will end up on my ten best list of 2012 for sure.