THE PERKS OF BEING A WALLFLOWER [2012] movie review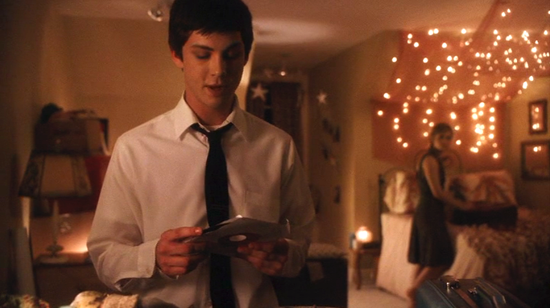 I do not know how THE PERKS OF BEING A WALLFLOWER is not on ten best lists of 2012 movies.  I am very glad I all of a sudden decided to watch it tonight, otherwise I would have had to edit my ten best list and taken something off and put this movie on, and in the top five no less.  This movie is that good.
Whoever was in charge of marketing THE PERKS OF BEING A WALLFLOWER should be fired, or  maybe I was just that out of it back in October because somehow this was billed in my memory as just some silly high school movie.  It is nothing of the sort, but an intimate coming of age movie set in the last real decade (the 1980s) for going to high school where you could not immediately know what song just played on the radio.
Director and writer Stephen Chbosky really captured the infinite feeling you can have at the perfect moments with your friends, the right music and the open road.  This is not a feeling, thankfully, exclusive to when you are a teenager.
Charlie introduces himself in a voiceover of a letter he is writing to some person we never know.  He is anxious about his first day of high school having suffered two tragedies in his life.  He has just enough outgoing-ness to get sucked up into a group of senior friends who welcome him and transform his freshman year from a thing of dread to no doubt the best time of his life to that point.
He falls in love right away with Sam, played by Emma Watson, and who can blame him.  He has no means at all to express such feelings so the tension in the movie is watching him watch her.  What makes WALLFLOWER stand out from other movies of similar theme is the very subtle character reveals doled out over the course of the movie that all lead up to a very climatic emotional moment for Charlie and the viewer.  It is done in such a way that many pieces suddenly fit together revealing a larger, more tragic picture.  It raised the movie in my mind as I had been thinking it is dipping in its second act.  The power of the ending, once known, makes for a movie I highly recommend.
UPDATE — I guessed the movie was set in the late 80s, but according to IMDB it was set in the 1991-1992 school year, exactly my own senior year of high school, which when the movie came out in 2012 was my 20th year reunion.