POINT BREAK [1991] movie review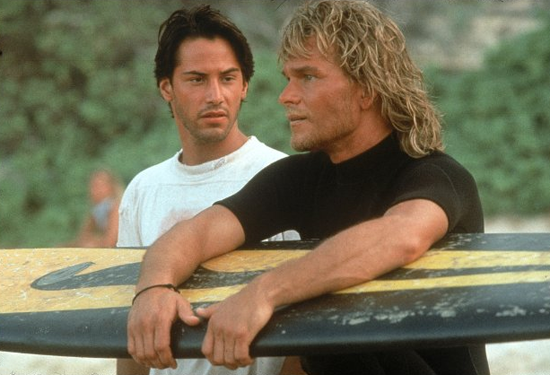 I have shaken Keanu Reeve's hand.  I have never thought derisively about his acting as so many others do.  I can dig his style and appreciate it for what it is.  He is in classic form in POINT BREAK [1991], a movie the guys were talking about regularly lately on the DP Show and since HBO was running it, and I had not seen it so long I could not remember, I thought it was a good time to revisit this classic of a sort.
I was surprised to find out that POINT BREAK was directed by Kathryn Bigelow, who is now famous for THE HURT LOCKER and ZERO DARK THIRTY.  If you remember POINT BREAK as being a hokey Keanu action vehicle, I would recommend watching it again because you can see Bigelow's directing flair in this early work of hers.  The action scenes are intense and the pacing is very good.  You may find the characters to be unintentionally funny viewed with 2013 eyes, but Keanu and Swayze do go all in on their performances as respectively an undercover FBI agent and surfer zen master bank robber.
In between typical action movie beats like the two out of line agents being chewed out by their boss scene, there is an intense robbery scene, a great foot chase scene literally through an L.A. neighborhood as well as two skydiving scenes.  On top of all that there is a decent romance between Keanu and Lori Petty.
No doubt there is some unintentionally funny dialogue delivered like only Keanu can, some real classics like, "looking for something brooa," "via con dios," and "you've got to go down," but I think that is all part of the appeal of POINT BREAK which has one of the all-time great action movie endings.