THE WIZARD [1989] movie review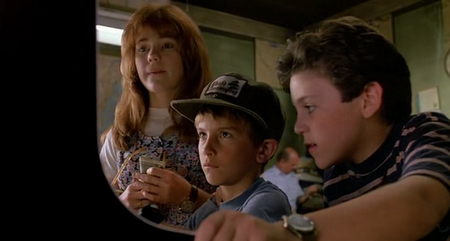 I do not think there could be a more nostalgic movie for me than THE WIZARD [1989].  I have not watched it since it came out now almost 25 years ago.  For me, it held up perfectly and was much better than expected it to be to my now 38-year old eyes.  The biggest surprise was that it was a road movie to California, perhaps an omen?
Fred Savage of The Wonder Years fame (a large source of the nostalgia) plays middle brother Corey, who has a troubled younger brother, Jimmy, who was just put into a home by his step-mother.  There is a mystery surrounding how Jimmy came to be like he is and how Corey and his dad and their step-mom and Corey's older brother are all related and came to live apart.  This complex of a backstory for the characters was also unexpected in this movie.  I did not remember at all it was a road movie either.  Corey springs Jimmy from the home and head to a bus station where they meet another apparent runaway, Haley.
They discover Jimmy has a real talent for video games, Haley calls him a wizard.  She suggests that Jimmy enter a huge video game contest in L.A. with a $50,000 first prize.  The trouble is they are broke and in Nevada.  Haley agrees to help them get to L.A. with her street smarts in exchange for half the prize money.  In pursuit of the runaways are Corey's dad and older brother, as well as a vulgar private investigator hired by the step-mom.
This alone would have made it a good movie, but my real nostalgia for this movie, and what I really remembered about it was — the debut of what I still consider to be the most anticipated video game of all time — Super Mario Bros 3.  Remember this movie came out in 1989.  No Internet, no easy way to communicate with people across the country, especially if you were a kid.  There was just Nintendo Power magazine, your friends, and TV commercials to build the hype for the game.  I can remember looking forward to it pretty much more than anything from back then.  The game was not released yet, so the movie was the first peaks at the game.
Jimmy of course makes it to the video game competition and to the finals, against a rival we meet earlier, Lucas, well played by an older and obviously richer kid.  The host says they will compete on a game they never played before.  I of course knew what was coming, but still got a chill when the stage curtain raised and the splash screen for Super Mario Bros 3 came up.