THE CALL [2013] movie review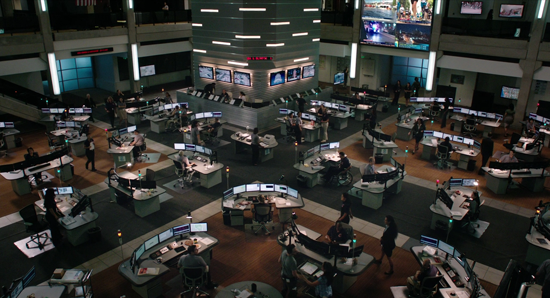 The first surprise movie of 2013 is THE CALL starring Halle Berry as a 911 call center operator. From beginning to end this was a taunt thriller that played very smart. Characters acted like real people and never did anything dumb to take the viewer out of the movie and break the tension causing you to think, "why did she do that??"
Set in L.A. we get put right into the frantic job of those people at the other end of panicked 911 calls. I do suspect the hive, which is the name the operators call where they work, looks much cooler than ones in real life do, but other than that, there was only believability in the story. I quickly realized that answering 911 calls has to be the most stressful job in the world.
Berry takes a call from a teenage girl reporting someone trying to break into her house. It goes badly, partially due to Berry making a mistake on the call. So badly, that Berry goes over to training new operators no longer taking calls, that is until she gets caught up in a call a young operator could not handle and the movie really takes off.
A teenage girl is abducted from a mall parking lot and put into a trunk of a car. This is where I was really surprised by how smart the writing was. Berry is very clever in suggesting ways for the girl in the trunk to get discovered. Though the girl is hysterical, Berry gets her to calm down and take action.
This tension continues through a series of events as the captor continues to take here to who knows where.
Berry's boyfriend is a cop and working on leads to try and find where the kidnapper might be taking the girl.
Now about the ending, I have not read about it yet, but I can imagine it must be rather controversial. It lessoned the movie for me, not because it was too cliche, because it was too not cliche. Still, THE CALL is a surprisingly good thriller not to be missed.