FAST & FURIOUS 6 [2013] movie review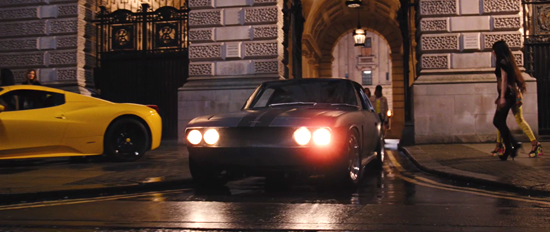 "Ride or die" is their mantra.  They sure lived up to that in FAST & FURIOUS 6 [2013] delivering what fans of the franchise, like myself, had long been waiting for, a bigtime sequel with actual car racing in it that kicked ass.  The first FF was a very good action movie for car fans, the second was a disaster and amazingly did not kill the franchise, the third was very good, but stands outside the lore of the rest of the series, the fourth was all over the place and the fifth forgot about the cars.  FURIOUS 6 gets it all right, as long as you can accept the preposterous and just go along for the ride.
We last saw everyone hiding out with their millions, retired.  How can they get pulled into riding again?  By bringing back a ghost from the past, as Dom (Vin Deisel) says in a great scene, his code is loyalty and they are all a family and you never give up on them even if they do on you.  This is a pretty legit way to get the gang back together and working for The Rock helping him catch a bigtime international player.  Most of the action takes place in London as they soon find out they may have met their driving match as they are foiled by a clever scooping type of custom car that made short work of their government issue M3's.
Much of the old gang gets good character arc this time, as O'Conner now has a son, making Dom an uncle, Han is thinking of settling down with Gisele, and Roman and Tej are still doing their usual thing.
There are plenty of car chases and races to give the viewer that certain something that only a Fast & Furious movie can seem to deliver by just showing someone changing gears with authority.  For me there is nothing like it to get the juices flowing and it's a good thing I did not drive afterwards!
Now I watched SUPERMAN II last night and ripped it for being preposterous and unbelievable to a fault where I could not suspend disbelief and just go along for the ride because there was little else to the movie.  FAST & FURIOUS 6 contains actions sequences about as preposterous as you can get, but I loved the movie.  I could feel this way because FF6 is bigtime fun, bigtime ass kicking and a bigtime rush and all the characters seemed to really be having a good time with each other on screen.  The camaraderie was palpable.  This allowed me to not care that a runway scene took place at very high speeds for over 15 minutes, which would make it the longest runway, heck, the longest piece of straight road in existence!  The action was just too great, I noted it, but did not care.
Another reason why the preposterous can be tolerated in FF6 is because there are consequences.  This is not a catch the bad guy no one gets a scratch in the process or walks out of a major wreck (well, actually that did happen a few times).  The danger is real.  Nothing much looked like a video game during all this action either, helping not take the viewer out of the movie.
FF7 is already in the works and there is no need to read rumors, the end of FF6 totally sets it up and I will be very much looking forward to it!