PAIN & GAIN [2013] movie review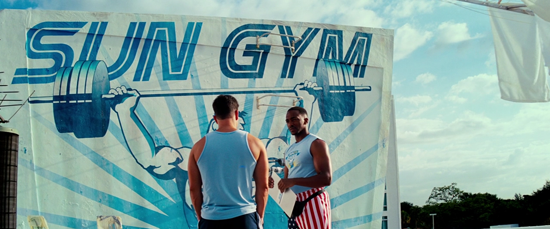 I cannot say I heard about this movie when it opened in April, but PAIN & GAIN [2013] was a surprisingly solid dark comedy action movie starring Mark Wahlberg and The Rock Dwayne Johnson directed by Michael Bay.
The movie opened by stating it was telling a true story. There is a trend for movies nowadays to say that but actually not be true stories, so I did not know what to believe, however, the ending credits remove all doubt. That, and the ending itself was all too real and not how a fictional Hollywood movie of this type would ever end.
Wahlberg works as a personal trainer who is unhappy with his lot in life, which I could both understand and not understand. Yes, he spends much of his day helping rich people get in shape hearing about their lifestyle, but mostly because he asks them about it! Then again he has a mind for business and worked up the ranks at the gym he just started at to manager in just a few months so if he had stayed legit, I think he could have moved into a higher tax bracket. He was not satisfied waiting for that it would seem, or just did not see that possible path more likely.
So he works himself up into a plan to kidnap and extort one of his rich clients enlisting the help of a long time friend and a recently released ex-con. The execution of these plans is far, far from glitch free. Washlberg's character even says he has watched a lot of movies and knows what he is doing about the kidnapping, too bad for him all those were scripted acts and in reality a regular person does not become a criminal mastermind overnight.
I thought for the whole movie the guy they kidnapped was played by Joe Pesci, though I thought he looked kind of young, it turns out it was actually Tony Shalhoub!
The movie does a good job of making you think they can get away with such a hurried plan, but there is always a weak link somewhere.
There is some gore in the movie during a few gruesome moments which I averted my eyes from since the movie itself overall is more comedic in tone than violent and full of malice. I found in the end the movie really makes you think about how you can improve your life and are you really a "doer" or a "don'ter."