NOW YOU SEE ME [2013] movie review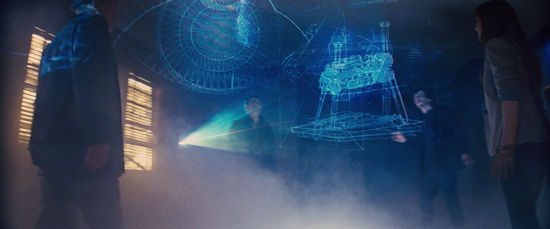 I was ten fold more entertained by NOW YOU SEE ME [2013] tonight than I was watching IRON MAN 3 [2013] yesterday. Everything about NOW YOU SEE ME is very slick from the illusions you see on screen to the characters themselves. All you have to do is sit back and enjoy the ride.
We are introduced to four magicians performing their specific type of tricks. What they all have in common is a lot of charisma and the ability to command an audience, large or small. Each receives a mysterious card with a date and place to meet. Together they are shown instructions for a plot we will find out through the movie.
This sets the stage for well their big stage performances. The first is the most stunning as we see all their combined skills working together for the first time and we are yet to find out how they pull off any of their illusions. They tell the audience they are going to rob a bank. Money eventually falls right from the ceiling into the audience! Is this the perfect crime? Is it even a crime? An FBI agent joined by a French Interpol agent try and find out, along with the help of a failed magician who now makes his living revealing tricks on direct to video specials.
The Four Horsemen as they now call themselves move to New Orleans for their next big stage performance. By now we start to understand more of what they are trying to do and you can guess how some of the performance will end. Still, the magic is very thrilling.
The conclusion returns everyone to New York City, and I feel was not as dramatic as I was expecting. There is a large twist at the end that did not provide much of an impact, and I think actually served to lesson the impact of the entire movie. I was hoping for a much grander final result, but basically the last trick ended like another did. Still, NOW YOU SEE ME is very exciting, up until the end, and may make my ten best list of 2013.