STAR TREK INTO DARKNESS [2013] movie review – recommended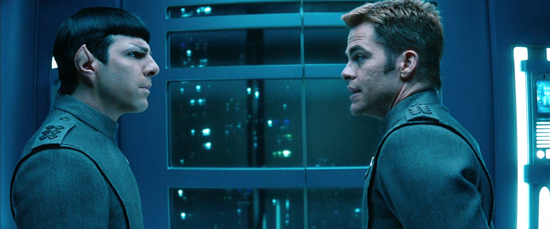 Four years later JJ Abrams did it again with the sequel STAR TREK INTO DARKNESS [2013] capturing everything I liked about how he rebooted the franchise in 2009 and building on the characters.
I just reread my review of the 2009 movie and it could nearly be the same for INTO DARKNESS. I could not really see where the story was going, things were just happening until I realized this is what the movie is about and I was ok with that. What just seems like the Enterprise going out to track down a man who bombed a Star Fleet data center on Earth and should only take a small part of the movie, is actually just the first domino that does not stop until the movie is finished. I think this is because the story line is very linear and singular. Save for one member of the crew having a few brief scenes elsewhere, the story takes places with everyone in the same place. As long as that story is interesting, this works great, as you do not get frustrated when the movie jumps to a less interesting storyline. JJ Abrams kept momentum from start to finish with great pacing, which I found almost too frenetic, at least in the final act.
The one thing about the crew of the Enterprise now, it seems there is no one over 30 on the entire ship!
The villain this time is well known in Star Trek lore, Khan! They found an actor who could live up to the legend very well and modernized the character into a super soldier, both physically and intellectually. Every time he was on screen you did not know what he might do and he was a worthy foe that challenged every single member of the Enterprise crew.
The chemistry between the cast themselves as they play their characters for a second time is what stands out the most in comparison to other summer blockbusters. There is CGI all over the place, but the characters feel real to the viewer still as they all seem to actually care about each other and have some believably witty dialogue between them.
With hints of a war with the Klingons and just how fun it is to watch these actors on screen, I was ready to watch the next installment right after the credits finished!