THE EAST [2013] movie review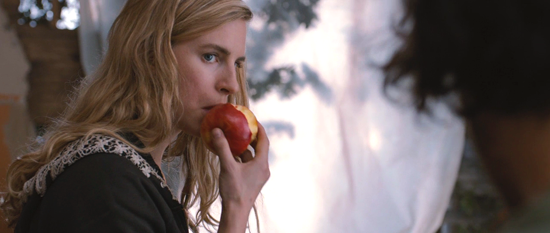 It is very unusual to see a movie like THE EAST [2013] that feels very intimate and has a fondness for its characters, yet also be so unsentimental. That lends a realism to the story in its own way and leaves the viewer feeling not knowing really how to feel. This is a good thing.
I spent much of the movie trying to figure out how Brit Marling, who plays Sarah, was familiar. Only after looking on IMDB did I see that she was the lead in ANOTHER EARTH [2011], a movie I really liked. Then I saw that both were directed by Zal Batmanglij and that he has collaborated with Marling on a few other movies, which I will now for sure be checking out. It was also my first time to see Alexander Skarsgard as any character other than Eric Northman of the HBO show True Blood. It took a while to see him as he was in this movie, the leader of a super secretive anarchist environmental group, The East.
Sarah is really Jane, a former FBI agent who gets a job at an elite security firm that provides intel and protection to major corporations. The East and other groups have been attacking them, and these corporations hire this agency as a counter-terrorism measure. It was interesting to think how ultra-rich corporations need such protection from low budget threats.
Sarah goes undercover to infiltrate The East. Through this we witness the customs of starting to belong to a group like this, including having a first meal where everyone was in straight jackets and Sarah is told to eat however she wants, as long as she goes first. I found these elements of the movie fascinating and it brought up memories of a summer I spent a lifetime ago working for an environmental group and how close we all were with each other, with so many of us coming from very different backgrounds. Sarah found this bonding between people there attractive I feel, just as I did that summer myself. It is an analog level of real, and if you are not used to feeling things so directly and purely, it can feel alien at first, until things that are not that in their turn start to feel alien.
Sarah struggles with seeing the horrors corporations cause that no one cares about, and also with how The East launches "jams" to punish the perpetrators. Yet there is a lack of sentimentalism even to the environmentalist justification of taking these actions. This complexity is not solved in a neat way as things stay real until the very end. I think the more I think about THE EAST in the next few days, the more I will like it and perhaps enough to be on my ten best list of 2013.