THE WAY WAY BACK [2013] movie review – recommended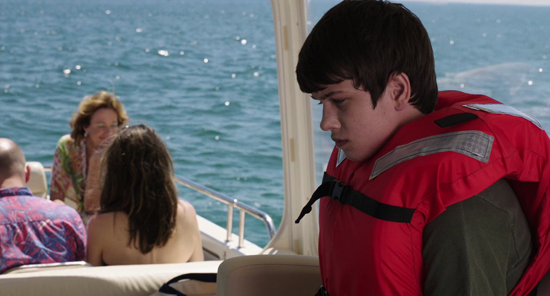 Yet another recent movie that passed by without much attention that I am glad I finally caught, THE WAY WAY BACK [2013] is a very effective coming of age story of a 14-year old boy spending a summer in Cape Cod, when he would rather be anywhere else.
This movie was rather personal for me.  As a boy myself I spent many summer weekends in Cape Cod at my grandparent's place.  That was in the 80s, the time period WAY BACK was supposed to be set in, but could not due to budget constraints, but you could see how it was originally written to be so with the old station wagon they drove up to the Cape, the inclusion of Pac Man, etc.  WAY BACK did feel like a throwback to an 80s style movie, to its benefit.
Duncan is sitting way, way back in the classic station wagon's rear facing bench seat.  He is to spend the summer with his mom, her boyfriend and his daughter at the guy's Cape Cod beach house.  Somehow, Duncan looks less than thrilled and after the boyfriend, Trent (Steve Carell), starts out by asking him how he would rate himself 1 to 10, and Duncan says 6, and Trent counters by saying he thinks the kid is only a 3, you ask what kind of a man would ever say that to a 14-year old?
The beach house is great and the Cape looks like it did when I was there as a kid.  I could have been fine occupying myself, as I often did, but Duncan is forced to participate in so-called family activities, but like one veteran Cape kid says, the place is like spring break for adults.  For myself, I could not help wondering, what kind of jobs do these people have where they can take the entire summer off??
In his wanderings Duncan comes across Water Wizz (that is the name!), a dated water park.  He runs into for a third time a guy he had seen around time who does not discipline or try and tell Duncan what to do, just brings him along in the whirlwind that is his personality.  You can tell that Sam Rockwell liked playing the water park manager, Owen.  He has great chemistry with Duncan.  We see his first smile of the entire movie.  A kid just wants a place he can fit in.  The transformation in Duncan lifts the downer feel of the viewer and saves the movie for me because just watching Duncan be super awkward around people and Trent yell at everyone was not doing it for me in the beginning.  By the end though I saw it was necessary for the story to ultimately have the impact it did.
THE WAY WAY BACK is highly recommended.