K-PAX [2001] movie review – recommended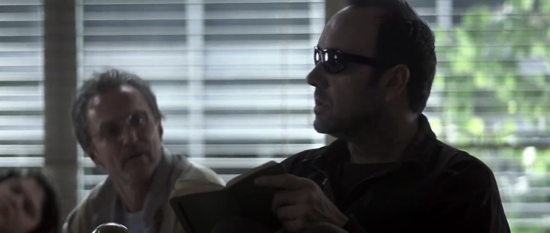 I came about watching K-PAX [2001] tonight because of a movie I watched back in September (SOUND OF MY VOICE [2012]) that said K-PAX was a similar title.   I would definitely recommend watching them on consecutive nights in the same order that I did.  Both deal with a central figure and the people around them (along with the viewer) deciding to believe their incredible stories about who they are.  In the case of Kevin Spacey in K-PAX, he says he is from the planet K-PAX.  The movie is about if he really is or not.
K-PAX was not at all what I expected.  I knew the general premise, but did not know that it would take place inside a mental institution that Spacey's character, Prot (rhymes with goat), allows himself to be taken to.  The lead doctor (Jeff Bridges) quickly gets immersed in the very detailed descriptions Prot gives of K-PAX.  It does not take much for the other patients to actually believe Prot is from K-PAX.  How can he possibly be after all?
The explanations Prot give are simultaneously very plausible and very convenient.  Why do people from K-PAX look just like people from Earth?  Because it is the most efficient form, just like why a soap bubble is round Prot says.  There are many things like this just enough to make you want to believe.  Then there is concrete astrophysics knowledge he has.  Just as you are sure his story of coming from K-PAX totally checks out, new information about his backstory comes to light.
Prot gives a very specific time and date for when he will return to K-PAX.  This puts a deadline on the doctor being able to save him from having another mental breakdown on that date, while giving others a day to look forward to because Prot says he can take one of them with him back to K-PAX.
The climax is well done and satisfying and will leave you thinking for sure, especially if you watched THE SOUND OF MY VOICE the night before.