RUBY IN PARADISE [1993] movie review – recommended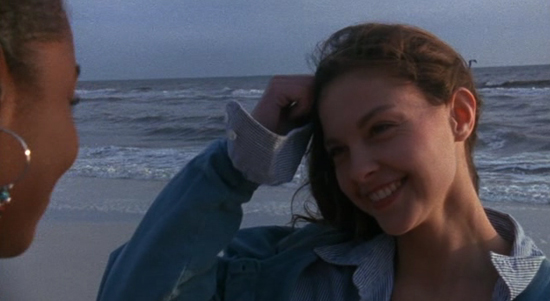 As an avid movie watcher of many genres, I am always on the lookout for hidden gems and often decide to watch a movie the same day just because I heard some random recommendation of it. Such was the case today with RUBY IN PARADISE [1993], which I had never heard of before until it was mentioned in passing in a Dear Abbey type advice column in the newspaper. I saw that it starred a young Ashley Judd and the source of the recommendation intrigued me, so I tracked the movie down and indeed was very pleased to discover this gentle, hidden gem of a movie.
The other appeal of the movie was that it was set in Florida. I like to see what the state I live in looks like to storytellers. I can say how RUBY shows Panama City and really any other gulf beach town, is very accurate, even today. At the time of the movie, Ashley Judd could have been as old as 25, but she looked barely 18 playing Ruby, a girl who packed up everything she owned and left Tennessee getting out without "being pregnant or beat up."
There is a definite melancholy tone to RUBY IN PARADISE. The score is repeated with a kind of flute sound seeming to reflect Ruby's mood as not being sure of anything. The movie also has a large sense of innocence and gentleness. There are no major dangers or conflicts to speak of. There is only the burden of trying to find meaning in making a life for oneself. Thus, this is a movie that should definitely only be watched with the proper mood and expectations. If you are feeling contemplative, watch it then. If you need to be thrilled, save it for another night.
The advice columnist said she wished Ashley Judd made more movies like this, and I would say the same thing as she played Ruby in such a realistic way. There was no pretense, no gimmicks, she really looked like a girl who just came to Florida with no plan and was fine with living simply while she figured things out.
Likewise, there is no big climactic event at the end. The movie almost does not even really end, the credits just kind of come up. There was a profound moment though that spoke to me in how Ruby finally came to appreciate the small things in her new small world, just like seeing a neighbor head out fishing every morning, another neighbor go off on the motorcycle of her boyfriend, and how these small things can come to make a place feel like a home of sorts. It reminded me of the daily things I observe in my own neighborhood.
RUBY IN PARADISE is a special movie in its simplicity and just in its being.
UPDATE: December 14, 2013 — one week later and I cannot stop thinking about this movie.  It is so simple in its beauty and feeling.  So real.