THE KINGS OF SUMMER [2013] movie review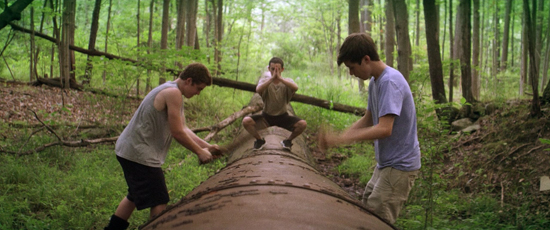 I needed counter-programing to balance out the CGI onslaught from seeing DESOLATION OF SMAUG last night, so a movie I have had on standby for nearly two months, THE KINGS OF SUMMER [2013], served nicely as a coming of age tale about three teen boys running away from home lives they could no longer tolerate to build their own house in a hidden glen in the woods.
I wonder if debut director Jordan Vogt-Roberts established many director trademarks in KINGS or if the styles used will be one-time only.  Vogt-Roberts uses a lot of high speed camera action to show close ups of ordinary action (hitting a nail sending sawdust bouncing), intercuts of fantasy dream sequences (imagining an ideal first date) and lots of lens flare.  I found all but the use of fantasy asides added something to the storytelling or visual look of the movie.  The fantasy scenes were a bit too much as many of the characters, especially the parents, were already quirky and weird enough.
The story begins at the end of the school year where we see Joe hand in a dilapidated birdhouse project far too late to be accepted by his wood shop teacher.  Right away we can tell he is a dreamer and adventurer.  Living with his dad is stifling to him.  His best friend Patrick has absurdly coddling parents that notice things like he chose to wear a shirt without a front pocket.  Out of nowhere a third boy befriends them, and throughout the movie he pops up (literally) out of nowhere and all his dialogue comes out of nowhere too.  He has some very funny nonsequiters.
Fleeing a party in the woods leads to Joe discovering a hidden opening in a forest he imagines they could al build a house of their own in.  After each has one final episode with their parents, the build is on.  The final house looks somewhat like you would expect could be built by three teens and yet requires some belief suspension that they could put it together and get the supplies with no budget and no means of transporting large & heavy objects, they are all only 15 and cannot drive.
It is a utopia for the first few days with boys being boys.  As soon as Joe says if anything could be said to be missing from it all, it is a woman's touch.  To anyone with a bit of wisdom watching the movie, they would know the downfall of the utopia would soon begin by not just inviting outsiders in, but girls!
KINGS is not a terribly sophisticated or original story, but the characters are likable and do a good job of seeming real.  It will make you want to go out and pick up a stick and play in the woods!