ABOUT TIME [2013] movie review – highest recommendation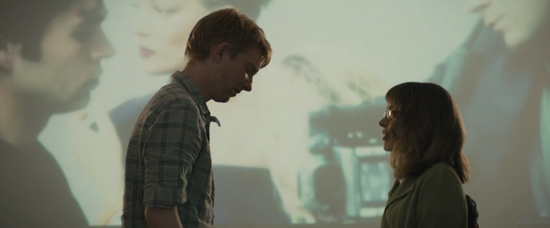 ABOUT TIME [2013] is movie magic at its best.  It gets my highest recommendation.  It is a pure and as perfect as one can expect 123 minutes of cinema to be.  It hits right note after right note.  It is an incredibly gentle and tender movie.  It will restore your faith in things, at least for the night.
ABOUT TIME was not on my radar at all until maybe a week ago.  Then today when I came across it again and saw New Year's mentioned in the synopsis, I thought now is the time to watch it.  In reality New Year's has nothing to do with the movie, but it was still the perfect choice to watch tonight, or any night for that matter.  It is a very, very special movie.  I cannot foresee it being anything other than my #1 movie of 2013.
Only very briefly did I think I knew where this movie was going and how the characters would be.  The protagonist is Tim, a tall redheaded (ginger as they say in the UK) kind of doofus and I thought I had seen this character before and knew how he would play out.  I was totally wrong.  Tim is the type of character you will recognize briefly from other movies that feature an awkward young man, but this is not one of those ordinary movies.  The character this time develops and is surprising every step of the way.
I did not exactly know this before watching the movie, and it is not a spoiler nor will it ruin things really to know that the men in Tim's family have the ability to travel back in time.  This is the single best representation of time travel I have ever seen in a movie because it is not complicated in the least, it is as simple as possible.  I will not describe it further so that the wonder of it can be seen as the movie depicts in such a pure and plausible way (as long as one just accepts these guys can go back in time as part of the movie magic world it exists in).
Tim has a very simple wish in using his newly discovered time travel abilities, the wish of really every young man, to get a girlfriend.  He does meet a girl in this very unique restaurant where the waiters are blind, so the eating area is pitch black.  You can only hear the voice of the people next to you.  So for several hours Tim is digging this girl, but has no idea what she looks like.  Then he sees Mary outside on the street and they are both all smiles.  The actors have actual real chemistry.  This sounds like something that should be present in every romantic movie, but is actually rare I find.  I totally believed they fell in love at first sight and I could tell they were crazy about each other by just watching them on screen.  Richard Curtis' directing and writing gets a lot of the credit too.  The actors were perfectly cast for their roles.
You never forget that Tim can time travel, but what makes the movie utterly fascinating beyond being simply a great romantic comedy, is how that small but very significant sci-fi aspect is woven into what is otherwise a normal, present day storyline.  Again, I will say no more about the time travel as it is amazing to see unfold in the story.
There is no worry about how the conclusion not being up to the task.  It was very emotionally satisfying and astonishing in its final revelations of time travel.  I cannot use the term "pitch perfect" enough.  The movie just hits every right note every time.  This is the best 2013 movie I have seen, and one of the best movies I have ever seen.