THE BROKEN CIRCLE BREAKDOWN [2013] movie review – recommended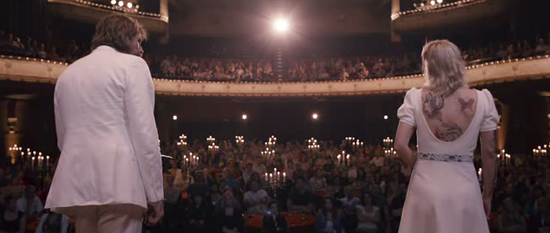 Thanks to being nominated for Best Foreign Language Film, I heard about THE BROKEN CIRCLE BREAKDOWN [2013]. It was released in 2013 in the U.S. and will very likely end up on my list of top ten movies of the year. It is a Belgian movie with very strong and raw performances. Raw is the word to best describe every minute of this movie.
Didier loves America and lives kind of like a modern cowboy on a farm with horses and everything. He even plays the banjo in a bluegrass band and sings in English perfectly. He meets a woman working in a tattoo parlor one day, Elise, and through a series of out of order flashbacks, we learn how their relationship came to be. The first half of the movie focuses on their young daughter, Maybelle, who is sick with cancer. In the present the are with her in the hospital. These scenes are broken up with how Didier wooed Elise and how they were as a family before Maybelle got sick.
Both characters are played with great realism and energy. The performances are so real, so authentic, so raw. It feels like a modern movie in how it was shot and edited, but there is no Hollywood to it at all. I am not one to be easily manipulated by sick child story lines, as there is no easier way to elicit emotion from a viewer than to put a child in danger, but BROKEN is so multifaceted in where it draws its power from, and the sick child story line is resolved by midway through, that you soon realize the themes of the movie are on the macro level concerning the nature of the universe itself.
Then there are the musical performances. Elise sings so beautifully, and you do not expect it because she only joins the band of course after meeting Didier, but she lights everything up when on stage. I cannot recall seeing a better musical performance by actors in a movie before. I am no fan of bluegrass music either, but I will seek out the soundtrack.
The third act is filled with all kinds of raw emotional outbursts. It is kind of shocking to see. There is no holding back and I can imagine the actors must have been exhausted after a day's filming. It did not look like acting at all. It looked real.
BROKEN is a movie that will shake your mind and your emotions up, make you take action about things in your own life you know you should, especially any things that are not totally genuine to you. I know it did for me. THE BROKEN CIRCLE BREAKDOWN is highly recommended.