NEBRASKA [2013] movie review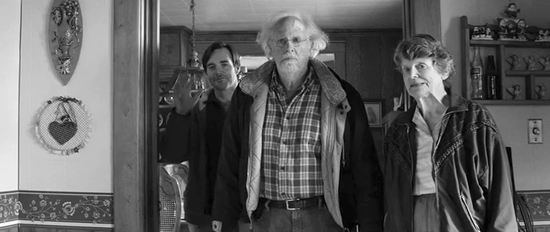 The two things I will remember most about NEBRASKA [2013] is the beautiful score by Mark Orton and how numerous people who had not seen each other for 20 years ran out of things to say to each other after just two sentences. However, ask how long it took them to drive to their house and they are all ears. Such is the world created by Alexander Payne in this black & white movie, and I could not imagine seeing it in color.
NEBRASKA is actually a road trip movie. There are no wild teens having hijinks along the road though. In fact most of the characters are old, really old, and the only thing that looks older is the town of Hawthorne, Nebraska itself. I have never seen a modern town depicted as being more devoid of life than Hawthorne. Not that it is any kind of metropolis. It is a wonder such a town still exists in the modern world. It is shown to be so old one questions if anyone there has even heard of the Internet.
To get there an old man named Woody Grant believes he has one $1,000,000 in a sweepstakes. He has to take the letter he got in the mail to Lincoln, Nebraska, several days drive from his home in Billings, Montana, but such is the nature of his mental state, when he wife refuses to drive him there (he cannot drive anymore) he repeatedly attempts to walk there only to be fetched by his exacerbated son David. The picture we see of David's life is not one of living fast and fancy free, so he decides to indulge his father and drive him to Lincoln. He sees it at least as a way to spend time with him and get a change of scenery, though the roads they drive down are far from scenic. Still, I can understand, there is nothing like being on the Road.
Much of the action takes place in Hawthorne, where Woody grew up. They stay at his brother's house and here we meet a lot of his family, though the men only speak as mentioned above two sentences to each other. There is a hilarious scene where all the Grant men are in the living room stoically watching a football game, with nothing to say to each other besides what car did you drive thirty years ago. David during this was just staring at all his old uncles in disbelief. The women are in the kitchen chatting away. It made me laugh.
In learning in a subtle way more about Woody and his past and just watching old people go about their lives in a very old, small town, the movie has a very certain nostalgia to it that comes to be touching in the end. It only further reinforces my own fundamental belief, that there are no ills that the Road cannot cure.