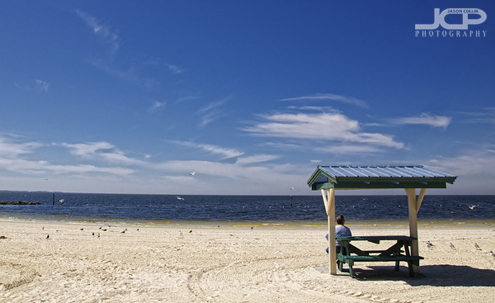 Due to a set of very unusual circumstances, I found myself with 4 hours of sanity today.  It was a preview to how my days will be once I win the lottery this year, except of course in the parking lot will be a Porsche 911 Turbo instead of a Saturn Vue.  I found myself being very grateful for something that should be a given, not an extraordinary exception.  Such are the ill things one is often trapped into when living in the world of Men.
You may not know that this former, and long-time, English (actually ESL) teacher will soon be a math teacher!  Indeed.  Each subject (and corresponding teacher) is this year categorized by a sea creature.  Naturally, I am shark.  So I was very pleased to make this HDR image for use in my classroom and as a logo and beacon for the students in the upcoming 2009-2010 school year.
I thought I could show Aya how great U.S. fireworks were as compared to Japan's.  I had boyhood memories of huge extravaganzas of fireworks with the crowds ooohing and aaaahing as we sat on a gentle grassy slope.  I will now have to admit that tonight's barely 20- minute fireworks display paled in scale in comparison to Japan's 1-hour plus hanabi.  Not only that, but we were surrounded by smokers just like in Japan!  Both a mother and a father smoking on their two children, one of which was highly disabled in a complex wheelchair.  Where do I have to live to be free of such extreme ignorance?  Where?!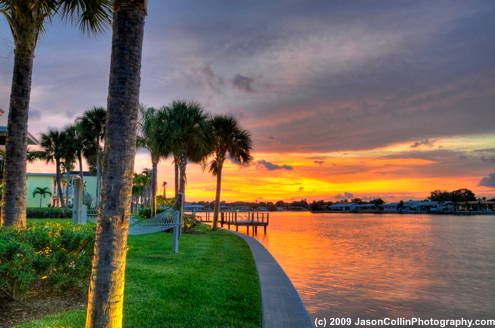 I saw some great sunsets while living in Tokyo, but I always remembered there is nothing quite like a Florida sunset.  I give Aya full credit for me being able to make this image.  She said the sky must be beautiful this late evening, and she was correct.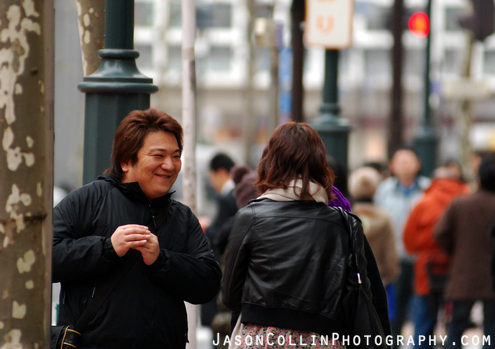 I now have ample time with nothing to do on Tuesday afternoons in the Shibuya area.  Naturally I carry my trusty Nikon D80 (edit:  Nikon D300 from now on!) with me on these occasions.  As I walked around a corner and onto the main street leading toward the Hachiko area of Shibuya Station, from afar I noticed someone gesturing peculiarly to someone else.  I got a bit closer and saw that it was a rather creepy looking punter, but with an innocent air about him, trying to convince a woman of Buddha knows what.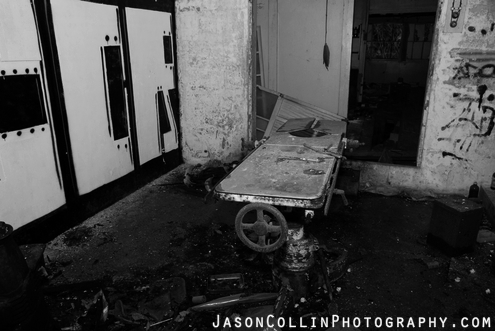 This was a return to a place upon first leaving I thought to myself, "this was a fell place.  I do not wish to return, ever."  Yet one year later I returned to the abandoned mining town in Gunma Prefecture, Japan.  The lure this time was a previously overlooked doctor's clinic that held rumors of such oddities as  a "preserved brain" in a jar and decaying surgical instruments.  All the rumors, it turned out, were true.
I cannot say how many times I have visited Shinjuku Gyoen in 6 years of living in Shinjuku, t least 20.  I've visited it in all seasons.  Obviously the busiest time is hanami (cherry blossom viewing) season and the autumn foliage season.  However, my personal favorite time may be in January, when even on a Saturday the park is largely empty and I can wonder about its trees and fields of dead grass unhindered by distractions.  I have fond memories of other January visits.  One was the last time I saw a friend and co-worker.  And now, this final January visit, will also be my last visit ever to the park.  It's my favorite park in all of Tokyo by far and one of the best things about living in Shinjuku (though I wish Shinjuku Ward residents could get in for free).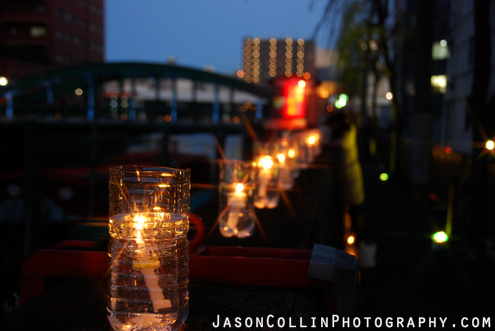 Aya and I happened to be in the Nihonbashi area for a festival, so only by chance did we come across Candle Night at Kandagawa.  This was 700 candles floating in cut off 2-liter plastic bottles all put on display by university students to promote environmental awareness (the irony of using so much plastic is not lost on me).  We passed by while it was still a bit light out and they were setting up.  We were given a flyer and told to be sure and come back after dark.