You may not know that this former, and long-time, English (actually ESL) teacher will soon be a math teacher!  Indeed.  Each subject (and corresponding teacher) is this year categorized by a sea creature.  Naturally, I am shark.  So I was very pleased to make this HDR image for use in my classroom and as a logo and beacon for the students in the upcoming 2009-2010 school year.
I thought I could show Aya how great U.S. fireworks were as compared to Japan's.  I had boyhood memories of huge extravaganzas of fireworks with the crowds ooohing and aaaahing as we sat on a gentle grassy slope.  I will now have to admit that tonight's barely 20- minute fireworks display paled in scale in comparison to Japan's 1-hour plus hanabi.  Not only that, but we were surrounded by smokers just like in Japan!  Both a mother and a father smoking on their two children, one of which was highly disabled in a complex wheelchair.  Where do I have to live to be free of such extreme ignorance?  Where?!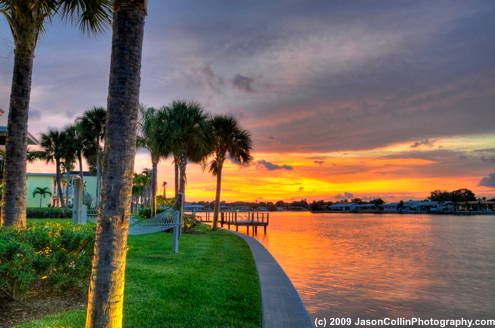 I saw some great sunsets while living in Tokyo, but I always remembered there is nothing quite like a Florida sunset.  I give Aya full credit for me being able to make this image.  She said the sky must be beautiful this late evening, and she was correct.  
I cannot say how many times I have visited Shinjuku Gyoen in 6 years of living in Shinjuku, t least 20.  I've visited it in all seasons.  Obviously the busiest time is hanami (cherry blossom viewing) season and the autumn foliage season.  However, my personal favorite time may be in January, when even on a Saturday the park is largely empty and I can wonder about its trees and fields of dead grass unhindered by distractions.  I have fond memories of other January visits.  One was the last time I saw a friend and co-worker.  And now, this final January visit, will also be my last visit ever to the park.  It's my favorite park in all of Tokyo by far and one of the best things about living in Shinjuku (though I wish Shinjuku Ward residents could get in for free).  
I met this man at the Toshi no Ichi festival in Nihonbashi.  His hat obviously made him stand out.  He seemed to be the Man of the area, down with everyone, chatting to the festival organizers, and providing the biggest smile of any on-looker.  He could speak a bit of English so we chatted for awhile as well and he gladly accepted my portrait request.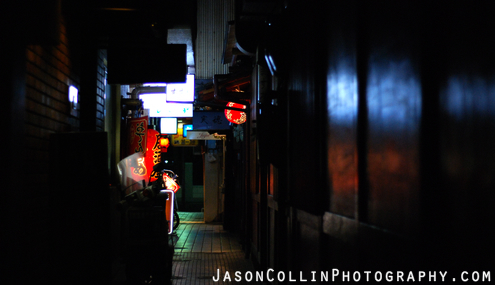 I was excited to explore the small back alleys of Kyoto.  Before going I had no idea of the fame of Pontocho Alley.  Once there though I learned that this street is home to geisha and maiko (see photo) who display their talents in places no mere tourist can simply wander into.  This photo was taken on New Year's Eve, Eve when Pontocho was no doubt much quieter than it normally is.  The view is down one of the very small side alleys leading off of Pontocho proper.
As I left Kiyomizu-dera and wandered about on the small streets leading to the Gion area of Kyoto, I noticed a bit of commotion at the end of one street.  Two maiko were walking down the street and stopping to pose with people who asked them to do so.  This willingness to pose makes me suspicious about whether or not they were true maiko or not.  Regardless, they looked exquisite.  For photographing them, I didn't just want them to mug for my lens, so I tried to catch them in-between posing for others.
The performance by these two ladies was just amazing and unbelievable to the eyes.  If I saw it on TV I would not believe it was real.  Even in person what they did seemed to defy physics.  In this photo you can see them "simply" tossing a ball between their spinning parasols at a festival near Nihombashi.  They also spun a tea cup and a large wooden, square bowl.  I will post a full photo gallery of their amazing feats in the near future.   [Read more]