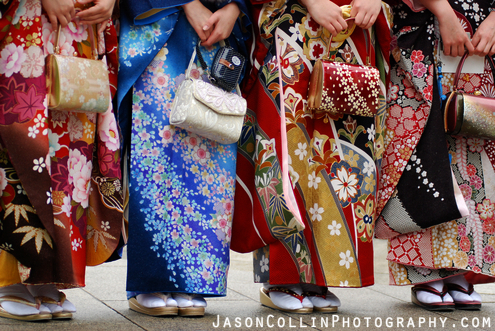 A flickr friend gave me the heads up about the good photography opportunities at Meiji Jingu Shrine on Coming of Age Day, or Seijin in Japanese.  It was also a chance for me to finally meet that flickr friend, Vladimir Zakharov, whose photography I have been a fan of for some time.  I of course assumed there would be a good number of other photographers there, as Meiji Jingu is perhaps the most popular shrine for such events in Tokyo.  I had heard that the girls did not mind posing for the cameras as well.  I had no idea how much they did not mind and how much the photographers were willing to give them orders!
I met this man at the Toshi no Ichi festival in Nihonbashi.  His hat obviously made him stand out.  He seemed to be the Man of the area, down with everyone, chatting to the festival organizers, and providing the biggest smile of any on-looker.  He could speak a bit of English so we chatted for awhile as well and he gladly accepted my portrait request.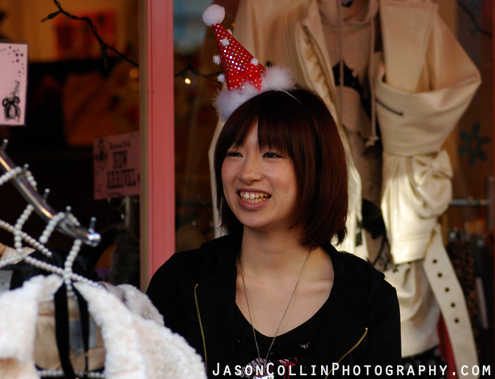 I wanted to try something new for my next FACES OF TOKYO SERIES (Takadanobaba, Kabukicho) instead of another set of photos of people just walking on the streets.  I had the idea to take photos of people shopping inside stores while I was out on the street.  I decided on Shimo-kitazawa as it has almost countless little shops on small side streets, plus the people who frequent this area are usually more hippie/bohemian/hipster.  This proved to be a very challenging thing to do from a technical photography perspective and did not turn out so successfully, but I thought I would still share them to show that one should not always play it safe with one's photography.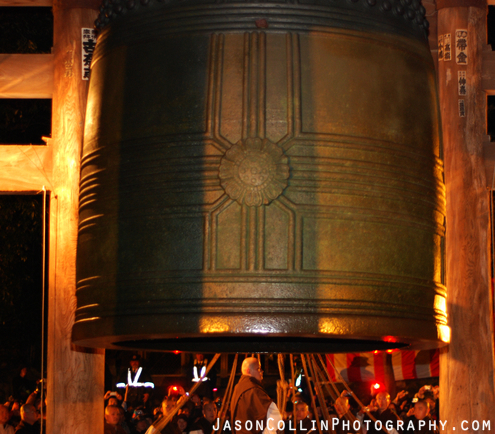 Totally by accident, Aya and I were able to witness one of the most special New Year's Eve traditions in Japan–the ringing in of the new year by 17 monks at Kyoto's Choin-in Temple.  This was one of the most impressive things I've ever seen.  The bell the monks were ringing is the largest in Japan, weighing in at nearly 80 tons and having a diameter of some 2.7 meters.  It's also very old, being cast way back in 1633 C.E.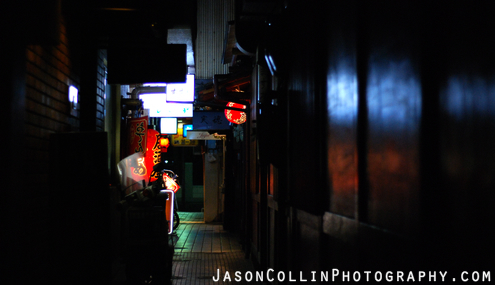 I was excited to explore the small back alleys of Kyoto.  Before going I had no idea of the fame of Pontocho Alley.  Once there though I learned that this street is home to geisha and maiko (see photo) who display their talents in places no mere tourist can simply wander into.  This photo was taken on New Year's Eve, Eve when Pontocho was no doubt much quieter than it normally is.  The view is down one of the very small side alleys leading off of Pontocho proper.
As I left Kiyomizu-dera and wandered about on the small streets leading to the Gion area of Kyoto, I noticed a bit of commotion at the end of one street.  Two maiko were walking down the street and stopping to pose with people who asked them to do so.  This willingness to pose makes me suspicious about whether or not they were true maiko or not.  Regardless, they looked exquisite.  For photographing them, I didn't just want them to mug for my lens, so I tried to catch them in-between posing for others.
The performance by these two ladies was just amazing and unbelievable to the eyes.  If I saw it on TV I would not believe it was real.  Even in person what they did seemed to defy physics.  In this photo you can see them "simply" tossing a ball between their spinning parasols at a festival near Nihombashi.  They also spun a tea cup and a large wooden, square bowl.  I will post a full photo gallery of their amazing feats in the near future.   [Read more]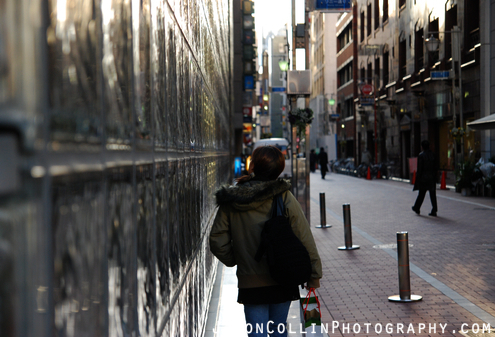 Aya and I spent Christmas afternoon leisurely walking around Ginza, Tokyo because, for some reason, I feel that area of Tokyo has the most Christmas spirit kind of feeling.  Maybe it's just all the shopping done in the city, or how clean and open it is compared to other wards of Tokyo.  Regardless, it was a nice place to spend this Christmas afternoon.  The glass building on the immediate left houses Hermes.