Episode III -- the Final Journey
the final leg of a Destiny that started 9 years ago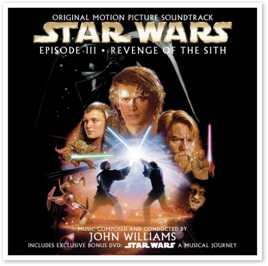 Sunday May 8, 2005
12:26 am
The start of this journal begun late on a Saturday night, the time of greatest Destiny each and every week. This is my last before I return. I purchased the Episode III Soundtrack today, the first CD I bought in 3 years. The prior being the Episode II Soundtrack of course. I am listening to the former now.
Tuesday May 10, 2005
12:37 am
I was mocked on Sunday. I am used to this. There are only 2 who do not. One is as interwined with my Destiny as much as Episode III itself. The other is a sympathetic, distant friend. It is not important to me for anyone to understand WHY at all. It is of zero significance to me. There are few who know of Destiny, and fewer still who stride headlong into it, unafraid. "The Duel."
Wednesday May 11, 2005
12:37 am
I do not have a set schedule for writing these entries. It is a testament to how ludicrously the same my days are that by pure coincidence the last two journal entries are at the exact same time. Today my mind was drawn deeply into imagining the light saber movements of Obi-Wan and Anakin while walking home listening to "Battle of the Heroes." I could feel them. No doubt that piece of music is Epic enough to match the eternally waited for, "The Duel." I was pleased that the Hong Kong-ese Star Wars fan who totally helped me out with seeing Episode II in Hong Kong still had the same e-mail address. I wrote to him to extend my thanks again and to tell him my plans for Episode III. I was glad to hear he had thought of me this week also and was wondering if I was returning to Hong Kong to see Episode III. This is the Star Wars international community. For all the people that mock, they truly don't understand. We hadn't see each other or exchanged e-mail for 3 years, but each thought of the other still. I will write more about the sense of community some other time.
Thursday May 12, 2005
12:18 am
Not much SW action today as I just packed for the journey and backed up all the data on my Powerbook for installing Tiger. Had lots of trouble sleeping last night. The trip is very heavily on my mind. My head was in a daze all day today because of lack of sleep.
Friday May 13, 2005
12:49 am
I have taught my last lesson, and packed all my things. Everything is in the ready for my departure. The last leg of the Journey formally begins tomorrow. It is still not real to me. All has always been in the future. For this to be a part of the present, I still cannot fathom. I truly do not know what the result will be. Only a single week until I behold Episode III. So be it.
5:12pm
On the plane. No problems at the airport and actually ran into one of my old students from Hosei University. So far things feel very casual. I wasn't able to concentrate in the aiport because of chatting with my student.
11:45pm
Over Los Angeles now. I couldn't really sleep at all. I dozed a few times. Then just gave up trying to sleep. Continental has the worst vegetarian food of any airline I have flown on. Touching down anxiety has set in, as in I just want this plane to touch the F down so I can get caught up on sleep then start focusing on the task at hand. The Powerbook travels an F of a lot better than the Dell did. The best feature by far is the ability for it to go in and out of sleep instantly.
I still feel calm. I just figured out what the dark hump on the map of the plane meant, that's the part of the earth in darkness now. At first it totally looked like Vader's helmet to me. Actually, we are still over the Pacific, approaching the California coast.
Got some music playing now, that's much better. I revealed to my mother last night (via e-mail) for the first time how mine own Destiny is intertwined with Episode III. Heretofore she knew nothing of this. I only made the revelation this time as a defense, and a justification for how I will be when I visit this time. Episode III is my means for Liberation from many things, and there is no time for half-assing anything anymore. There will be no other event I may use by which to my Liberate myself. Episode III is it. Although I do not know what happens after . . . though there does exist another Hope.
Tampa, Florida: Tuesday May 17, 2005
3:13 am
Less than 48 hours now until the premiere. As of right now I have no thoughts. I'm in disbelief that it is finally coming. Tomorrow I have to prepare for doing my duty waiting in line starting on the morning of the 18th. Respect.
Tampa, Florida: Wednesday May 18, 2005
12:11 am
The Day of Days is upon me. Yet I am not feeling it nearly like I thought I would. Fatigue may be an issue. When I awake tomorrow morning, I shall proceed to rejoin my kinsmen at the AMC Regency 20 in Brandon. It will be good to be among them. Among those who show Respect. I still feel Anakin can be saved in Episode III, even though I know it doesn't happen until Episode VI. To the line . . .
Brandon, Florida: Wednesday May 18, 2005
9:48 am
I am in line and online with 5 of my kinsmen (Luis, Mike, Carlos, Josh, & Tony). I was #6. I arrived at 9:10am. The Day of Days has begun. There is nothing in the history of the world I would rather be doing right now. It's about respect. It's about DESTINY.
11:39 am
We have been playing Trivial PUrsuit DVD Star Wars Saga Edition for the past hour. We are using Luis' TiPowerbook to play the DVD. We plugged in to the theater's AC outlet. It's not totally official, but we smooth talked a staff person into doing it. Still NO one else has joined us in line. Unbelievable.
12:52pm
We've been moved by AMC management, but we are still in shade. The pizza store owner has kindly allowed us to plug into his AC outlet so we have juice and Internet . We are about to watch the Star Wars "Thumb Wars" video.
7:07pm
They let us in the theater at 7pm. We are in theater #7, the biggest. It's a time of Destiny! I couldn't sit down for the first 10 minutes inside the theater. I strangeled Steve involuntarily. I couldn't fathom that we were in the very theater that we will in 5 hours witness Episode III.
9:17pm
The theater is still not even half full yet. I am shocked by the lack of respect. Less than 3 hours until showtime. There are a few people in costumes. I think after 10pm it will finally start to pick up. I am wondering if I should have gone to Los Angeles. I assumed Regency 20 would still have respect. I hope the buzz increases significantly soon.
9:36pm
Some respect is starting. I just walked past the movie theater staff person who I first talked to VERY early this morning and he recognized me. He said, "so you went home and changed and everything?" I said yeah. He had changed into street clothes too and will be joining us in the theater to watch the movie. The guys to my right inquired about my sweet Anakin t-shirt and they were impressed that I got it in Hong Kong. Then later they inquired about my sweet Adidas slip-ons. I told them I got them in Tokyo. This is part of the Star Wars premiere viewing experience. It's all about respect.
The energy is starting to pick-up. I am listening to the Episode III soundtrack on my Zen Micro now. I need to feed off the energy of the crowd, as fatigue is setting in slightly. At long last though, after I behold Episode III, I can rest. Maybe for good. The long waiting today has actually kind of flown by, which shouldn't be surprising as there is nothing in the history of the world I would have rather of been doing. The crowd so far is a mix of high school youths and a few medium-aged adults and a sprinkling of adult geeks.
The Duel. It's going to be unfathomable. Poor Obi-Wan. He didn't want it to come to this for Anakin. It pains him so much. Obi-Wan desperately cries, "You were the CHOSEN one!" So it goes with Youth & Love.
This will be my last pre-Episode III entry. The buzz level has only increased slightly. I hope after 11pm it will start reaching the levels it should. My Destiny awaits . . .
Tampa, Florida: Thursday May 19,
2005
7:22 pm
I have now done everything I have wanted to. My work is finished. All my labors to survive until May 19th have not been in vain. I feel like a purged vessel. What I may be filled with next is still totally unknown. I feel like the back of my mind has been cleaned out.

I will see Episode III again tonight, by myself this time, and I kind of feel like this will be my True first viewing. For the previous 2 prequels as well, there was too much surrounding the midnight premieres to be able concentrate and digest the movie. I will be returning to my beloved Veterans AMC 20 Theater this time.

I feel very much in the present. No past. Indeterminate future.

Tampa, Florida: Tuesday May 24,
2005
4:57 pm
I have now seen Episode III three times and will be seeing it for a fourth time tonight. On Friday May 20th I saw it in at the Bell Tower Cinemas in Ft. Myers near my mother's house. I had never seen a Star Wars movie with a more disrespectful crowd in my life. It sickened me. It's a good thing this was the last Episode because there is just not enough repsect left for films like this to be released. There are not enough left to go on pilgrimage. I am regretting not going to Hollywood, Seattle, or London for the premiere myself.

Tonight I will be going to see the movie with my best friend Terry at a movie theater that is anything but respectful, but are there any theaters left in the Tampa Bay area that are anyway? This will make the 4th different theater I have seen Episode III in, in as many viewings. This is very unusual.

My feelings about Episode III are still processing. Unlike when I was 9 and saw Return of the Jedi in theaters with my grandfather, this time I am well aware that the Episode I just saw is the conclusion of a trilogy, and in a sense the whole series. So for the first time after I see one of the prequels, I know there will be no more coming. I guess I feel closure, and that is very different than what I felt at the ends of Episodes I & II.

For thousands of fans with respect across the world, all of us are feeling this uneasy feeling of closure, and now with the great majority of us in our 30's, really our lives move into a new, non-Star Wars direction for the first time. Something has ended for all of us. The challenge now is to create something new to make our lives worth living for ourselves.
Tampa, Florida Wednesday May 25,
2005
7:31 pm
My last day in Florida and tonight will be my last viewing of Episode III (until it opens in Japan at least). I will return to the same theater I saw it in last night, making the Muvico Starlight 20 the only theater to be home to repeat viewings. The crowd was small and mostly quiet last night. I noticed several new things in last night's viewing and paid attention to background details more instead of just focusing on the main action on screen. Repeat viewings are necessary to see all that happens on screen at once.


Tampa International Airport Thursday May 26,
2005
6:15 am
I have seen Episode III in Florida for the last time. I have now seen it 5 times which is an acceptible amount for only 1 week's time. I still saw new things even on the 5th viewing. I have a strong wish to see Episode IV as soon as I return to Tokyo while Episode III is still fresh in my mind so I can see Vader and Obi-Wan with new eyes now that I know how they each got there.

My Destiny in Florida is now complete. I return to Tokyo with an unknown Destiny before me for the first time in a decade.
my apartment in Tokyo Tuesday June 14, 2005
12:25 am
My Episode III journey will continue on Saturday June 25th when I attend a "preshow" screening at Roppongi Hills Virgin Cinema, home of the largest screen in Tokyo, and a THX certified theater as well. Last Saturday I really wanted to watch Episode III again. It was an overcast and drizzly Saturday, the perfect environment for watching Episode III. The best I could do was to walk the streets while listening to the Episode III soundtrack. It fueled me to such great anger as I passed smokers and fools. My anger was so, so great. If challenged at this time I would not have been able to hold it in check.

There are a few very cool promotional posters in a few train stations. I have seen one of Yoda and one of Vader. They are unlike any I saw in the U.S.
Tokyo, Japan: Roppongi Hills Virgin Cinema -- Saturday June 25,
2005
11:50 pm
With just 1 hour before showtime there were a mere 14 people in the lobby. No costumes, and no appartent SW t-shirts even. Correction, I just noticed the girl sitting next to me is where a cool Yoda t-shirt. I didn't expect there to be much buzz, but I was still hoping somewho there would be costomes, t-shirts, and bedlum of some kind. Now just 39 minutes to show time and things have picked up a little. They are playing parts of the Episode III soundtrack and Episode IV soundtrack, but I would rather have not heard the music for the opening crawl and closing credits. I of course was listening to the Episode III soundtrack on my way over to the theater.
They are letting us in now . . .
Sunday June 26, 2005
12:23 am
I'm in the theater now. The buzz picked up. There was one guy in a Vader mask with one of those sweet new glass light sabers that make the static noise when they touch against something. Damn sweet. There are a couple of light saber fights in the theater now. Everyone needs to be more raucous though. There's at least potential. Unfortunately, my seat is to the far right of the theater, but it's nice having the aisle at least. The pre-show stuff is starting . . . time for my 6th viewing to start!
3:24 am
I have now seen Episode III 6 times and outside of the U.S. for the first time. The crowd showed pretty good respect, clapping at the Twentieth Century Fox & LucasFilm logos, being silent during "A long time ago . . ." and then bursting (kind of) into applause when the Star Wars logo comes on the screen. They didn't clap at "Written & Directed by George Lucas," but instead at the entire end of the credits. Only I clapped both times. It was a good viewing, but really mostly flat until The Duel. I wonder how I can watch it 3 more times. These crowds make it almost like watching it alone at home. I hope this theater lets me sleep for an hour in the lobby area because the first trains don't start again until that time.
Tokyo: Monday July 4, 2005
10:07 pm
I am not fresh out of a theater upon my 7th viewing, although I have seen Episode III for the 7th time. I am in a hotel bar 20 stories above the ground looking out at a foggy Tokyo night 2 days removed from said 6th viewing. This is the first time I have not written immediately about a viewing either before or after it. I did not have the Powerbook with me before this viewing, hence no pre-show description. If I had had it with me, I would have talked about my somewhat unplanned viewing in a semi-junk theater in Shinjuku. How I didn't even have my sweet Anakin t-shirt on. How the line extended out of the theater, around several corners, and even down a set of stairs into a basement. How once inside there was a significant buzz as many attendees had themselves bought a 4,000 yen bag of Star Wars paraphernalia and seemed genuinely surprised at having found that there was a pre-show one week before the nationwide premiere and were damn glad to be in attendance at that very moment.

There was just one trailer before the 20th Century Fox logo came on the screen. There was no applause then nor at the Lucasfilm logo, save for my own whistling. But all this was terribly out of focus, and even heretically was the Star Wars title. Not until most of the first paragraph of the crawl had appeared on screen was this corrected, which then produced applause. Whether or not this applause would have come without the focus problem, I cannot say. No matter, unbeknownest to me I was on my way to a great viewing, second only to the very first viewing. My emotions were flowing through me during this view. No doubt because of outside factors heightened by the energy of the crowd and of course Anakin's demise.

There was respect upon "Written & Directed by George Lucas" and at the end of the credits, which pleased me greatly. There was also a real curtain that swept across the screen just as the final credit rolled. Nice. Very nice.

My spirits were soaring as I left the theater and paused outside the entrance suddenly in the midst of thousands of other people's energy who had not just witnessed Episode III. They did not share the euphoria I did. It mattered not to me. I have only 2 viewings left.
My Apartment in Tokyo: Saturday August 6, 2005
1:16 am
It seems I forgot entirely to write about my 8th viewing which was almost 2 weeks ago. Not surprising as it was an entirely forgetable viewing.

However, the events that have taken place in the 2 weeks since my 8th viewing are perhaps the most important in my life, and they have NOT been positive. Thus the setup for my 9th and final viewing ever of a first run Star Wars movie in a theater could not be greater. I did not see Episode III alone the first time in Florida. I was supposed to have some of that same company with me for the last time in Japan. It

was

my Destiny. I was to be saved. The Universe has not doled out that Fate though. Now my Destiny is cloudy. For the first time in 8 years, I do not know what my Destiny is. Thus, it is a very dangerous time for me.

The strong emotional response I was expecting to have during my first viewing did not happen. It seems now that emotional response, or rather release, will assuredly happen this time. I do not wish to leave the theater.


My Apartment in Tokyo: Sunday August 7, 2005
1:53 am
It is complete. I have seen Episode III 9 times now. The same amount of times I saw the other 2 Prequels in a movie theater. The crowd was 1% respectful, but not disrespectful so it was a very good final viewing. I was effected emotionally by the finality of it all. My final time seeing a first run Star Wars movie. My final time to ever see a movie 9 times in a theater. I will never do that again.

So as the dual setting suns of Tatooine came upon the screen in the final scene, I was praying with all my might to be taken from the theater. I was not granted this final wish. However, I do feel that my work is now, finally, done.