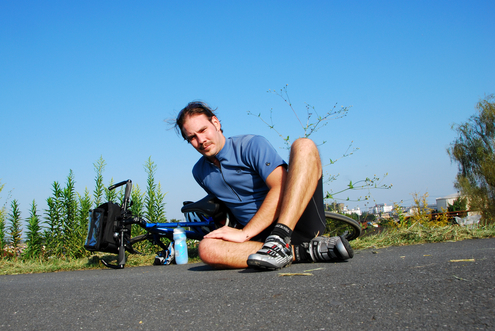 FULL RIDE STATS: (incomplete due to cyclo-computer battery dying!!) 
DISTANCE:  48.66 miles

TIME IN MOTION:  3 hours 30 minutes 13 seconds

AVERAGE SPEED:  13.8 mph

MAX SPEED:  31.4 mph
RIDING UP THE ARAKAWA:  

(official)
DISTANCE:  21.11 miles

TIME IN MOTION:  1 hour 21 minutes 58 seconds

AVERAGE SPEED: 15.4 mph

(seems low as I was flying)
RIDING DOWN THE ARAKAWA:  

(official)
DISTANCE:  18.80 miles
TIME IN MOTION:  1 hour 27 minutes 59 seconds
AVERAGE SPEED: 12.8 mph
This was an ill-fated ride on the
Arakawa River
.  I left too late since I got up too late since I went to bed too late.  Right now I my quads are still burning.  I probably won't be able to walk tomorrow.  Why?  I don't know.  Out of cycling shape I guess, pushed it way too hard at the beginning of the ride I guess, and for sure the stiff as a stiff headwind, both ways, didn't help.  Riding up I didn't feel like I was with the wind, but I was able to cruise at 20 mph the first 15 minutes.  I toned it down to 18 to 19 mph for the next 15 minutes, and then after that I made a wrong turn or two and lost a little spirit and thus a little pace.
I told myself I'd only ride up the river for 1 hour.  But the wrong turns ate up a good 15 minutes, and I wanted to try and make it to this very nice small bridge over a crick.  So I pushed on even though I shouldn't have, but I thought, if I cut out the 15 minutes of errors and cruise with the wind, I can make-up the extra 20 minutes I rode past my preset 1-hour mark.  I of course was totally wrong.

At least I made it to some cows and took my midpoint break with them (see below photos).  I've seen these cows before
on another ride
with the Mikes.  I had always thought that a cow only had utters, and that it was impossible for a cow to have both utters
and
 horns.  Either these are some freaky hermaphrodite cows, or it's natural.  They must still be female though right?  Hmm, they did pee standing up though!
So after the cows I started back and right off the bat my quads didn't have it.  But, I was 30 miles from home still!  And then I hit the headwind full on.  This was a shock as I was expecting a tailwind.  How can you ride against the wind both ways?  I don't think it could be a crosswind because on the way back I was most def going directly head-on into it.
I was fading and fast, doing maybe 12 mph a lot of the time, barely keeping the pedals going in gear 3-4.  I had to dig deep to make it.  Somehow I got back to Road 318 and off the Arakawa, where I promptly plopped down and elevated my feet way above my heart to drain all the lactic acid out of my feet and lower legs.  That helped actually.
For as I made my way down Road 318, then checked that off as I turned left onto Route 17, I felt a second wind.  No way was I going to be broken!  F that.  I became heartened, and as I turned right onto Meiji Dori, I became my usual aggressive riding self.  Others who have ridden with me know how I can find a second wind when I can smell the finish line.  This was a textbook example of that tendency of mine. 
As Ikebukuro station came up, I was going full out and made all the lights and passed through the Ikebukuro station area like a bat out of hell!  Felt badass.  
I made it back safely.  Now, will I be able to walk tomorrow?  P.S. my headlight battery died too beside my cyclo-computer battery!! Ill-fated indeed.
ARAKAWA CYCLING TO COWS PHOTO GALLERY: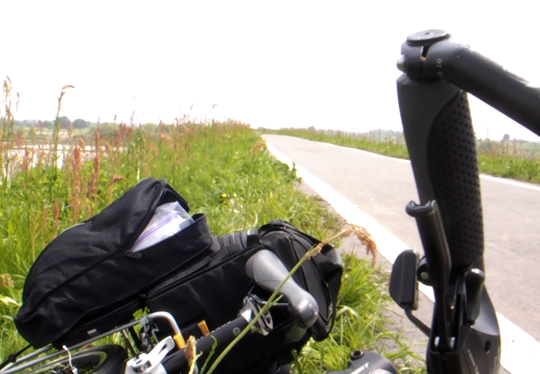 Me and
UK Mike
at long last went on our first cyclo-camping trip!  It was an over 100 mile journey round trip heading first north along the Arakawa River into Saitama Prefecture, then back down the same path on the return.  In between we saw the surprising beauty of the Saitama countryside, along with motocross racing, a crazy bird, and a jazz cafe.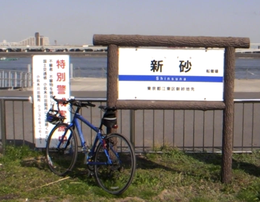 Distance: 41.0 miles
Time in motion: 3 hours 12 minutes 50 seconds
Average speed: 12.7 mph
Max speed: 26.4 mph
I did this ride a few weeks earlier, solo.  It was my great pleasure to make it the debut ride for my long-time friend in Japan, Mike Grist.  Read his report of the ride HERE.