Based on Netflix's recommendation and that it was starring Henry Fonda, I watched YOU ONLY LIVE ONCE [1937] this evening, but was rather disappointed by it. The movie was full of hard luck until the very end making me think why should anyone watch something like this? I cannot recommend it. [Read more]
Continuing my film noir marathon this evening with THE OCTOBER MAN [1947], a British movie in black & white featuring proper film noir atmosphere full of characters standing in shadows and being revealed behind clouds of steam. I like listening to the very formal and polite way of British people speaking to each other even when discussing unpleasant or even hostile topics. [Read more]
Tonight I returned to my film noir film fest with SCARLET STREET, a sort of sister movie to THE WOMAN IN THE WINDOW as both movies feature the same three lead actors and director.  It is hard to say which is better, I would probably say the latter only because at least Edward G. Robinson's character in it seems to be more interesting and the bind he gets in far stickier.  In SCARLET STREET his character's life is really out of his control, his actions do not really directly affect his fate as he gets played and ridiculed by everyone in his life.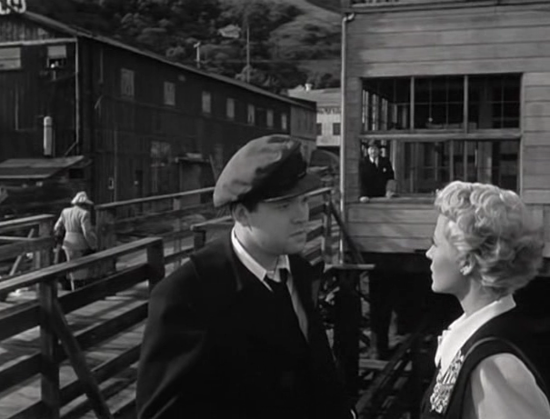 Returning to film noir movies this evening I watched THE LADY FROM SHANGHAI written and directed by Orson Welles starring the timeless beauty Rita Hayworth.  The version I watched suffered from very poor audio, but even with surround sound I still would have found the movie lacking in many areas, least of which would be likable characters.  There is no one to root for in this movie, therefore, without any emotional interest, the fate each character meets in the end has an equally emotionally-free impact.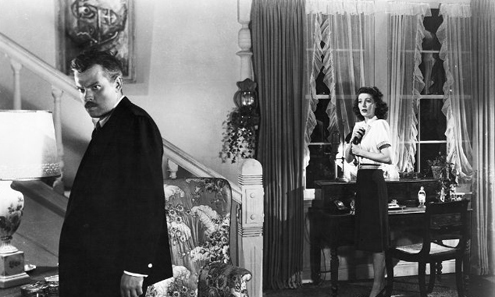 The more movies I see Edward G. Robinson in, the more he is becoming one of my all-time favorite actors.  His role in THE STRANGER as an agent tracking down Nazis in hiding is one very well suited to his talents.  Orson Welles directed and played the villain, which to me seems like a very unusual move.  I cannot imagine an actor casting himself as the bad guy in a movie she/he directs nowadays.