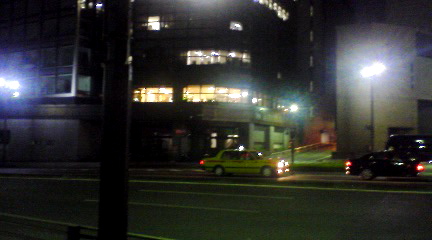 Distance:  15.82 miles

Time in motion:  1 hour 00 minutes 56 seconds

Average speed:  15.6 mph

Max speed:  28.5 mph
I just didn't have it tonight, and I knew it even before I left my apartment.  A ludicrously late bedtime last night, a late, undigested dinner, and lots of humidity and red lights all added up to a very slow 3-laps around the Imperial Palace tonight.  I felt like my head was in a cloud the whole ride.  The constant red lights just getting out to the palace loop did nothing for my rallying, and I didn't even make the light for dropping into the loop, which I make like 90% of the time!  
I had no delusions of doing 4-laps tonight as I proudly did last Thursday night.  I just barely finished the 3-laps tonight in the allotted 30-minute time limit.  I had to even clip out of my pedals once the traffic was so bad.  No doubt I have to go riding earlier from now on.  I now believe traffic picks up again after 11pm.  So the best time is between 9:30pm and 10:45pm.
Of note, the level of safety Japanese cyclists find adequate totally baffles me.  I saw these two things tonight:
On one of the fastest parts of the palace loop I pass a young j-girl on a Japanese-style bike listening to earphones while checking e-mail on her cell phone with no front or rear lights and wear dark-ish clothes.  
A seemingly real cyclist j-dude on a track bike riding in between two lanes of full speed traffic in a very hairy section of Shinjuku-dori without a rear light in dark clothes!  (later I saw he at last had a front light)
I would personally feel totally petrified to ride under either circumstances.  It was really shocking just to see that j-dude ride in the middle of the road with cars zipping by him to his left and to his right, all with no rear light!  This wasn't just for a second either, it was for several hundred meters.  Shocking.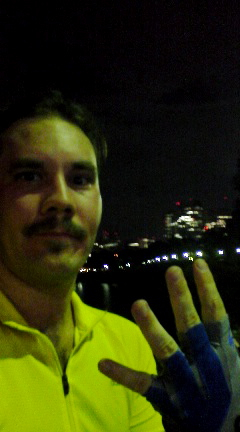 Distance:  18.95 miles
Time in motion:  1 hour 7 minutes 53 seconds
Average speed:  16.85 mph
Max speed:  29.6 mph
Tonight for the first time I did four laps around the Imperial Palace!!  I was hoping for a new average speed record too, but more on that later.  I was able to easily do a fourth lap tonight because I ate dinner at the relatively normal time of 7:25pm and started my ride at the relatively late time of 10:50pm.  That meant plenty of time for digestion and hence no risk of throwing up when grinding away around the palace.
I got to ride under the light of almost a full moon, which was nice to glance up at when I could see it between buildings.  I was going to use the second clock on my cyclo-computer tonight to record stats for just the laps around the palace, but I dropped into the palace loop so fast I didn't want to take my hands off the handlebar.  Thus, no second set of stats.  So, somewhat unofficially, a new average speed record was set for the stretch of riding from my apartment in Shinjuku to the end point of the loops:  17.6 mph average.  
I was hoping to be able to smash or at least beat my overall average speed record of 17.0 mph, but I swear I couldn't string two green lights together the whole ride home.  This was basically true for all but the third lap around the palace as well.
Ah, so why four laps tonight at last?  Well, thanks to digesting mostly.  Then also because shortly after starting the third lap I wasn't even sure if it was the third or second lap at first.  Realizing after a second that it was in fact the third I though, "hell, I can go for four tonight!"  Easy to say on the fast downhill part, but even on the last ascent of the fourth lap, my legs were good and my heart rate even better.  
I'm not sure if doing four laps will become the new standard for every trip out to the palace, but at the least it's good to know it's totally doable, as long as one has had enough time to digest!
Please comment with your own cycling story or digestion story!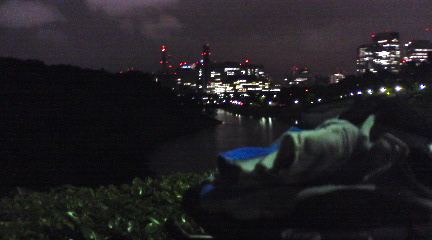 Distance:  15.8 miles
Time in motion:  58 minutes 15 seconds
Average speed:  16.3 mph
Max speed:  28.4 mph
Tonight's 3-laps around the Imperial Palace was marred from the start by some dude totally unnecessarily  honking at me as I dropped in to the loop and then by at least 50% red lights.  I wasn't feeling well enough to go for 4-laps like I had hoped, and having eaten dinner too late again, I had digested enough to even put on the speed for a new record 3-laps without risking throwing up again.  So I guess it was actually a good time to be limited by all the red lights and traffic.
I have been watching Tour de France highlights from a British show the past week, which has inspired me to ride even more.  When I was a kid in the 80's I used to ride my 10-speed around my neighborhood imagining I was Greg Lemond in the Tour de France.  After watching the stage 9 highlights during dinner tonight and seeing Riccardo Ricco's inspired burst up the second category 1 climb of the stage, I decided to get up out of my saddle on the much, much more modest climb on the back-side of the Imperial Palace loop.  This allowed me to stay in gear 3-6 up most of the climb, then when I went back in the saddle I clicked down to the usual gearing of 3-5.  
I thought getting out of the saddle was weak before, but everyone in the Tour does it, so I'm going to start doing it more myself.
I'll attempt 4-laps on Thursday night I think.  Got to digest!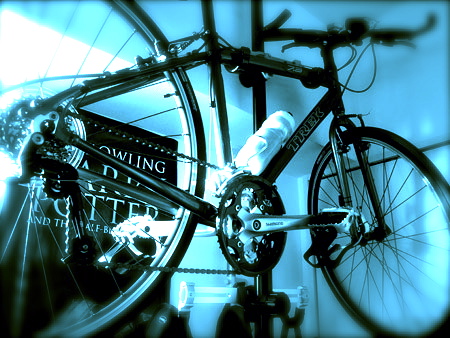 Distance:  15.88 miles
Time in motion:  1 hour 5 minutes 57 seconds
Average speed:  14.4 mph
Max speed:  29.8 mph
UK Mike and I have now entered our third week of doing laps around the Imperial Palace!  We are quite proud of ourselves.  So much so that we are thinking of adding one more lap to our usual program–which would mean going from three laps to four!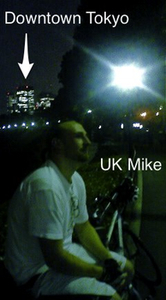 UK Mike having heard of my record setting average speed in my solo palace ride last Wednesday, was asking me how I achieved it.  He said I must have been trying to set the record, and I told him as I wrote in my post about that ride, I could not have been more not trying to set any record.  I was just riding as purely as possible for the love of riding.  Hence my complete shock upon seeing 17.0 mph as my average speed when I returned home and checked my cyclo-computer.  I told him that I just kept my Trek 7.3 FX in gearing 3-5 during all the backside ascents and in 3-7 on all the long descents and straightaways on the first half of the loop.  
Though no one said let's go for the same average tonight, I could feel that UK Mike wanted to push the pace, so I rode slightly faster than I probably would have on my own, but who knows.  Either way, I was setting the standard 10-minute lap pace, actually slightly sub-10-minute laps, and UK Mike was keeping up the whole time.  He took my gearing advice and stayed in 3-5 on the ascents and 3-7 on the back straightaways.  
We actually finished with a 17.3 mph average speed, which was for the ride from my apartment in Shinjuku to the Imperial Palace and the 3-laps around the palace.  In the future I'll think I'll use the dual-clock feature of my cyclo-computer to keep separate stats for the entire ride and just the laps around the palace.
Will we actually do 4-laps next time??  We shall see . . . .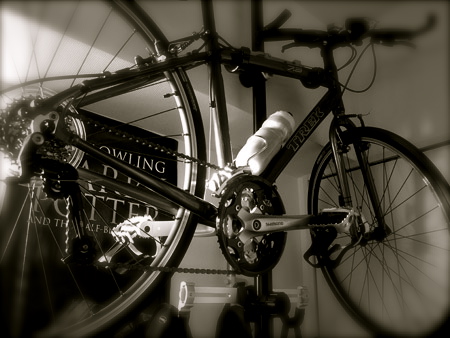 Distance:  15.78 miles
Time in motion:  55 minutes 47 seconds
Average speed:  17.0 mph (NEW RECORD!!)
Max speed:  27.3 mph
From 7:10pm to 8:10pm tonight, during my final lesson of the night, I was literally nodding off.  Earlier I had been feeling strongly about going riding again tonight, riding the same route as last night. Once I got home though after all the nodding off, I realized I didn't have it for a ride tonight and should rest.  After all, I did do 50 pushups this morning as well.
All windows were closed, the air con was on, I just had eaten dinner, and my apartment was silent.  I was moments away from watching a movie and chilling out.  But then I opened the sliding glass door to the balcony and heard the city.  Then I turned on Indie Pop Rocks! on SomaFM.  I began to wake up.  Then once I heard a song by a band called Voxtrot, I was stoked enough to rally for a ride, and not only did I not throw up this time, I totally SMASHED MY AVERAGE SPEED RECORD!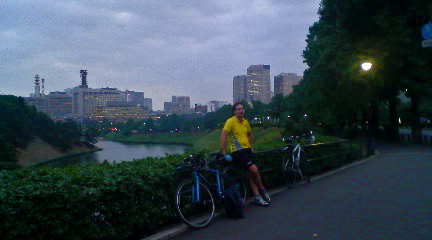 Distance:  15.92 miles
Time in motion:  1 hour 7 minutes 19 seconds
Average speed:  14.2 mph
Max speed:  28.5 mph
On an extremely rare free weekday evening, I rounded up Mike to go do 3 laps around the old Imperial Palace again.  We want to make this a regular weekly ride, if not twice weekly.  So despite Mike being a bit tired from an hour long job last night, he rallied to keep the streak alive, now at a humble two weeks in a row.
Traffic was still quite heavy around the palace at this time, so the usual 10-minute lap pace wasn't quite possible.  After a 12-minute first lap, I found myself in a better traffic flow on the second and third laps enabling me to clock 11-minute laps for those. During the second lap I decided not to click down to any gear below 3-5 (largest front chainring, 5th rear chainring).  During the gradual ascents on the back half of the lap I just found my momentum and was able to keep the legs churning without breaking speed.  The second ascent right before the start/finish line was attacked and made short work of.
On the third and final lap especially, I barreled down the initial hill at 28 mph and pegged my speed at 25 mph on the long strait-away after the descent.  Staying in 3-5 I had to use some energy to maintain momentum up the first ascent, but destroyed the second ascent and finished my 3 laps strongly, pondering a fourth, but ultimately deciding to end strongly and make the next ride out the first ever 4-lapper.
Weather was very nice.  The air was crisp and actually felt a bit cool on the ride back into Shinjuku along Shinjuku Dori.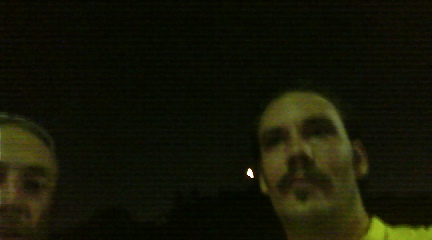 Distance:  16.29 miles
Time in motion:  1 hour 10 minutes 17 seconds
Average speed:  14.0 mph
Max speed:  29.8 mph
I wanted to start riding at night again.  As it is officially summer and it was sunny all day, I knew tonight should be the night.  I used some of my motivational skills and was able to extract UK Mike from his apartment to join me.  
I suggested we do three hardcore laps around the Imperial Palace, which would be a total of 15 km (9.32 miles), as one lap is 5km.  And I wanted us to do it in 30 minutes, the pace I set a long time ago on another ride in March.  Well, I did have to teach until 8:30pm then come home and cook.  So basically I scarfed down some green Thai curry and then hopped on my bike and started barreling down Shinjuku Dori.  Even at this point, I kind of knew it wouldn't be an all internal ride.
I set a hard pace and UK Mike impressively kept up the whole time.  On the third lap I wanted to really attack the two incline sections on the latter half of the lap.  After about 30 seconds of hard grinding up hill, the first heave happened.  I kept on grinding up the incline.  Then the next heave was actual chunks, or rather brown rice with bits of tofu.  I had hit the wall and my pace slackened.  UK Mike caught up and set the pace during the slight downhill and flat section.
There was one more uphill part right before the finish, and I thought I can reclaim the lead there.  I used a sweet slingshot around the last left hand turn to take the lead.  I pushed it really hard up the last incline.  Boom!  More upheaval!  Lots this time actually.  Two good mouthfuls.  Might have been all my dinner!  
The finish line was just a few dozen meters away.  We chilled there for a while chatting while my stomach settled.  Amazingly, all the time I was heaving, I never once got any on my clothes, or my bike, and never stopped pedaling.  I don't recommend this though.
We took a very leisurely pace back stopping to eat TWO ice pops each in front of a convenience store.  Despite the throwing up, it was still a great ride and something I hope kicks off at least once a week night riding, if not twice a week.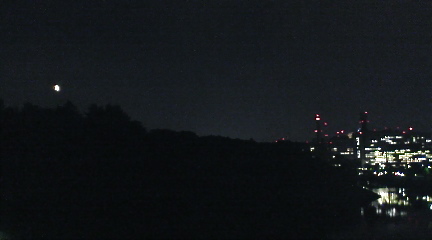 About 30 cyclists from the Tokyo Cycling Club met at Nakano station at 10am in the morning and begin an all-day ride. We first rode down a street under a canopy of cherry blossoms, a truly beautiful scene.
We next visited Koishikawa Korakuen park and from there went to the Imperial Palace and then Yasokuni Shrine.