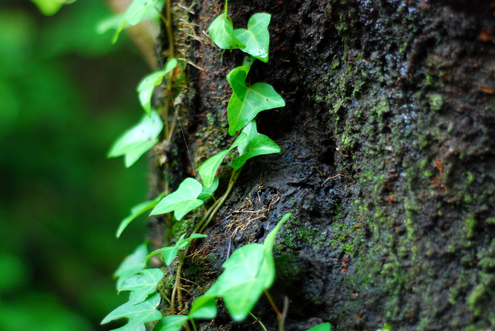 Though it took two trips to finally make it to Shizen Kyoikuen Park actual, in Meguro, Tokyo, Japan, it was well worth the effort as it is a unique Tokyo park/garden experience.  The full name of the park translated into English is the mouthful, "The Institute for Nature Study National Science Museum Tokyo" as it says on the English brochure handed to me at the entrance.  Ever since I was a little boy, I have been totally into getting up close and intimate with forests, so I was stoked to soon discover upon entering the park, that this wasn't the usual pond and pagoda setup of traditional Japanese gardens, but rather a 100-year old forest with long paths—a forest too large to seemingly still exist in Tokyo.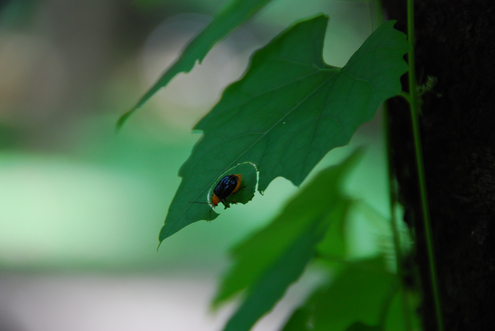 After a most likely failed job interview, I wondered around Aoyama-itch?me as I've never been in that area save for passing by one time on a ride. It has large empty sidewalks and streets that skirt Princess Michiko's residence (I hear). I stopped in a small park. There were many trees so it was very shady. The ground still had puddles and mud from the previous 4-days of rain. Only after I photographed this beetle eating lunch, did I realize that that park was a perfect breeding ground for mosquitoes and that while taking the photo I was bitten at least 11 times!! (4 times on the left buttock alone)

Using largely macro zoom on my Xacti HD700, I shot various plants, mushrooms and insects in the Saiko Lake area of Yamanashi Prefecture, Japan. There is also footage of a hawk flying while holding a fish.
Other scenes include ants assaulting a caterpillar, an "ohm" bug romping through the grass, a caterpillar dangling from the sky on its own thread, a spider securing its web, and more.
The line was already pretty big 15 minutes before the bus' departure time causing me to worry a little if I'd even make this bus.
…The bus actually goes all the way to the top of the gorge, which some weaklings stay on until, so that they can walk downhill the whole time. Since I am of course a Man, I got off at the foot of the gorge, took my camera out of my bag, donned my trusty Mountain Hardwear charcoal gray Big Shade hiking hat, secured Dana to my back, and set off.
…Some dismay passed over me though when I saw that a paved road with a fence along its edge seemed to wind up and and up without break. … However, my fears were soon belayed as not only was there a break in the fence, but also a path leading down to the stream still bent on carving the gorge deeper into the earth. … So many that after thoroughly exploring each one, in an hour's time I had made minimal progress up the road to the waterfall awaiting at the top of the gorge.
…As I surveyed the gorge from within it, plotting my next leap, the "World Class Rock Hopper" breathed the crisp air, listened to the story of the stream, and made many insect friends (praying mantis, spider, grasshopper, caterpillar). … Broke my own rule of never stepping on anything green, but since it was a minor step, I didn't pay it much mind.
…To the right you can see me seated upon a huge (unseen) boulder that took a good bit of pre-thought to figure out how to mount. … I was a day removed from my apartment, so I didn't have one of my world class sandwiches with me, so I instead had to dine on inari, raisins, and a Soy Joy bar.
…In total, I explored fully at least 80% of the gorge, only passing on a few paths due them not looking so interesting and minor time constraints. As according to my map I left the "road" and headed onto the "hiking trail," the only thing that changed was that the width of the paved road narrowed a bit. … I have beheld many waterfalls in my travels, and this was too far removed from the closest viewing point to offer any kind of impressive feelings (one of the best was on Koh Chang, Thailand).
…I am all about contrasts, and after spending the afternoon deep in a gorge, it felt good to be on the top of a mountain.
…I thought my adventure was done, but as I waited impatiently for the bus, I used my will to power to setup a share taxi with a fufu, costing only marginally more than the bus would have. … As the mountain road was damn narrow and the driver was constantly looking in the back seat to talk to the other ojisan pointing out peculiar looking rock formations (a helmet, daibutsu) causing the taxi to veer slightly off the road on more than one occasion, I made sure that my own seatbelt was snugly buckled in.
…The girl sitting next to me on the bus could surprisingly speak English and we ended up playing my DS nearly the whole 2 hour 15 minute ride back to Shinjuku.