I felt things while watching HER [2013] that I never felt while watching a movie before because I never had those feelings, or better yet, sensations before. I almost feel chemically changed from it, like I just saw the future and watching the movie was deju vu and I already know the ending to life. If none of that makes sense that is the effect watching HER has had on me in the immediate minutes after finishing it. [Read more]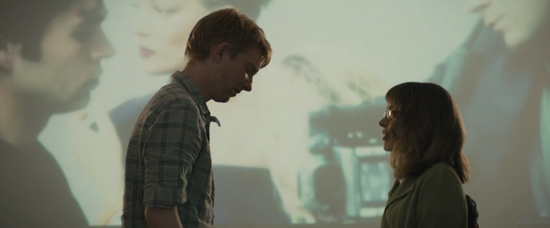 ABOUT TIME [2013] is movie magic at its best.  It gets my highest recommendation.  It is a pure and as perfect as one can expect 123 minutes of cinema to be.  It hits right note after right note.  It is an incredibly gentle and tender movie.  It will restore your faith in things, at least for the night.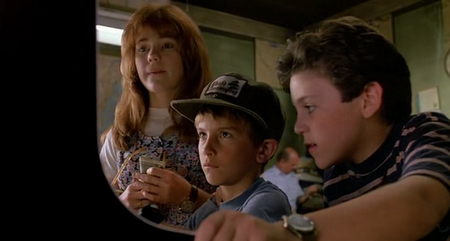 I do not think there could be a more nostalgic movie for me than THE WIZARD [1989].  I have not watched it since it came out now almost 25 years ago.  For me, it held up perfectly and was much better than expected it to be to my now 38-year old eyes.  The biggest surprise was that it was a road movie to California, perhaps an omen? [Read more]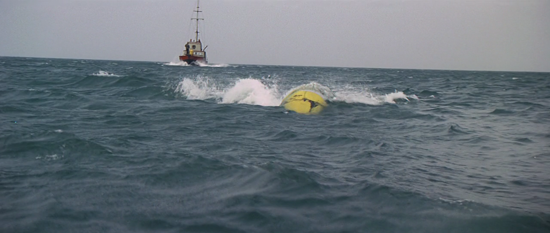 Perhaps there is no other movie like JAWS [1975] I have ever seen for remembering so many small details, like how Brody's foot slips on the sidewall of the boat, for example.  Perhaps there is no movie in history in general that burns into a viewer's mind like JAWS.  This is another of Steven Spielberg's flawless masterpieces. [Read more]
MOTHRA VS. GODZILLA [1964] is a movie that has haunted me for 30 years.  I can clearly remember when I first saw it as a young child, that it crushed me that my childhood hero, Godzilla, could be defeated by two larvae just shooting cob webs onto him!  I could not accept it.  For 30 years I could not.  I thought, why did Godzilla not use his thermonuclear breath more?  Why couldn't he just rip off the webbing?  I anxiously rewatched the movie this afternoon hoping for answers to these questions.  Thankfully, I got them as viewing the movie with a more skilled movie watching mind, I could understand there were mitigating factors. [Read more]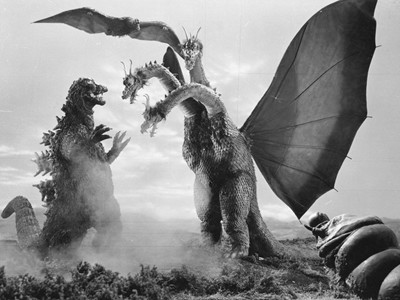 What I started in 2007, picked up on in the summer of 2010, I fully intend to finish to the end in the summer of 2012, which is to watch all the Godzilla movies (semi) in order all the way through the modern ones I have never seen before.  The Showa era movies bring me back to my childhood, when I used to watch them on Saturday afternoons as part of the "Creature Double Feature" series.  Thus, I only watch them now on Saturday afternoons too.  This afternoon was GHIDORAH, THE THREE-HEADED MONSTER [1964] in color and dubbed in English.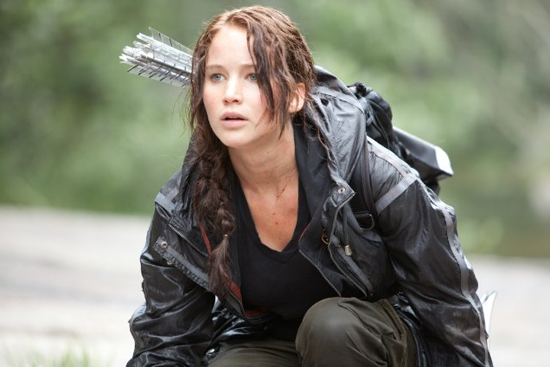 I have never felt more fear for a character than I did for Jennifer Lawrence as Katniss Everdeen in THE HUNGER GAMES.  By the moment she was about to enter the games, I felt petrified for her.  Director Gary Ross allows ample, ample time to build up to the games themselves and being totally unfamiliar with the story, I had no idea when that calm before the storm was going to end and all hell would break loose.  Likewise, once in hell I did not know how the story would play out and was constantly surprised.  THE HUNGER GAMES is riveting and must be seen in a theater, preferably an IMAX theater.
There is something really valuable about a great western movie to me.  It shows a time when a man of honor and courage could take it upon himself to directly set things to rights when witnessing vile actions.  In the old west it seems there were two societies, one in the game, and one not, though both were dominated by those in the game.  You had to choose to strap a six-iron to your hip and be in the game, then to choose the side of honor or the side of the low-down.  If you chose not to be in the game, the low-down would still not treat you like Switzerland.  WINCHESTER '73 is an intimate, yet sprawling western largely shown from the perspective of the low-down, but dominated by James Stewart as a man of honor.