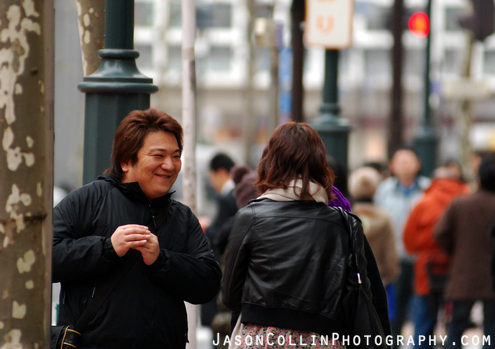 I now have ample time with nothing to do on Tuesday afternoons in the Shibuya area.  Naturally I carry my trusty Nikon D80 (edit:  Nikon D300 from now on!) with me on these occasions.  As I walked around a corner and onto the main street leading toward the Hachiko area of Shibuya Station, from afar I noticed someone gesturing peculiarly to someone else.  I got a bit closer and saw that it was a rather creepy looking punter, but with an innocent air about him, trying to convince a woman of Buddha knows what.
I met this man at the Toshi no Ichi festival in Nihonbashi.  His hat obviously made him stand out.  He seemed to be the Man of the area, down with everyone, chatting to the festival organizers, and providing the biggest smile of any on-looker.  He could speak a bit of English so we chatted for awhile as well and he gladly accepted my portrait request.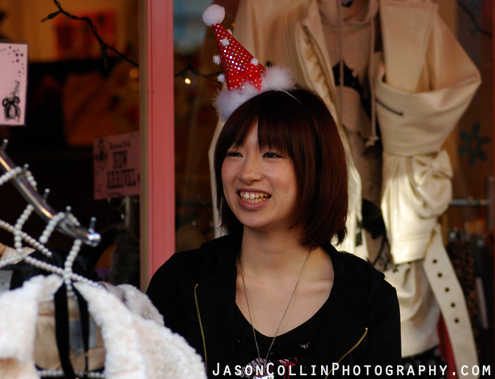 I wanted to try something new for my next FACES OF TOKYO SERIES (Takadanobaba, Kabukicho) instead of another set of photos of people just walking on the streets.  I had the idea to take photos of people shopping inside stores while I was out on the street.  I decided on Shimo-kitazawa as it has almost countless little shops on small side streets, plus the people who frequent this area are usually more hippie/bohemian/hipster.  This proved to be a very challenging thing to do from a technical photography perspective and did not turn out so successfully, but I thought I would still share them to show that one should not always play it safe with one's photography.
As I left Kiyomizu-dera and wandered about on the small streets leading to the Gion area of Kyoto, I noticed a bit of commotion at the end of one street.  Two maiko were walking down the street and stopping to pose with people who asked them to do so.  This willingness to pose makes me suspicious about whether or not they were true maiko or not.  Regardless, they looked exquisite.  For photographing them, I didn't just want them to mug for my lens, so I tried to catch them in-between posing for others.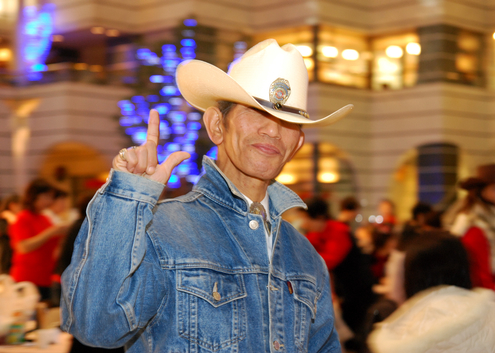 The only reason why I know about the country line dancing scene in Tokyo (and it's much bigger than you might think) is because one of my longtime private students is the Queen of Country Dancing in Japan (my given title for her).  The name she uses is Lily, which suits her well.  Another longtime private student of mine, Mami, is one of the stars of the country line dancing scene.  They run CLUB HOWDY, and on this past Sunday they threw their largest dancing event of the year, the Club Howdy Christmas Party (attended by 220+ people).  They hired me to take group photos of the dancing teams and other portraits.  This was my first official photography job of my burgeoning photography career!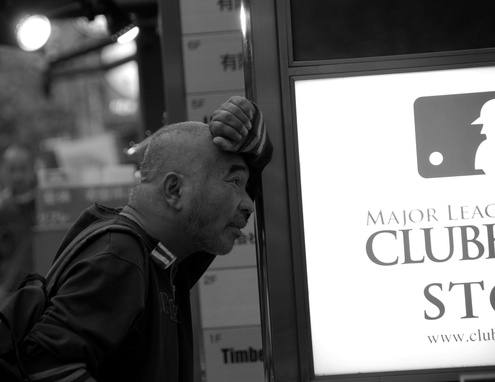 I first saw this Japanese ojisan as I was leaving the Tokyo Vegetarian Festival.  His face had great character and expression.  Before I could take a good shot of him, he started walking quickly in the direction ahead of me, thus I could get a shot of his interesting face like I wanted to.  So I had to walk really face to get not just ahead of him, but ahead of him enough to stealthily take a shot of him.  Luckily for me he paused a long time and leaned against the Major League baseball sign pictured above.  He was happy when I first saw him, but in this photo he seems to be reminiscing perhaps about when he used to play baseball as a kid.  I think this man was homeless, or at least down on his luck.  If I could speak Japanese, I would have asked him what he was thinking about.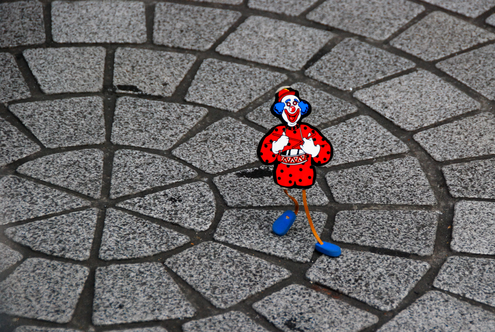 A crowd was gathering in front of the west exit of Shinjuku Station this Friday afternoon.  I already had my Nikon D80 out and ready in case something interesting came up, so I quickly snapped a few shots of a diminutive puppet dancing merrily, no strings attached!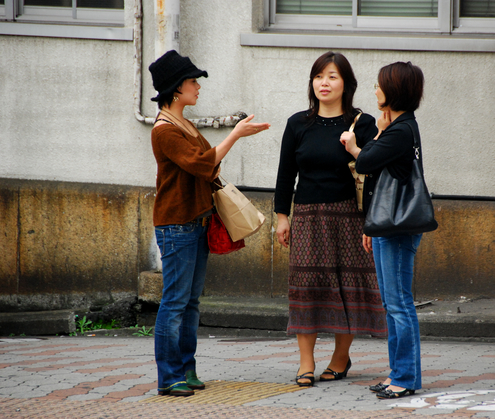 "Dude," you might ask me, "what's so damn interesting about Meguro station?"  And I'd answer, "Dude, not much at all.  I just happened to have to go there this afternoon."  Thus, the not so interesting description of the below photo gallery goes.  But, there is one interesting note to add about the Japanese 5-O.