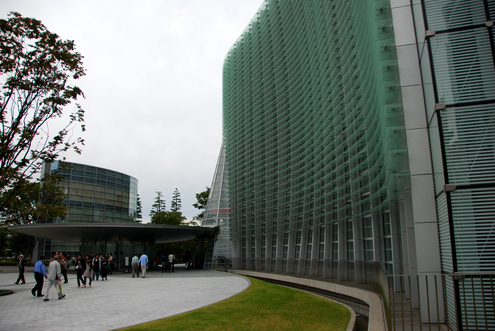 Pablo Picasso brought Aya and I to THE NATIONAL ART CENTER, TOKYO in Roppongi recently.  This is a newly built museum as part of the Tokyo Midtown development.  The museum itself is a very impressive architectural work.  The building's face is a sweeping, curved wall of vertically layered glass leading to a UFO-like entranceway.  Once through the doors, the first view upon stepping into the lobby is bold and striking and makes one think, "I'm at a very cool place and I'm ready to see some art!"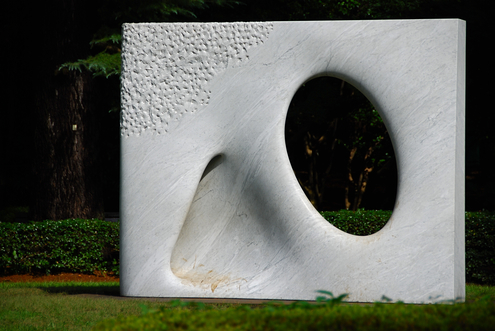 It's been raining all week in Japan, but very luckily there was a 90-minute random sunshine break Saturday afternoon, and that just happened to be the time Aya and I arrived at the small, but cozy and densely forested traditional Japanese garden surrounding the Teien Art Museum in Meguro, Tokyo, Japan.  The park contains the usual ponds and pogodas that all traditional Japanese gardens have, but is also dotted with several large pieces or artwork and sculptures.  Pictured above is the most impressive, a huge, smooth marble square with a hole and seemingly a giant's nose impression.  It was very smooth the the touch.  I enjoy running my finger tips over smooth, cool marble, and don't often have the chance, so this was a nice, unexpected find.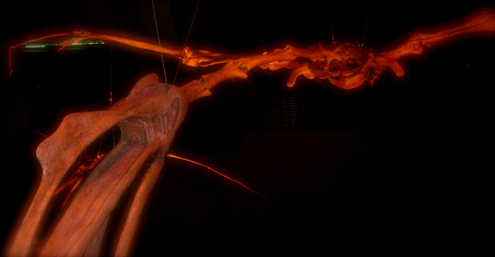 It's funny how often I can suddenly think of something to do when need be.  This often happens for where to go on a cycling ride, what to eat for dinner, or this time, how to spend Sunday afternoon.  Such was the case this past Sunday when Aya and I were pondering how to spend our Sunday.  We put our heads together, and it was suddenly:  pterosaurs!  
Thanks to some help from trusty Metropolis, we were soon on our way to Tokyo Teleport station to go to the pterosaur exhibition at the Miraikan science and industry museum.  It was a bit of a walk from the station to there, which would have been pleasant if it wasn't the hottest day of the summer so far.  It's quite scenic in Odaiba, and feels much different than other places in Japan because it's all so big and open there.  
The pterosaur exhibit itself was really good.  It had just enough real fossils on display to make it a real exhibit.  The models themselves, of both fossils and whole pterosaurs, were quite convincing.  It was often hard to tell which were real fossils and which were models.  The star of the exhibit was the enormous quetzalcoatlus, the largest of the pterosaurs with a huge 10 meter wingspan, but a weight of only 70kg!  I outweigh it by 9kg!
After spending an hour and ten minutes in the dimly lit and atmospheric pterosaur exhibit, Aya and I ventured into the Symbol Zone in the general exhibit space of the museum.  In this huge room there are several sofas for relaxing on and taking a break.  While you are horizontal, you are treated to a view of a huge, incredible LED globe of the Earth that lights up showing various heat signatures.  (see video)
We agreed that we would definitely go back to check out the full spectrum of hands-on exhibits in the general exhibits area.  Miraikan is a great place to spend the whole day, full of rest areas and cafes all in a very modern building.
PHOTOS:
VIDEO: