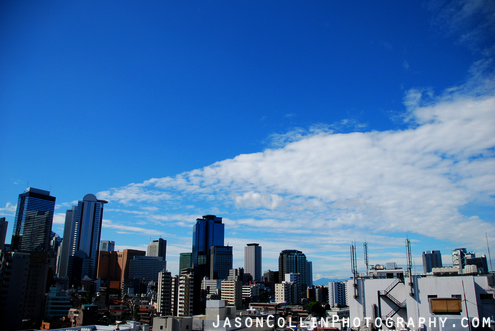 The view you see above is the one I saw every day for the past 4 years.  It was the view from my 11th floor Shinjuku, Tokyo, Japan apartment.  It was a view I paid a lot to have.  To me, it was totally worth it.  It was the last of many places I called home while spending the past 9 years abroad in Asia.  I first lived in Pusan, South Korea.  After 3 years in various cities in that country, and several trips to southeast Asia, I took a 2 month pilgrimage in New Zealand before settling on my final Asian destination:  Japan.  That country was my home for the last 6 years, a period of time so long I came to believe I never actually had any other home and it was perfectly normal for me to be living in a place where I could not read any sign nor talk to any person.  Though I thought it was forever, like all things, it was impermanent and lo, I have returned to Florida and my mind is still processing everything from my decade abroad.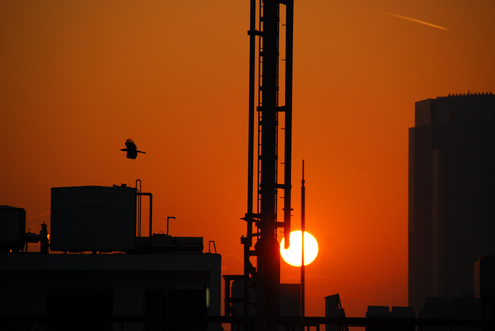 There is no doubt I pay way too much for my shoebox of an apartment in Shinjuku, Tokyo, Japan.  Yet, there are certain benefits to living in the building I do.  One of the greatest is the ability to see the sunset each and every day the weather allows for it.  Over the course of the year the sun sets over distant mountains in summer, to behind Shinjuku's skyscrapers in winter and to where it can be seen setting in the above photograph, between the skyscrapers of Nakano-sakaue.  Autumn often offers the best sunsets and dusks skies, and even the very rare orange sunset (above).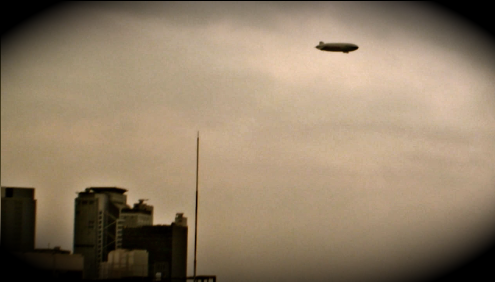 I was sitting at my desk when I notice a blimp not so slowly blimping on by.  I hopped up and grabbed my Xacti HD700 and quickly shot some footage of the blimp before it passed too close to the sun and then out of sight.  
To my surprise while I was filming the blimp, a pair of pigeons flew right in front of me (but below camera) with one of them landing right on my neighbor's balcony.  This gave me a bit of a start, but fortunately held firm onto the Xacti the whole time (I don't use a wrist tether).  So I took the pigeon's close landing to mean she/he was ready for her/his closeup!  I obliged and put this video up for anyone needing to cast a very photogenic pigeon for their next shoot!
VIDEO:


Quite a blue evening sky inspired me to return to shooting the sunset from my 11th floor apartment's balcony, despite the ugly existence of a new apartment building across the street, which radically blocks my sunset view at this time of year.
The sunset as seen from my apartment's balcony on Monday March 10, 2008.
Filmed using my Xacti HD700.
Footage is unedited.
This is the first real sample video I shot with my new Sanyo Xacti HD700 video camera! It's just a minute of footage from my balcony at dusk.
It is a 720p video, so it may play choppily on older computers. Try pausing playback and letting it download all the way first before playing it.