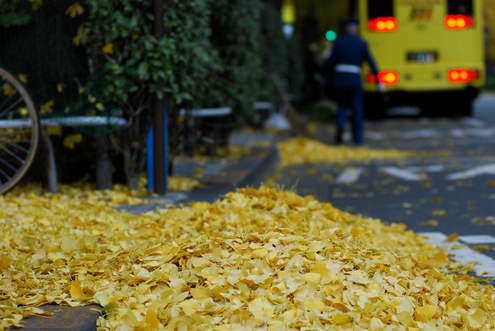 A majority of Shinjuku's ginko trees' leaves have finally turned yellow and begun their annual descent back to the earth, as all things do in time.  I just happened to be walking around with my trusty D80, and had enough time before an unwelcome downpour arrived, to take a few random shots of a rare thing that actually beautifies Shinjuku.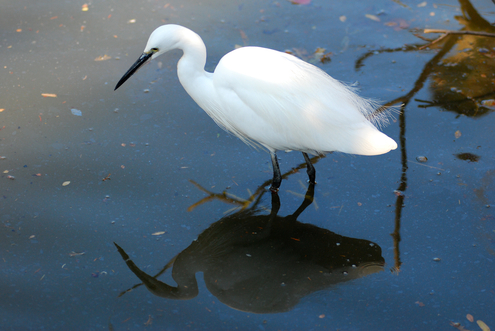 RIDE STATS:
Distance: 12.38 miles

Time in Motion: 56 minutes 58 seconds

Average speed:  13.1 mph

Max Speed:  30.4 mph
This afternoon I rode my
Trek 7.3 FX
out to
Ueno
for the first time.  I met
the Can
out there to do some bird
photography
.  It was a brilliantly sunny fall afternoon in Tokyo, so the cycling was crisp but very pleasant.  I wore my winter Pearl Izum full-length cycling pants again and was only slightly warm on the ride out.  Even though I had never ridden to Ueno, I only made one slight wrong turn that was quickly remedied by backtracking.  It took only about 30 minutes to ride from Shinjuku to Ueno station.  There were plenty of ducks and seagulls in and around
Shinobazu Pond
, but few others of much excitement unfortunately.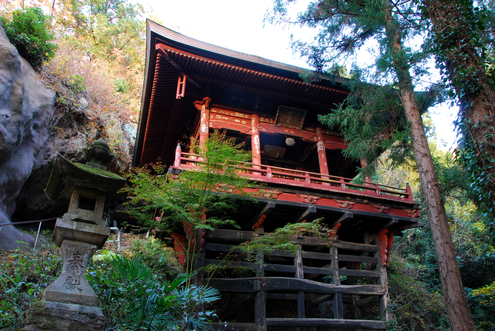 I came to call it, "Iwaidou, the hidden Buddhist temple of Chichibu forest," for hiking through the forest toward it, the temple appears all of a sudden, and appears before one's eyes to have been dropped in from the heavens, rather than built by the hands of simple men.  Iwaidou is preceded by an equally startling "treehouse prayer wheel temple," as I named it.  On this late November afternoon, Aya and I had all of this pretty much to ourselves, which made for a very tranquil, escapist pilgrimage in an autumn forest.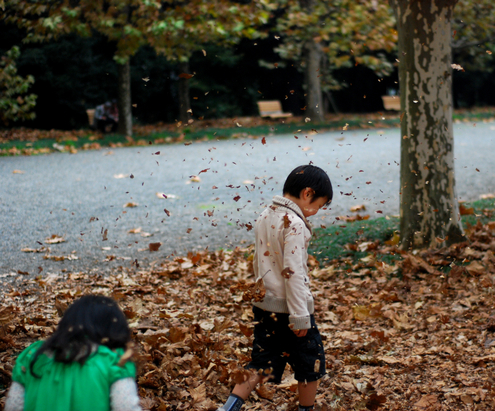 This past Saturday was supposed to be my 7th summiting of Takigo-yama, but unfortunate events with the Chuo Line lead to the nixing of that, but on the positive side led to a very good autumn afternoon in Shinjuku Gyoen.  It was unbelievably Aya's first ever time to this famous Tokyo park!  I of course have been 20+ times as it's within walking distance to my apartment.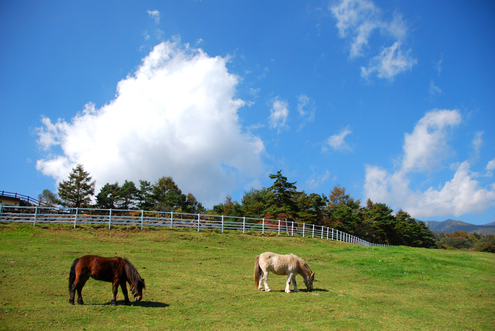 After a hard day of hiking up Akadake, Aya and I spent a very beautiful day at a public/university run farm in Yamanashi Prefecture.  It was recommended to us by the staff of the mountain hut we stayed at the night before and the farm was far better than we could have imagined.  I've never been to any place like it in Japan before.  Aya immediately said it felt like New Zealand, and I agreed, as this place had rolling green hills surrounded by mountains and sheep in the pasture.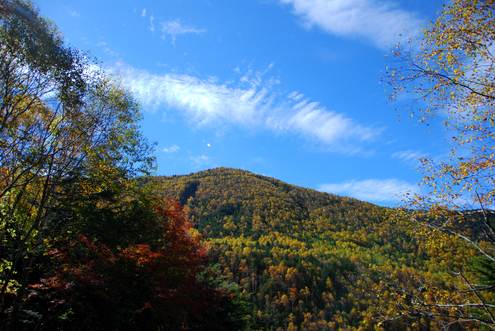 I have a new favorite prefecture in Japan.  It's Nagano.  My favorite prefecture used to be Yamanashi, but the nature in Nagano feels deeper.  The forests feel older in Nagano, the air seems clearer, and the peace is more established.  The mountains are larger, and the sky spans wide over all—deep blue during the day, pink tinged at dusk, and deep black spotted with stars at night.  This is the setting in which Aya and I undertook a 9-hour hike up to the 2899m summit of Akadake.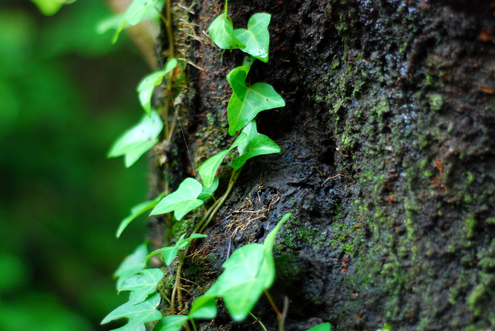 Though it took two trips to finally make it to Shizen Kyoikuen Park actual, in Meguro, Tokyo, Japan, it was well worth the effort as it is a unique Tokyo park/garden experience.  The full name of the park translated into English is the mouthful, "The Institute for Nature Study National Science Museum Tokyo" as it says on the English brochure handed to me at the entrance.  Ever since I was a little boy, I have been totally into getting up close and intimate with forests, so I was stoked to soon discover upon entering the park, that this wasn't the usual pond and pagoda setup of traditional Japanese gardens, but rather a 100-year old forest with long paths—a forest too large to seemingly still exist in Tokyo.

Using largely macro zoom on my Xacti HD700, I shot various plants, mushrooms and insects in the Saiko Lake area of Yamanashi Prefecture, Japan. There is also footage of a hawk flying while holding a fish.
Other scenes include ants assaulting a caterpillar, an "ohm" bug romping through the grass, a caterpillar dangling from the sky on its own thread, a spider securing its web, and more.