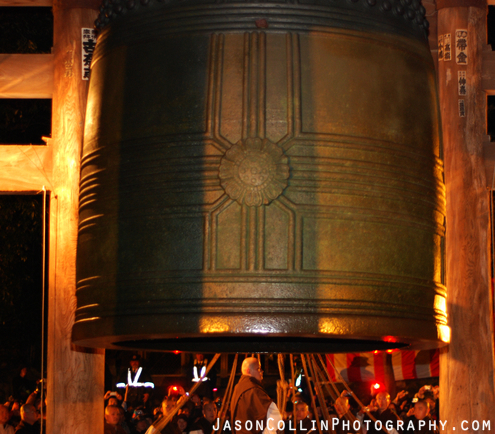 Totally by accident, Aya and I were able to witness one of the most special New Year's Eve traditions in Japan–the ringing in of the new year by 17 monks at Kyoto's Choin-in Temple.  This was one of the most impressive things I've ever seen.  The bell the monks were ringing is the largest in Japan, weighing in at nearly 80 tons and having a diameter of some 2.7 meters.  It's also very old, being cast way back in 1633 C.E.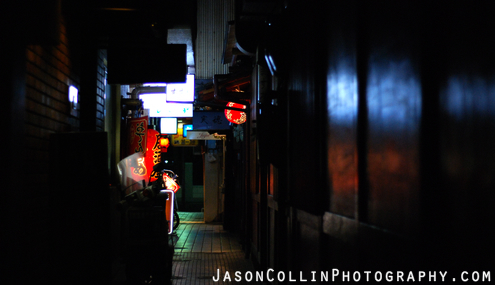 I was excited to explore the small back alleys of Kyoto.  Before going I had no idea of the fame of Pontocho Alley.  Once there though I learned that this street is home to geisha and maiko (see photo) who display their talents in places no mere tourist can simply wander into.  This photo was taken on New Year's Eve, Eve when Pontocho was no doubt much quieter than it normally is.  The view is down one of the very small side alleys leading off of Pontocho proper.
As I left Kiyomizu-dera and wandered about on the small streets leading to the Gion area of Kyoto, I noticed a bit of commotion at the end of one street.  Two maiko were walking down the street and stopping to pose with people who asked them to do so.  This willingness to pose makes me suspicious about whether or not they were true maiko or not.  Regardless, they looked exquisite.  For photographing them, I didn't just want them to mug for my lens, so I tried to catch them in-between posing for others.
The performance by these two ladies was just amazing and unbelievable to the eyes.  If I saw it on TV I would not believe it was real.  Even in person what they did seemed to defy physics.  In this photo you can see them "simply" tossing a ball between their spinning parasols at a festival near Nihombashi.  They also spun a tea cup and a large wooden, square bowl.  I will post a full photo gallery of their amazing feats in the near future.   [Read more]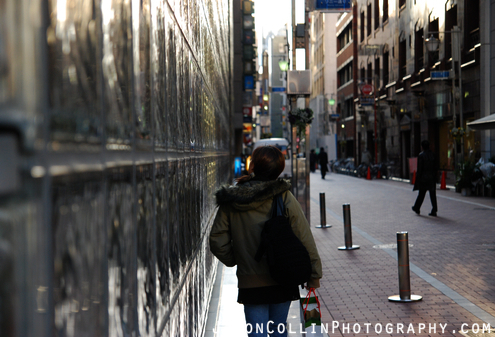 Aya and I spent Christmas afternoon leisurely walking around Ginza, Tokyo because, for some reason, I feel that area of Tokyo has the most Christmas spirit kind of feeling.  Maybe it's just all the shopping done in the city, or how clean and open it is compared to other wards of Tokyo.  Regardless, it was a nice place to spend this Christmas afternoon.  The glass building on the immediate left houses Hermes.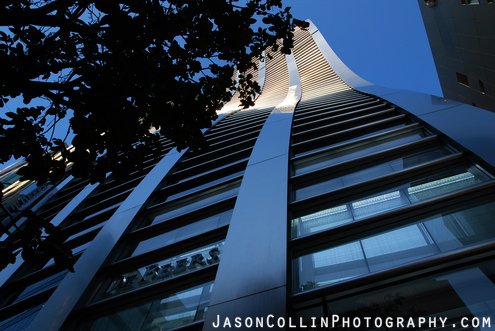 First off, I do not support the buying, selling or acquisition of diamonds, gold or any other kind of nonsense material that had arbitrary value placed on it by human society.  I knew diamonds were bloody even before I saw BLOOD DIAMOND.  I just happened to like the va-va-va-voom curves of this building in Ginza, Tokyo, and it just happens to be owned by De Beers, who I also make no claims on regarding the status of their diamonds (not slandering them).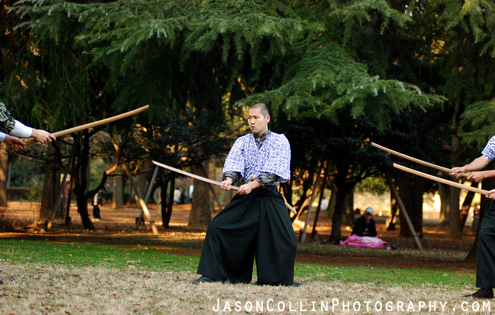 On a balmy December Sunday afternoon in Yoyogi Park, I rolled past a group of kendo practitioners going at it pretty aggressively.  I hoped off my Trek 7.3 FX and pulled out my Nikon D80 with Nikkor AF ED 80-200mm f/2.8 lens.  This presented a good photography challenge, as they were pretty much standing in shade and moving very quickly.  Even when they stood still it was hard to get a shot as I had to switch between AF-C and AF-S, or rather remember to do that!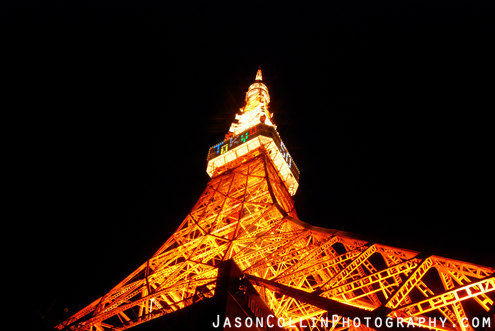 I will soon enter my sixth year of living in Tokyo, and before yesterday, I had never visited Tokyo Tower.  Amazingly, Aya had also never visited Tokyo Tower since perhaps an elementary school trip.  I had ridden in its general neighborhood on my bike once or twice, but that didn't do it justice.  Now I can claim to not only have visited this Tokyo landmark on its 50th anniversary, but also to have walked up the 600 steps to its observatory decks!