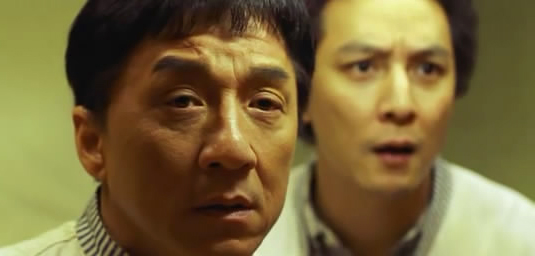 I lived in Shinjuku for six years, which is not a common thing to do since that place is on the heart of Tokyo on the other side of the world from my former home, Florida.  So Jackie Chan's non-martial arts film SHINJUKU INCIDENT had an added appeal and familiarity to me….I lived just five minutes walk from where most of the action took place.  Unfortunately, I never saw a single second of this film being made.  My guess is they were filming late at night when it was both dark, and the area was more deserted as I never saw nor even felt any of the violence often portrayed in SHINJUKU INCIDENT.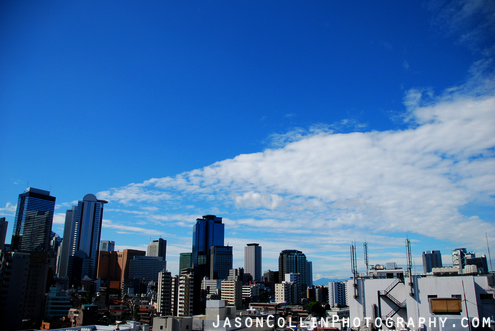 The view you see above is the one I saw every day for the past 4 years.  It was the view from my 11th floor Shinjuku, Tokyo, Japan apartment.  It was a view I paid a lot to have.  To me, it was totally worth it.  It was the last of many places I called home while spending the past 9 years abroad in Asia.  I first lived in Pusan, South Korea.  After 3 years in various cities in that country, and several trips to southeast Asia, I took a 2 month pilgrimage in New Zealand before settling on my final Asian destination:  Japan.  That country was my home for the last 6 years, a period of time so long I came to believe I never actually had any other home and it was perfectly normal for me to be living in a place where I could not read any sign nor talk to any person.  Though I thought it was forever, like all things, it was impermanent and lo, I have returned to Florida and my mind is still processing everything from my decade abroad.
I cannot say how many times I have visited Shinjuku Gyoen in 6 years of living in Shinjuku, t least 20.  I've visited it in all seasons.  Obviously the busiest time is hanami (cherry blossom viewing) season and the autumn foliage season.  However, my personal favorite time may be in January, when even on a Saturday the park is largely empty and I can wonder about its trees and fields of dead grass unhindered by distractions.  I have fond memories of other January visits.  One was the last time I saw a friend and co-worker.  And now, this final January visit, will also be my last visit ever to the park.  It's my favorite park in all of Tokyo by far and one of the best things about living in Shinjuku (though I wish Shinjuku Ward residents could get in for free).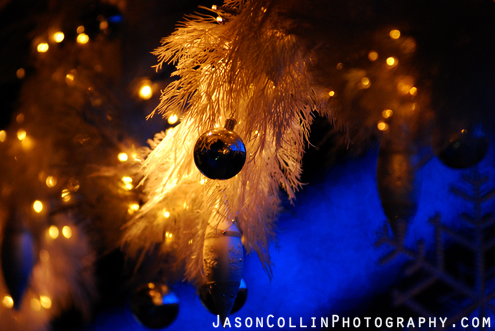 Holiday lights, or "illumination" as they are referred to by Japanese, are big in Japan.  I still think of them just as Christmas lights myself.  I live right in one of the largest concentrations of lights in the city.  Shinjuku has the illuminated windows of the Odakyu Department Store, the random lights amongst the skyscrapers, and of course all the light displays on Shinjuku Southern Terrace and Takashimaya Department Store.  Thought I won't admit it, I like them all.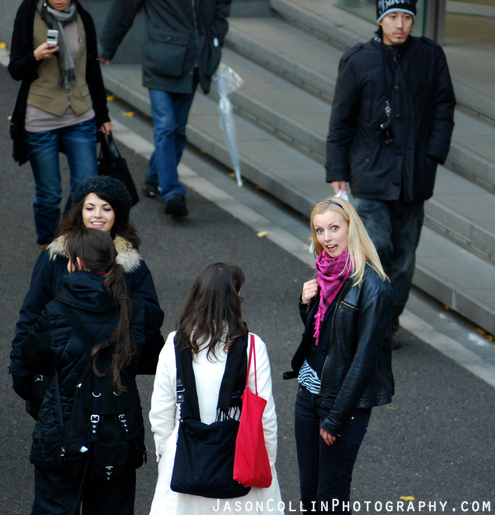 I was walking over my favorite pedestrian bridge in Shinjuku with my D80 and Nikkor 80-200mm out when I saw this group of model-looking western girls, quite a rare site, even in Shinjuku.  I actually think I recognized two of them, or at least the blonde girl, from a few days earlier when I was walking to Shinjuku and passed them.  Naturally I paused and snapped a few shots.  Maybe I was taking shots of them for about a minute, waiting for people to pass by to get a good clear shot.  Now, does the blonde girl's expression say I see you and let me make a nice funny face for you?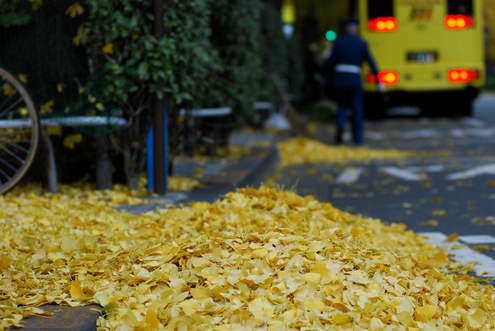 A majority of Shinjuku's ginko trees' leaves have finally turned yellow and begun their annual descent back to the earth, as all things do in time.  I just happened to be walking around with my trusty D80, and had enough time before an unwelcome downpour arrived, to take a few random shots of a rare thing that actually beautifies Shinjuku.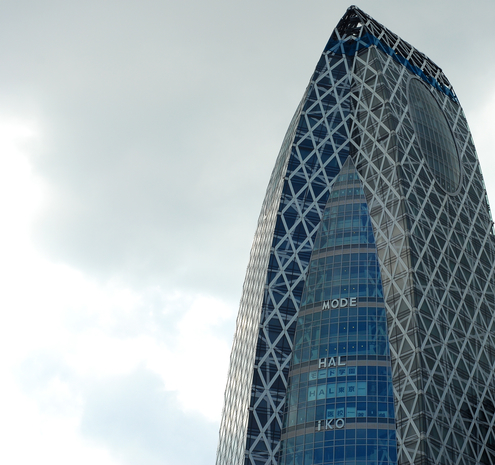 I thought that Cocoon Tower was just a nickname.  However, when I saw "COCOON TOWER" over the main entrance, it hit me that that was really the name of Shinjuku's newest skyscraper.  Thus the 17th tallest building in Tokyo (sounds sad) is named after something that could also be the name of Mothra's egg receptacle.  Since I've lived in the heart of Shinjuku for over five years, such a radical change to my daily view of the city takes some getting used to.  The design of Cocoon Tower is not something one can come to an opinion on upon first viewing.  It is at once totally out of place among Shinjuku's other more staid skyscrapers, but also maybe a welcome shake up to the skyline.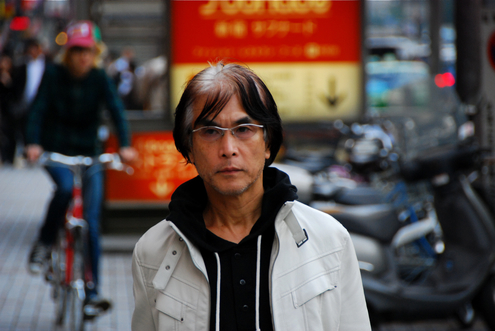 Those who know what Kabukicho is might expect to see only scantily clad, sad beauties in this photo gallery, along with effeminately suited hosts who herd in lost, lonely ladies.  Yet look through every photo.  You will see some of the false beauty of the working ladies of Kabukicho, but you will also see the faces of those that live and die on the streets.  The kind of people Mos Def raps about.  The kind of person I could still become.