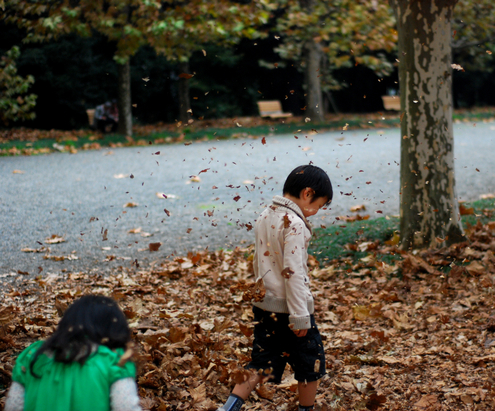 This past Saturday was supposed to be my 7th summiting of Takigo-yama, but unfortunate events with the Chuo Line lead to the nixing of that, but on the positive side led to a very good autumn afternoon in Shinjuku Gyoen.  It was unbelievably Aya's first ever time to this famous Tokyo park!  I of course have been 20+ times as it's within walking distance to my apartment.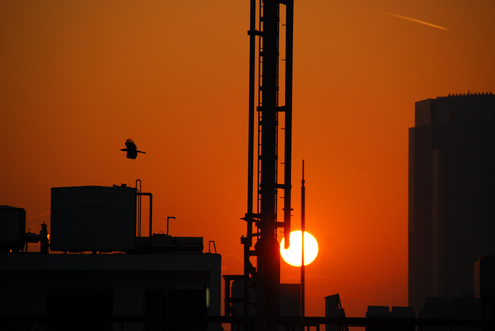 There is no doubt I pay way too much for my shoebox of an apartment in Shinjuku, Tokyo, Japan.  Yet, there are certain benefits to living in the building I do.  One of the greatest is the ability to see the sunset each and every day the weather allows for it.  Over the course of the year the sun sets over distant mountains in summer, to behind Shinjuku's skyscrapers in winter and to where it can be seen setting in the above photograph, between the skyscrapers of Nakano-sakaue.  Autumn often offers the best sunsets and dusks skies, and even the very rare orange sunset (above).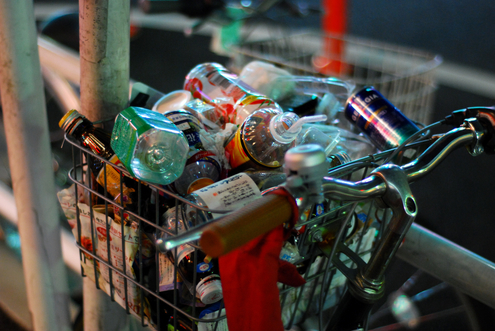 There is an interesting phenomena in Tokyo that if one person puts a piece of garbage somewhere, like in a bike basket, then everyone else feels it's ok to put more.  There are virtually no public trash cans of any sort on the streets of Tokyo.  So the choice is either carry the garbage all the way home, or victimize some bike basket as in the photo above.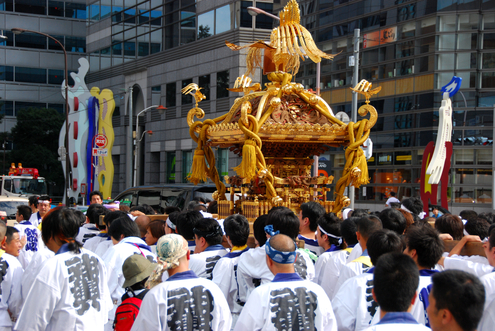 Aya told me that this Autumnal Equinox Festival held in Shinjuku, Tokyo, Japan is held only once every four years, so I felt lucky we were able to catch the latter half of it.  This festival was not altogether different than most other festivals in Japan.  However, we were able to see shrines pulled not just by Japanese men, but also Japanese women and another small shrine by just young Japanese children.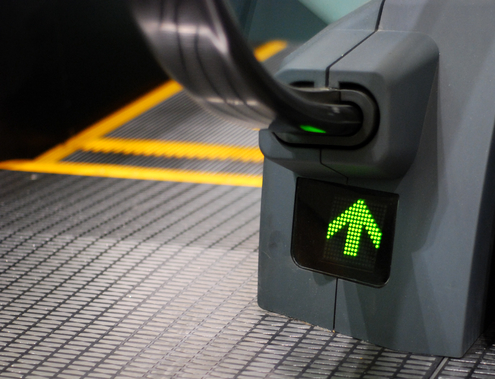 I usually meet up with the boys in some capacity on Sunday evenings, and this one was no exception.  After a meal at the local fave Indian place, The Can, Scott and I went on a semi-reluctant rainy walkabout of the Shinjuku skyscraper district, in particular the Shinjuku Mitsui Building.
I was very surprised, and scared, to see this photo fullscreen back at home on my 24″ Dell!  I don't know what shot I was trying to get.  For sure I would never have snapped a shot of such a scaring looking ojisan (middle-aged Japanese man) looking directly at my lens.  I wouldn't take such a shot of anyone, I'm still rather a shy photographer and I only have 300mm of zoom, so I can't hide completely out on the streets of Shinjuku.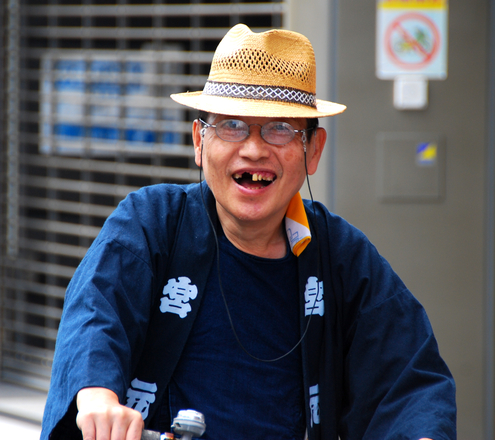 I took this shot during the Autumn Equinox Festival at a shrine along Ome Kaido in Shinjuku, Tokyo, Japan. I had already taken like 150 shots of the festival goings on, but toward the end I started to focus on faces in the crowd. I saw this ojisan (older Japanese man) pedal up and right away his unique smile caught my eye. I took two shots of him. I hand no idea until I got home and looked at the print I had made of the photo that he was looking right into my camera. [Read more]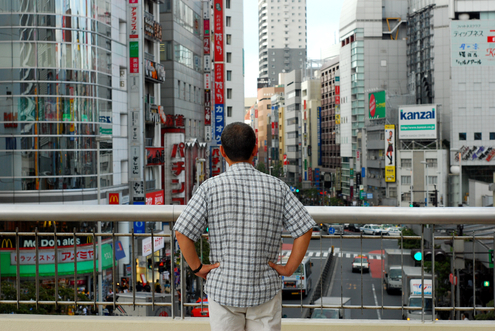 As I was walking to Bic Camera this afternoon in Shinjuku (to buy a lens cleaning kit), I saw this ojisan (middle-aged Japanese male) staring down Otakibashi Dori (I live on this street actually).  I thought it was unusual to see an ojisan with his hands on his hips like that.  A rather unnatural pose I thought.  I wondered what he was thinking.  In my mind I felt he was wondering what the hell has become of Shinjuku, and that he was trying hard to remember what it was like when he was a boy.  I wish he could show me a photo of the same view taken from his childhood.