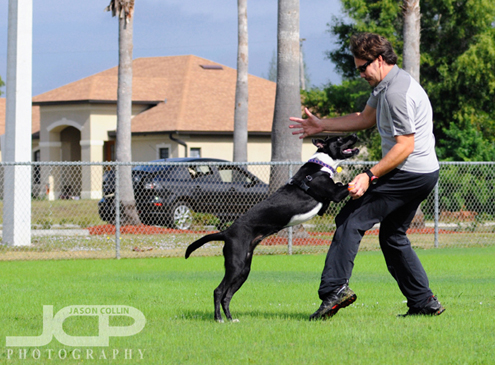 It had been a long time since I was in Cape Coral at my mom's for Thanksgiving, long as in since 2001.  The past few Thanksgivings were spent at the Pink Cow in Tokyo.  Before that I cannot remember.  Despite the time away I did try to revive some of the old customs, like playing football before dinner.  This year it was running around a baseball outfield wrestling with Kiki (above).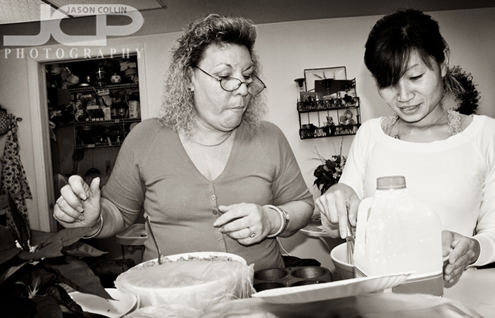 This was Aya's first ever Thanksgiving in the U.S. and as seen above my mom started showing her how to make all the traditional Thanksgiving dishes.  With the pumpkin pies and stuffing already made, all that was left was to make the corn muffins.  Well, that and the tofurky!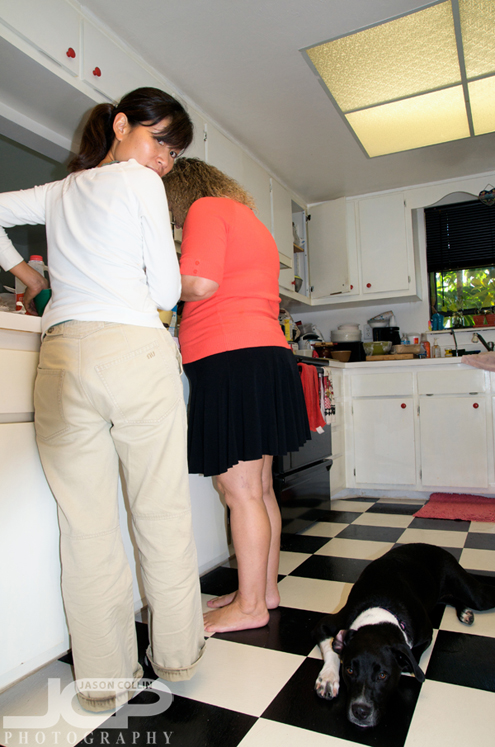 As with all Thanksgiving dinners, the waiting is the hardest part.  Kiki took it particularly hard as it was also her very first Thanksgiving too and she had no idea how long the wait could be.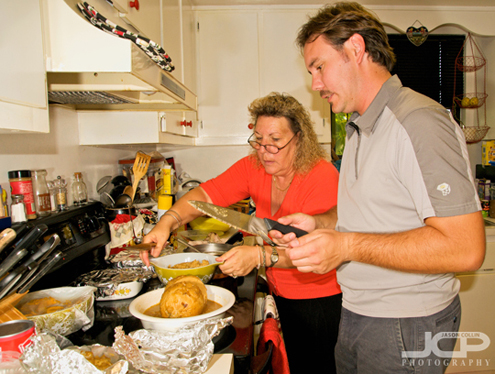 Finally, after 90-minutes in the vacant apartment next door's oven, the tofurky was ready to be carved!  I had long heard of tofurky, but never eaten one and was very stoked, though a little skeptical it would be enough for me as its size did not look that large.  I was dead wrong.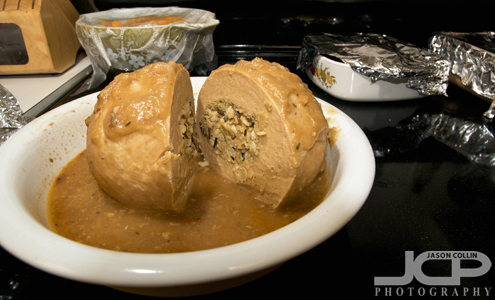 The tofurky provided three full meals of satisfied sustenance for Aya and I.  It was totally delicious too.  Absolutely no reason for millions of turkey birds to be murdered anymore.  It's an outdated ritual that's time has past.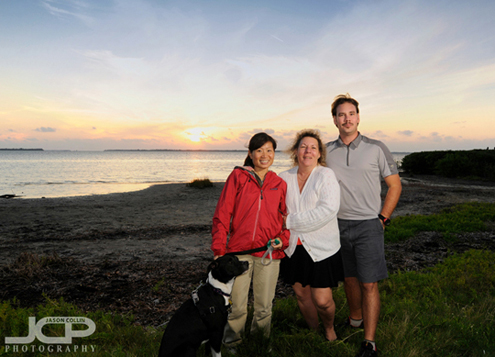 We closed the holiday by driving out to Pine Island and watching the sunset.  I made this family portrait using the self-timer on my Nikon D300.  This Thanksgiving was much smaller than those of my youth where extended family gathered together, but it was still a very pleasant and stomach filling one.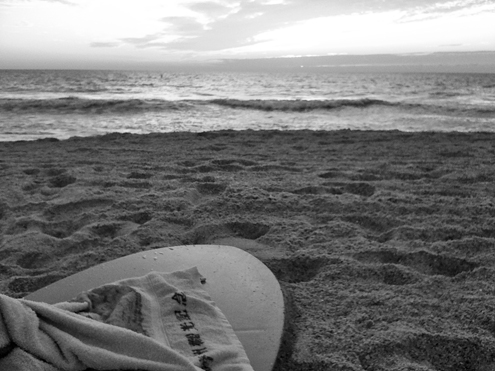 My 22nd season of skimboarding began and ended in 7 days.  True, I have been on my skimboard many times in 2009, but those were not skimboarding sessions.  This may seem unfathomable as one of the main reasons I moved back to Florida was to once again skimboard on my beloved Sunset Beach, the place I love most in the world.  This is testament to the challenges returning to the U.S. after a 9-year sojourn have inflicted upon me.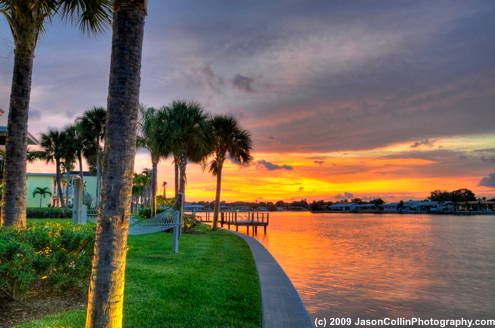 I saw some great sunsets while living in Tokyo, but I always remembered there is nothing quite like a Florida sunset.  I give Aya full credit for me being able to make this image.  She said the sky must be beautiful this late evening, and she was correct.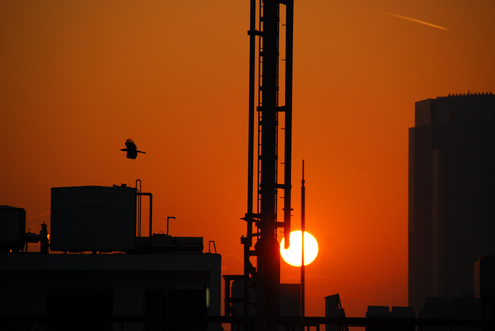 There is no doubt I pay way too much for my shoebox of an apartment in Shinjuku, Tokyo, Japan.  Yet, there are certain benefits to living in the building I do.  One of the greatest is the ability to see the sunset each and every day the weather allows for it.  Over the course of the year the sun sets over distant mountains in summer, to behind Shinjuku's skyscrapers in winter and to where it can be seen setting in the above photograph, between the skyscrapers of Nakano-sakaue.  Autumn often offers the best sunsets and dusks skies, and even the very rare orange sunset (above).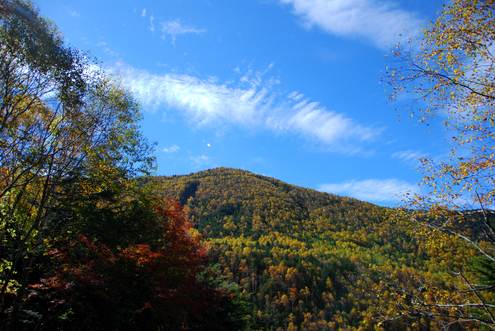 I have a new favorite prefecture in Japan.  It's Nagano.  My favorite prefecture used to be Yamanashi, but the nature in Nagano feels deeper.  The forests feel older in Nagano, the air seems clearer, and the peace is more established.  The mountains are larger, and the sky spans wide over all—deep blue during the day, pink tinged at dusk, and deep black spotted with stars at night.  This is the setting in which Aya and I undertook a 9-hour hike up to the 2899m summit of Akadake.

I was sitting at my desk, procrastinating on proofreading work, when I saw out the sliding glass doors this sight—a column of feathery clouds being bisected by a fiery sun on its way toward the horizon.  Every since I first got my Sanyo Xacti HD700 in February of this year, I have been filming sunsets from my balcony here in Shinjuku.  I believe the sunset I witnessed today to be the best one yet.  There is no need for me to describe it further, as you can behold it for thyself in the above HD video.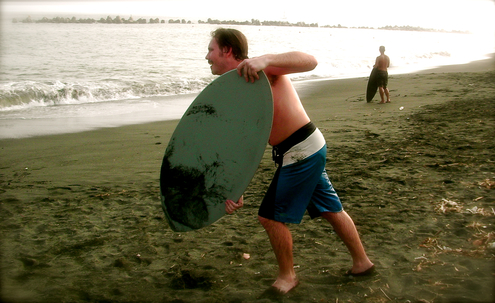 The waves were significantly bigger this time at Hiratsuka, which always makes for more fun for the skimboarder, as well as the chance for bigger wipeouts!  But here's a secret—big wipeouts are fun.  They may look like they hurt, but most of the time you are falling into deep water so it's just a matter of keeping your mouth closed so as not to drink in any water.
Besides the larger waves, the biggest conditions difference was that the sand was a bit softer, no doubt because of the larger waves crashing on the shore and carrying sand all over the place.  This meant I ran a step slower than in the previous week's session.  It also meant that my ears ended up being full of black sand!  Usually I get a little, but this time the amount of sand coming out was a bit disconcerting.  Aya hadn't experienced this before, so I had to reassure that this was normal for skimboarding Shonan area beaches.

Quite a blue evening sky inspired me to return to shooting the sunset from my 11th floor apartment's balcony, despite the ugly existence of a new apartment building across the street, which radically blocks my sunset view at this time of year.