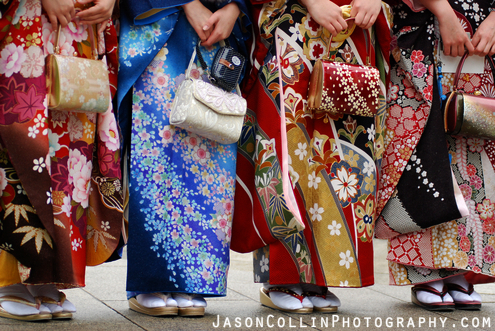 A flickr friend gave me the heads up about the good photography opportunities at Meiji Jingu Shrine on Coming of Age Day, or Seijin in Japanese.  It was also a chance for me to finally meet that flickr friend, Vladimir Zakharov, whose photography I have been a fan of for some time.  I of course assumed there would be a good number of other photographers there, as Meiji Jingu is perhaps the most popular shrine for such events in Tokyo.  I had heard that the girls did not mind posing for the cameras as well.  I had no idea how much they did not mind and how much the photographers were willing to give them orders!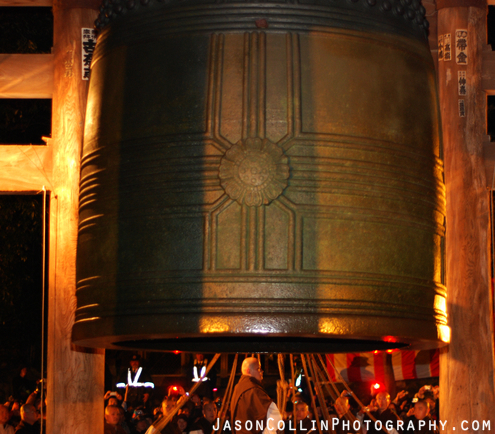 Totally by accident, Aya and I were able to witness one of the most special New Year's Eve traditions in Japan–the ringing in of the new year by 17 monks at Kyoto's Choin-in Temple.  This was one of the most impressive things I've ever seen.  The bell the monks were ringing is the largest in Japan, weighing in at nearly 80 tons and having a diameter of some 2.7 meters.  It's also very old, being cast way back in 1633 C.E.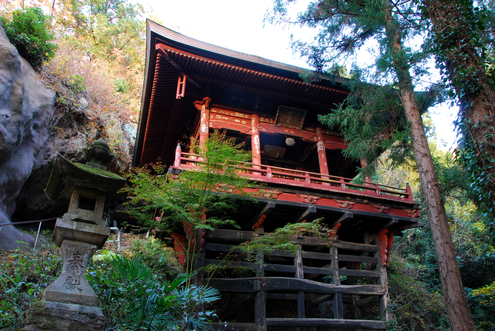 I came to call it, "Iwaidou, the hidden Buddhist temple of Chichibu forest," for hiking through the forest toward it, the temple appears all of a sudden, and appears before one's eyes to have been dropped in from the heavens, rather than built by the hands of simple men.  Iwaidou is preceded by an equally startling "treehouse prayer wheel temple," as I named it.  On this late November afternoon, Aya and I had all of this pretty much to ourselves, which made for a very tranquil, escapist pilgrimage in an autumn forest.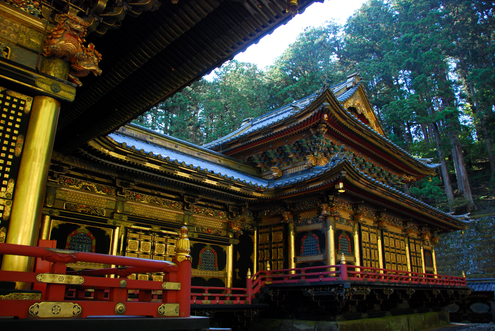 After five and a half years in Tokyo, Japan, I finally made my first visit to Nikko.  I had heard about Nikko many times, as it's one of the premier tourist destinations in all of Japan, as well as being a World Heritage Site.  I heard of monkeys running wild, and even taking baths in outdoor hot springs.  I was expecting a huge hub-bub.  Of course, like most things, my expectations and reality were nowhere near matching.  I found Nikko to be a small, reserved sanctuary of temples and shrines tucked away amongst a forest of tall trees.  And no monkeys.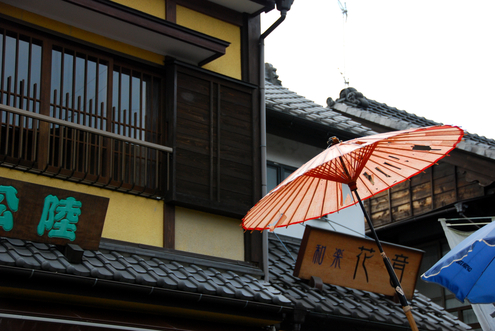 I have an ability to come up with a good plans for doing something out of thin air, that today led to Aya and I having a great afternoon walking around Kawagoe, Saitama, Japan.  Kawagoe refers to itself as "Little Edo" as its streets are decorated with old, traditional looking buildings and shops (which of course are only made to look old).  Mostly obasans and ojisans populate the sidewalks with a smattering of families with kids.  For some reason, I tend to like a lot of things that obasans do, so for me Kawagoe was a great place to spend the afternoon sampling Japanese snacks and of course taking a lot of photographs. [Read more]