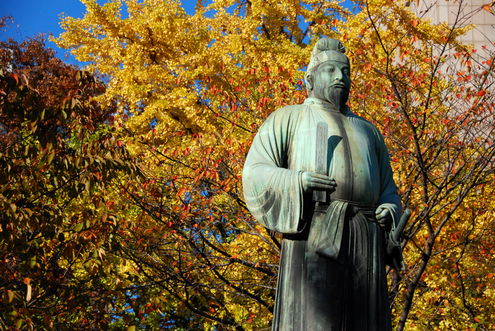 I was fully intent on cycling to Ginza to take some more candid street photographs on a beautiful, sunny fall afternoon in Tokyo that would have been a crime against nature to spend indoors.  However, as I turned of Shinjuku Dori in front of the Imperial Palace of Tokyo, I saw all the ginko trees had turned yellow and that a few photographers were taking photos of them.  So I thought, I should too.  I liked it so much I never left the palace area, and thusly never made it to Ginza.  I like how my afternoon surprisingly turned out though.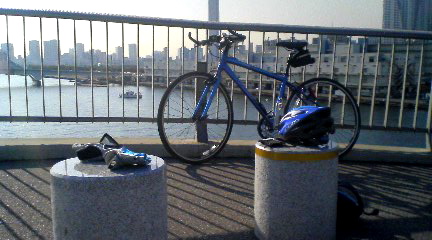 FULL RIDE STATS:
Distance:  14.17 miles

Time in motion:  59 minutes 59 seconds

Average speed:  14.2 mph

Max speed:  28.4 mph
I hadn't gone on a ride where I did not really know where I was going in a long time (not since July 31st!).  It also felt good to ride in brilliant sunshine in early afternoon while most other people were working.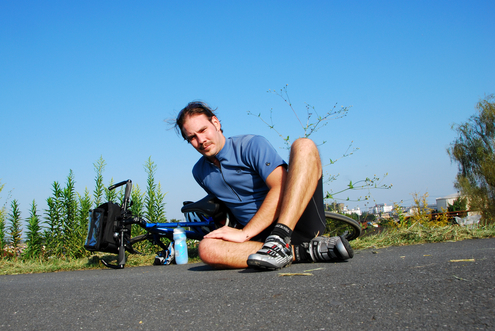 FULL RIDE STATS: (incomplete due to cyclo-computer battery dying!!) 
DISTANCE:  48.66 miles

TIME IN MOTION:  3 hours 30 minutes 13 seconds

AVERAGE SPEED:  13.8 mph

MAX SPEED:  31.4 mph
RIDING UP THE ARAKAWA:  

(official)
DISTANCE:  21.11 miles

TIME IN MOTION:  1 hour 21 minutes 58 seconds

AVERAGE SPEED: 15.4 mph

(seems low as I was flying)
RIDING DOWN THE ARAKAWA:  

(official)
DISTANCE:  18.80 miles
TIME IN MOTION:  1 hour 27 minutes 59 seconds
AVERAGE SPEED: 12.8 mph
This was an ill-fated ride on the
Arakawa River
.  I left too late since I got up too late since I went to bed too late.  Right now I my quads are still burning.  I probably won't be able to walk tomorrow.  Why?  I don't know.  Out of cycling shape I guess, pushed it way too hard at the beginning of the ride I guess, and for sure the stiff as a stiff headwind, both ways, didn't help.  Riding up I didn't feel like I was with the wind, but I was able to cruise at 20 mph the first 15 minutes.  I toned it down to 18 to 19 mph for the next 15 minutes, and then after that I made a wrong turn or two and lost a little spirit and thus a little pace.
I told myself I'd only ride up the river for 1 hour.  But the wrong turns ate up a good 15 minutes, and I wanted to try and make it to this very nice small bridge over a crick.  So I pushed on even though I shouldn't have, but I thought, if I cut out the 15 minutes of errors and cruise with the wind, I can make-up the extra 20 minutes I rode past my preset 1-hour mark.  I of course was totally wrong.

At least I made it to some cows and took my midpoint break with them (see below photos).  I've seen these cows before
on another ride
with the Mikes.  I had always thought that a cow only had utters, and that it was impossible for a cow to have both utters
and
 horns.  Either these are some freaky hermaphrodite cows, or it's natural.  They must still be female though right?  Hmm, they did pee standing up though!
So after the cows I started back and right off the bat my quads didn't have it.  But, I was 30 miles from home still!  And then I hit the headwind full on.  This was a shock as I was expecting a tailwind.  How can you ride against the wind both ways?  I don't think it could be a crosswind because on the way back I was most def going directly head-on into it.
I was fading and fast, doing maybe 12 mph a lot of the time, barely keeping the pedals going in gear 3-4.  I had to dig deep to make it.  Somehow I got back to Road 318 and off the Arakawa, where I promptly plopped down and elevated my feet way above my heart to drain all the lactic acid out of my feet and lower legs.  That helped actually.
For as I made my way down Road 318, then checked that off as I turned left onto Route 17, I felt a second wind.  No way was I going to be broken!  F that.  I became heartened, and as I turned right onto Meiji Dori, I became my usual aggressive riding self.  Others who have ridden with me know how I can find a second wind when I can smell the finish line.  This was a textbook example of that tendency of mine. 
As Ikebukuro station came up, I was going full out and made all the lights and passed through the Ikebukuro station area like a bat out of hell!  Felt badass.  
I made it back safely.  Now, will I be able to walk tomorrow?  P.S. my headlight battery died too beside my cyclo-computer battery!! Ill-fated indeed.
ARAKAWA CYCLING TO COWS PHOTO GALLERY: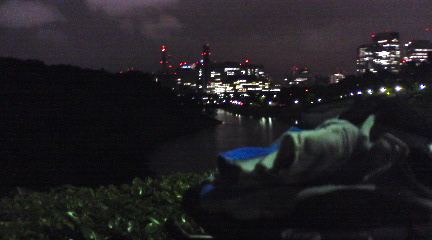 Distance:  15.8 miles
Time in motion:  58 minutes 15 seconds
Average speed:  16.3 mph
Max speed:  28.4 mph
Tonight's 3-laps around the Imperial Palace was marred from the start by some dude totally unnecessarily  honking at me as I dropped in to the loop and then by at least 50% red lights.  I wasn't feeling well enough to go for 4-laps like I had hoped, and having eaten dinner too late again, I had digested enough to even put on the speed for a new record 3-laps without risking throwing up again.  So I guess it was actually a good time to be limited by all the red lights and traffic.
I have been watching Tour de France highlights from a British show the past week, which has inspired me to ride even more.  When I was a kid in the 80's I used to ride my 10-speed around my neighborhood imagining I was Greg Lemond in the Tour de France.  After watching the stage 9 highlights during dinner tonight and seeing Riccardo Ricco's inspired burst up the second category 1 climb of the stage, I decided to get up out of my saddle on the much, much more modest climb on the back-side of the Imperial Palace loop.  This allowed me to stay in gear 3-6 up most of the climb, then when I went back in the saddle I clicked down to the usual gearing of 3-5.  
I thought getting out of the saddle was weak before, but everyone in the Tour does it, so I'm going to start doing it more myself.
I'll attempt 4-laps on Thursday night I think.  Got to digest!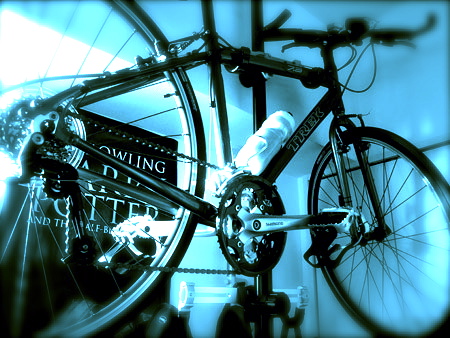 Distance:  15.88 miles
Time in motion:  1 hour 5 minutes 57 seconds
Average speed:  14.4 mph
Max speed:  29.8 mph
UK Mike and I have now entered our third week of doing laps around the Imperial Palace!  We are quite proud of ourselves.  So much so that we are thinking of adding one more lap to our usual program–which would mean going from three laps to four!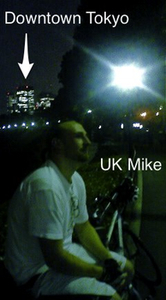 UK Mike having heard of my record setting average speed in my solo palace ride last Wednesday, was asking me how I achieved it.  He said I must have been trying to set the record, and I told him as I wrote in my post about that ride, I could not have been more not trying to set any record.  I was just riding as purely as possible for the love of riding.  Hence my complete shock upon seeing 17.0 mph as my average speed when I returned home and checked my cyclo-computer.  I told him that I just kept my Trek 7.3 FX in gearing 3-5 during all the backside ascents and in 3-7 on all the long descents and straightaways on the first half of the loop.  
Though no one said let's go for the same average tonight, I could feel that UK Mike wanted to push the pace, so I rode slightly faster than I probably would have on my own, but who knows.  Either way, I was setting the standard 10-minute lap pace, actually slightly sub-10-minute laps, and UK Mike was keeping up the whole time.  He took my gearing advice and stayed in 3-5 on the ascents and 3-7 on the back straightaways.  
We actually finished with a 17.3 mph average speed, which was for the ride from my apartment in Shinjuku to the Imperial Palace and the 3-laps around the palace.  In the future I'll think I'll use the dual-clock feature of my cyclo-computer to keep separate stats for the entire ride and just the laps around the palace.
Will we actually do 4-laps next time??  We shall see . . . .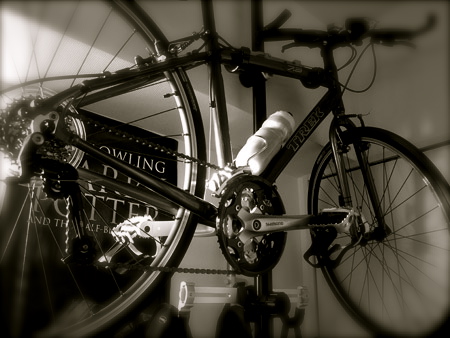 Distance:  15.78 miles
Time in motion:  55 minutes 47 seconds
Average speed:  17.0 mph (NEW RECORD!!)
Max speed:  27.3 mph
From 7:10pm to 8:10pm tonight, during my final lesson of the night, I was literally nodding off.  Earlier I had been feeling strongly about going riding again tonight, riding the same route as last night. Once I got home though after all the nodding off, I realized I didn't have it for a ride tonight and should rest.  After all, I did do 50 pushups this morning as well.
All windows were closed, the air con was on, I just had eaten dinner, and my apartment was silent.  I was moments away from watching a movie and chilling out.  But then I opened the sliding glass door to the balcony and heard the city.  Then I turned on Indie Pop Rocks! on SomaFM.  I began to wake up.  Then once I heard a song by a band called Voxtrot, I was stoked enough to rally for a ride, and not only did I not throw up this time, I totally SMASHED MY AVERAGE SPEED RECORD!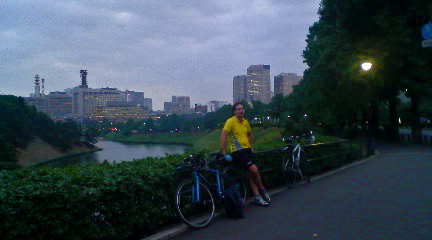 Distance:  15.92 miles
Time in motion:  1 hour 7 minutes 19 seconds
Average speed:  14.2 mph
Max speed:  28.5 mph
On an extremely rare free weekday evening, I rounded up Mike to go do 3 laps around the old Imperial Palace again.  We want to make this a regular weekly ride, if not twice weekly.  So despite Mike being a bit tired from an hour long job last night, he rallied to keep the streak alive, now at a humble two weeks in a row.
Traffic was still quite heavy around the palace at this time, so the usual 10-minute lap pace wasn't quite possible.  After a 12-minute first lap, I found myself in a better traffic flow on the second and third laps enabling me to clock 11-minute laps for those. During the second lap I decided not to click down to any gear below 3-5 (largest front chainring, 5th rear chainring).  During the gradual ascents on the back half of the lap I just found my momentum and was able to keep the legs churning without breaking speed.  The second ascent right before the start/finish line was attacked and made short work of.
On the third and final lap especially, I barreled down the initial hill at 28 mph and pegged my speed at 25 mph on the long strait-away after the descent.  Staying in 3-5 I had to use some energy to maintain momentum up the first ascent, but destroyed the second ascent and finished my 3 laps strongly, pondering a fourth, but ultimately deciding to end strongly and make the next ride out the first ever 4-lapper.
Weather was very nice.  The air was crisp and actually felt a bit cool on the ride back into Shinjuku along Shinjuku Dori.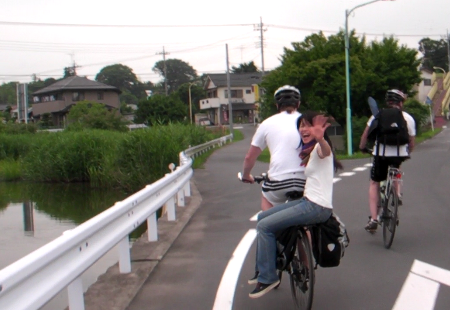 Distance: 105.34 miles
Time in motion: 9 hours 07 minutes 25 seconds (including 1 hour of walking)
Average speed: 11.5 mph
Max speed: 33.0 mph
My second tour up the Arakawa River was . . . very different than my first tour, and also much, much wetter!  What was similar was that UK Mike came with me again, but this time also the Can rolled with us.  And beyond any of our imaginations, we had our respective female companions waiting for us at the campsite!  (they took the train and a bus to get there)  
We all knew heading into this trip that a typhoon would be passing by our area of Japan sometime on Sunday.  That said, the weather on the ride up on Saturday gave no indication of the semi-deluge to come.  It was a very pleasant ride up, little wind, occasional sunshine, and moderate temps.  It was pretty much ideal summer cycling conditions.  
[Read more]