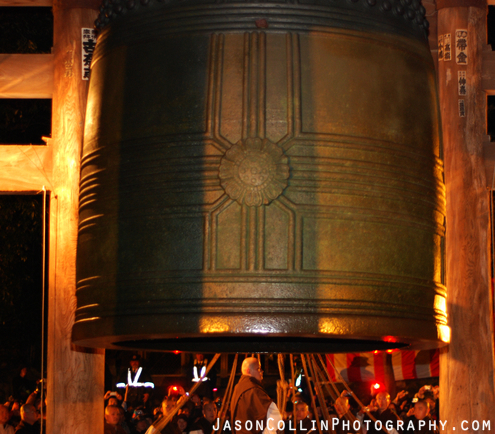 Totally by accident, Aya and I were able to witness one of the most special New Year's Eve traditions in Japan–the ringing in of the new year by 17 monks at Kyoto's Choin-in Temple.  This was one of the most impressive things I've ever seen.  The bell the monks were ringing is the largest in Japan, weighing in at nearly 80 tons and having a diameter of some 2.7 meters.  It's also very old, being cast way back in 1633 C.E.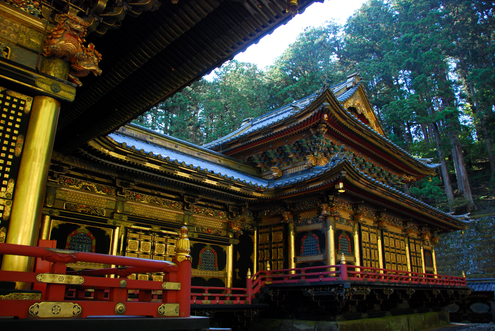 After five and a half years in Tokyo, Japan, I finally made my first visit to Nikko.  I had heard about Nikko many times, as it's one of the premier tourist destinations in all of Japan, as well as being a World Heritage Site.  I heard of monkeys running wild, and even taking baths in outdoor hot springs.  I was expecting a huge hub-bub.  Of course, like most things, my expectations and reality were nowhere near matching.  I found Nikko to be a small, reserved sanctuary of temples and shrines tucked away amongst a forest of tall trees.  And no monkeys.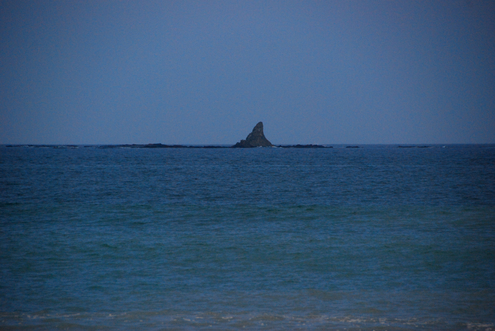 What you see in the above photo is a mysterious rock out in the middle of the Pacific Ocean.  It is the symbol of Chigasaki.  I have no idea how it was formed or what it really is.  Despite skimboarding this place for the past six summers, I never investigated its meaning.  And I do not want to know.  I always imagined it as a great shark's dorsal fin.  The rock is very mysterious, for as you walk further from it, the stone actually appears closer to you.  Such is the scene of my first ever skimboarding in Japan back in June of 2003, and my final session in October 2008.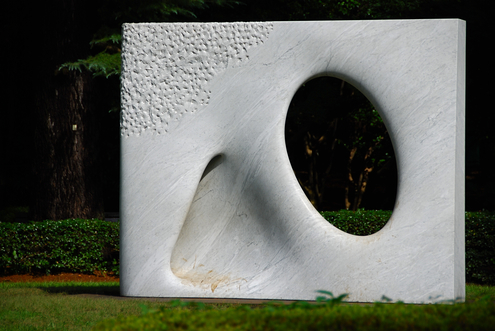 It's been raining all week in Japan, but very luckily there was a 90-minute random sunshine break Saturday afternoon, and that just happened to be the time Aya and I arrived at the small, but cozy and densely forested traditional Japanese garden surrounding the Teien Art Museum in Meguro, Tokyo, Japan.  The park contains the usual ponds and pogodas that all traditional Japanese gardens have, but is also dotted with several large pieces or artwork and sculptures.  Pictured above is the most impressive, a huge, smooth marble square with a hole and seemingly a giant's nose impression.  It was very smooth the the touch.  I enjoy running my finger tips over smooth, cool marble, and don't often have the chance, so this was a nice, unexpected find.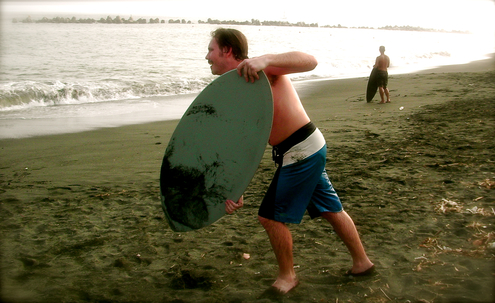 The waves were significantly bigger this time at Hiratsuka, which always makes for more fun for the skimboarder, as well as the chance for bigger wipeouts!  But here's a secret—big wipeouts are fun.  They may look like they hurt, but most of the time you are falling into deep water so it's just a matter of keeping your mouth closed so as not to drink in any water.
Besides the larger waves, the biggest conditions difference was that the sand was a bit softer, no doubt because of the larger waves crashing on the shore and carrying sand all over the place.  This meant I ran a step slower than in the previous week's session.  It also meant that my ears ended up being full of black sand!  Usually I get a little, but this time the amount of sand coming out was a bit disconcerting.  Aya hadn't experienced this before, so I had to reassure that this was normal for skimboarding Shonan area beaches.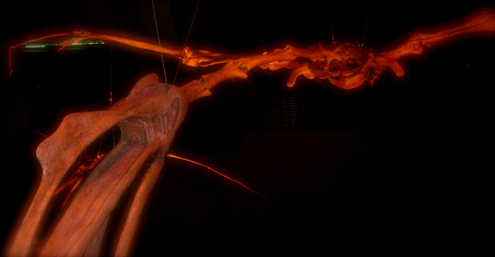 It's funny how often I can suddenly think of something to do when need be.  This often happens for where to go on a cycling ride, what to eat for dinner, or this time, how to spend Sunday afternoon.  Such was the case this past Sunday when Aya and I were pondering how to spend our Sunday.  We put our heads together, and it was suddenly:  pterosaurs!  
Thanks to some help from trusty Metropolis, we were soon on our way to Tokyo Teleport station to go to the pterosaur exhibition at the Miraikan science and industry museum.  It was a bit of a walk from the station to there, which would have been pleasant if it wasn't the hottest day of the summer so far.  It's quite scenic in Odaiba, and feels much different than other places in Japan because it's all so big and open there.  
The pterosaur exhibit itself was really good.  It had just enough real fossils on display to make it a real exhibit.  The models themselves, of both fossils and whole pterosaurs, were quite convincing.  It was often hard to tell which were real fossils and which were models.  The star of the exhibit was the enormous quetzalcoatlus, the largest of the pterosaurs with a huge 10 meter wingspan, but a weight of only 70kg!  I outweigh it by 9kg!
After spending an hour and ten minutes in the dimly lit and atmospheric pterosaur exhibit, Aya and I ventured into the Symbol Zone in the general exhibit space of the museum.  In this huge room there are several sofas for relaxing on and taking a break.  While you are horizontal, you are treated to a view of a huge, incredible LED globe of the Earth that lights up showing various heat signatures.  (see video)
We agreed that we would definitely go back to check out the full spectrum of hands-on exhibits in the general exhibits area.  Miraikan is a great place to spend the whole day, full of rest areas and cafes all in a very modern building.
PHOTOS:
VIDEO:


Quite a blue evening sky inspired me to return to shooting the sunset from my 11th floor apartment's balcony, despite the ugly existence of a new apartment building across the street, which radically blocks my sunset view at this time of year.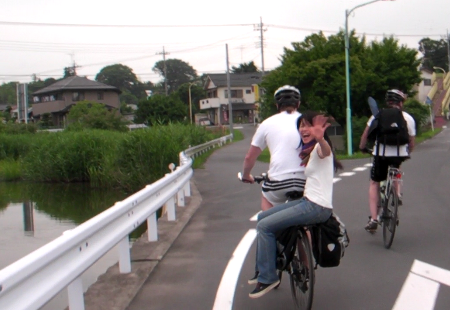 Distance: 105.34 miles
Time in motion: 9 hours 07 minutes 25 seconds (including 1 hour of walking)
Average speed: 11.5 mph
Max speed: 33.0 mph
My second tour up the Arakawa River was . . . very different than my first tour, and also much, much wetter!  What was similar was that UK Mike came with me again, but this time also the Can rolled with us.  And beyond any of our imaginations, we had our respective female companions waiting for us at the campsite!  (they took the train and a bus to get there)  
We all knew heading into this trip that a typhoon would be passing by our area of Japan sometime on Sunday.  That said, the weather on the ride up on Saturday gave no indication of the semi-deluge to come.  It was a very pleasant ride up, little wind, occasional sunshine, and moderate temps.  It was pretty much ideal summer cycling conditions.  
[Read more]