Juno inspired poem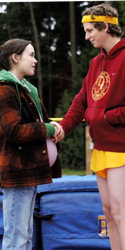 written where: Shinjuku, Tokyo, Japan
where exactly: in my apartment
written with: computer
when: February 24, 2008
I was inspired to write this poem by the lyrics in the songs in the JUNO soundtrack.
I hear broken hearts make you strong,
If so I should be able to lift the world.
But what pain would that end?
Where is she now?
She's still my friend,
At least that's what dreams portend.
In the end.