A return to night riding, but with throwing up!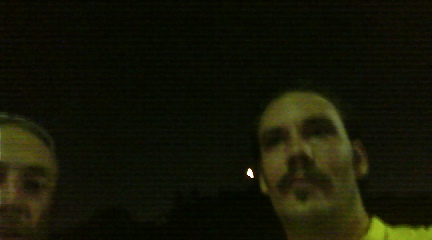 Distance:  16.29 miles
Time in motion:  1 hour 10 minutes 17 seconds
Average speed:  14.0 mph
Max speed:  29.8 mph
I wanted to start riding at night again.  As it is officially summer and it was sunny all day, I knew tonight should be the night.  I used some of my motivational skills and was able to extract UK Mike from his apartment to join me.  
I suggested we do three hardcore laps around the Imperial Palace, which would be a total of 15 km (9.32 miles), as one lap is 5km.  And I wanted us to do it in 30 minutes, the pace I set a long time ago on another ride in March.  Well, I did have to teach until 8:30pm then come home and cook.  So basically I scarfed down some green Thai curry and then hopped on my bike and started barreling down Shinjuku Dori.  Even at this point, I kind of knew it wouldn't be an all internal ride.
I set a hard pace and UK Mike impressively kept up the whole time.  On the third lap I wanted to really attack the two incline sections on the latter half of the lap.  After about 30 seconds of hard grinding up hill, the first heave happened.  I kept on grinding up the incline.  Then the next heave was actual chunks, or rather brown rice with bits of tofu.  I had hit the wall and my pace slackened.  UK Mike caught up and set the pace during the slight downhill and flat section.
There was one more uphill part right before the finish, and I thought I can reclaim the lead there.  I used a sweet slingshot around the last left hand turn to take the lead.  I pushed it really hard up the last incline.  Boom!  More upheaval!  Lots this time actually.  Two good mouthfuls.  Might have been all my dinner!  
The finish line was just a few dozen meters away.  We chilled there for a while chatting while my stomach settled.  Amazingly, all the time I was heaving, I never once got any on my clothes, or my bike, and never stopped pedaling.  I don't recommend this though.
We took a very leisurely pace back stopping to eat TWO ice pops each in front of a convenience store.  Despite the throwing up, it was still a great ride and something I hope kicks off at least once a week night riding, if not twice a week.