Cycling–average speed record SMASHED!!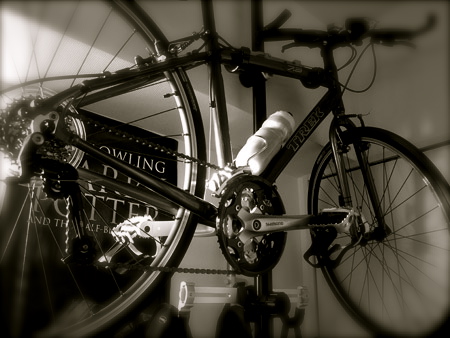 Distance:  15.78 miles
Time in motion:  55 minutes 47 seconds
Average speed:  17.0 mph (NEW RECORD!!)
Max speed:  27.3 mph
From 7:10pm to 8:10pm tonight, during my final lesson of the night, I was literally nodding off.  Earlier I had been feeling strongly about going riding again tonight, riding the same route as last night. Once I got home though after all the nodding off, I realized I didn't have it for a ride tonight and should rest.  After all, I did do 50 pushups this morning as well.
All windows were closed, the air con was on, I just had eaten dinner, and my apartment was silent.  I was moments away from watching a movie and chilling out.  But then I opened the sliding glass door to the balcony and heard the city.  Then I turned on Indie Pop Rocks! on SomaFM.  I began to wake up.  Then once I heard a song by a band called Voxtrot, I was stoked enough to rally for a ride, and not only did I not throw up this time, I totally SMASHED MY AVERAGE SPEED RECORD!
I started out at a modest pace, riding down a literal memory lane.  As I rolled down Shinjuku Dori flashbacks of places I used to go to a seeming lifetime ago passed before my eyes.  I thought of who I went there with, and why.  Though none of those memories can be more than 4.5 years old, some seemed ancient.  And I thought to myself that soon I will not live in Asia anymore.  So as I looked upon all the signs in Japanese, at the small shops and very Japanese looking restaurants, I felt a surge of nostalgia and was filled with a feeling that I would miss living in Asia.  Yet if I were not leaving, I'd look upon those things emotionlessly, so what is the source of that emotion?  It seems the time limit is.  Nothing has any meaning unless it ends.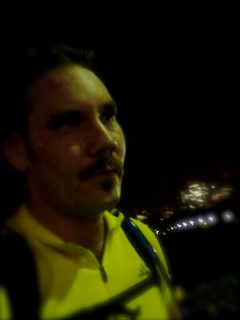 As I approached the Imperial Palace I still wasn't feeling that strong or awake.  I hit the loop with a pretty good start.  Even though through the whole first lap I didn't feel that strong, I never looked back.  Like last time, I never left the gearing of 3-5 on the ascents on the back-end of the loop.  Likewise on at least the second and third laps, I never left 3-7 on the descent and long straightaway in front-ish of Tokyo Station.  Traffic was favorable as I never had to come to much of a stop.  Most of all I think, my increased speed was due to improved technique.  
I pedaled through almost every flat and uphill turn.  I am taking these turns much wider, going way out into the lane, then darting inwards toward the curve, whipping around the corners keeping pace and pedaling, instead of as in the past just coasting.  This requires there to be no traffic so I can swerve out into the outer lanes of course.
I finished the third lap very strongly.  I didn't keep perfect form on the big ascent, but as last night destroyed the final gradual ascent pedaling hard, legs like pistons on through the finish line, so that I was able to finish in under 30 minutes actually, 29 minutes and some odd seconds, my cyclo-computer does not have accuracy to the second.  
I only rested for 5 minutes after finishing the laps, as the Five-O guarding the palace gate came over as much as possible in his area and looked my way. Gave him a nod as I rolled off.  I didn't want to sit around much anyway.
Cruised on the way home getting stuck really only at Meiji Dori's light.  This must have been key to my record setting average speed.  I always check the average speed for my ride as I get to my building's entryway because sometimes just the pushing of my bike into my building lowers the average by a tenth of a mile per hour.  When I clicked the mode button on my cyclo-computer and saw for average speed:  17.0  I said "holy shit" softly out loud, in shock.  Average speed is the mark I most value on any city ride, and I hadn't given any thought that the fast pace and relatively few stops might lead to a record ride, or even one approaching one.  The old record was 16.1 mph set on the same route back in March.
Obviously I am totally stoked I rallied and went for a ride tonight.