Skimboarding 2008 – Session #02 – Hiratsuka debut!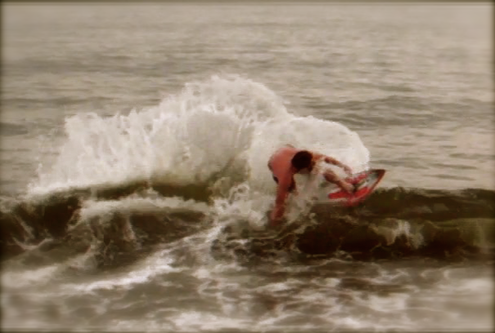 Skimboarding session #002 for the year was rather special.  For the first time in 6 summers of skimboarding at the Shonan area of Kanagawa Prefecture, Japan, I sought out a new skimboarding beach.  Having found Chigasaki Beach in summer 2003, it was love at first sight, despite it's flaws, and though I heard of this other beach nearby that was possibly a skimboarder's haven, I stayed at Chigasaki.  For at Chigasaki there used to be other skimboarders, but over the past few years I've seen maybe three or four total.  Then after the typhoon last September disturbed the ocean floor reducing the size of waves greatly, I knew I may need to find a new skimboarding beach for 2008.
(video after the break)
So this Saturday Aya and I went one station past Chigasaki on the Shonan Shinjuku Tokaido line to Hiratsuka station.  It was another pretty long walk to the Sea, about 25 minutes, but a fairly pleasant walk.  There was no love at first sight this time though.  We arrived at the southern side of the beach, which happened to be filthy–lots of trash all over the beach.  We walked toward the more public swimming area already thinking we'd just take a taxi to Chigasaki beach.
Then once we got around an outcropping in the crowded public swimming area, a long, clear stretch of beach unfolded before us revealing almost a dozen skimboarders!  I was immediately both excited and nervous.  I hadn't skimmed with any other skimboarders in years, other than the one friend I made in Izu the past two summers.  
The waves were pretty good for skimboarding, but too flat away from shore for surfing.  The stretch of beach had enough good skimming waves that each skimmer pretty much had his/her own area.  Lifeguards even enforced the no public swimming rule as some j-dudes tried to trespass where a few skimboarders were.  
I slowly began my skimming session.  Then after getting a feel for the conditions, began riding confidently and strongly.  Then all the skimboarders left, save for one, in the next 15 minutes!  So very soon I was basically skimming alone as always, which was fine with me.  Having a clean beach, with good sand and very decent waves all to myself was a great joy.
However, I was not alone of course.  Aya was with me and she improved her skimboarding skills significantly in just her second ever session.  She now gets on the board confidently and can make a turn toward the incoming wave.  Very nice progress for her.
I, myself, had some pretty nice rides, the best of which were not caught on film, but that's ok.  It was an afternoon of pure joy with the Sea, my skimboard, and Aya, such as I hadn't had since May of 2007.  
Sorry, Chigasaki, it will be Hiratsuka for the rest of the summer!