Barack Obama wants to change–Tokyo curry prices!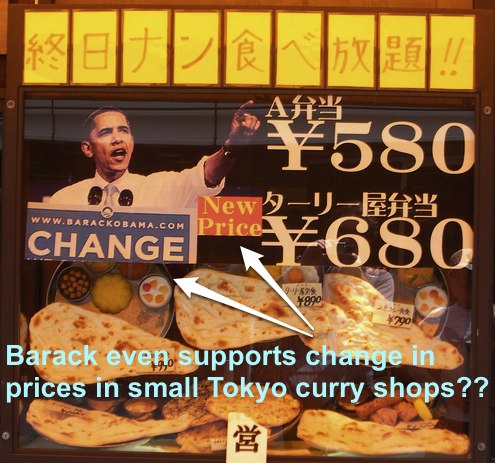 I was walking to Shinjuku station the other day, taking a less trafficked route, and came across this Japanese-style curry shop that apparently thinks Barack Obama's change motto also applies to its change in curry prices.  Now I follow Barack on Twitter every day (and he actually replied back to me once!), but I have not seen any mention of his foreign policy toward Japan yet.  However, with the supposedly increasing food prices around the world, it does not seem like much of a stretch for Barack to take a firm position against high Japanese-style curry prices.
On the other hand, maybe the store owner is just a supporter of Barack Obama?  When I passed by the other day I had no time to go in and ask the owner which was correct.  I'll try to do this in the near future and will update this post clarifying this curry shop's Obama position.
Where have you seen any unusual signs of support for Barack Obama?
UPDATE: the sign has been taken down as of August 9th, 2008

The exterior of the Obama supporting curry shop:
Map and directions to the Obama supporting curry shop: